big mountain skier (she, her)
Dubbed "The Most Underrated Woman in Pro Skiing," Rachael Burks is known for skiing burly lines on some of the world's steepest peaks. She's competed on four world tours, won the Red Bull Cold Rush in 2012, appeared in three Warren Miller movies, three Teton Gravity Research films, and starred in "Pretty Faces," an all-female ski film featuring the best athletes from around the world.

Growing up in Salt Lake City, Utah, Rachael found her edges in the Wasatch under the guidance of her dad. She recalls the days of being bribed with barbeque sandwiches to get her on the mountain. (Who'd have thought the secret ingredient to a professional career would be BBQ?) Skiing had always been a part of her life, but in 2002, while working at Snowbird and skiing every day, that's when Rachael's love for the sport took over.

Since then, she has championed women's skiing and traveled the globe, bringing her vivacious enthusiasm and sequined outfits with her. Known to chuck backies off of anything and everything, you may just catch her hucking a cliff near you.
WHAT'S SOMETHING YOU'RE PROUD OF BEYOND SKIING?
I have worked hard over the past 17 years to maintain a reputable existence in the ski industry. I'm proud that even through the birth and reign of the social media renaissance, I have maintained an authenticity to self that I can write home about.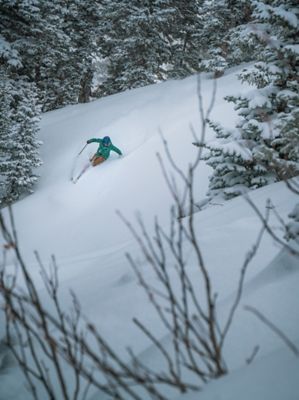 big mountain skier (she, her)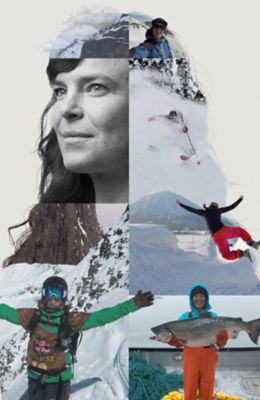 WHO DID YOU LOOK UP TO BEFORE YOU WENT PRO?
I looked up to Shane McConkey and Seth Morrison. I wanted to do backflips like Seth and wanted to be a goofball that also ripped, just like Shane. I wanted to be the female Saucer Girl. Shane didn't take himself too seriously, and I loved that about him. And Seth… I mean, is there a skier out there that didn't drool over his segments in ski films?

In terms of female role models: Jamie Burge was always up there. She went huge, and I loved that. From the very beginning of my career, I wanted to show what women are capable of, too, and inspire them to do more.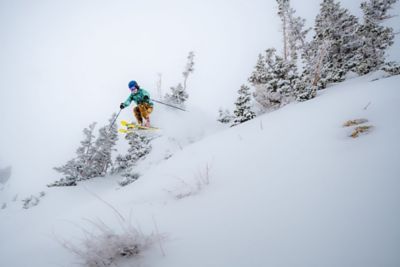 WHAT'S THE BIGGEST RISK YOU'VE EVER TAKEN IN SKIING?
One of the biggest risks was just choosing a ski career. . . My dad is a doctor, my mother is a retired speech pathologist, my brother has a PhD… Continuing on a ski path and serving tables at night into my late 30s to support the habit was a different path than anything my family had seen.

I'm proud of that risk though. I'm such a happy camper, and I don't think I would have had this level of joy and accomplishment if I chose financial security over being a bit of a ski bum.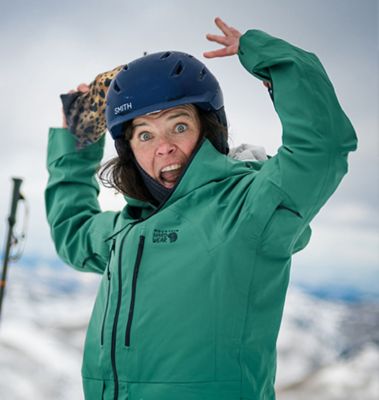 HOW DID THE BACKFLIP BECOME YOUR SIGNATURE MOVE?
I was working construction with Billy Poole and E.J. Poplowski in Kamas. We stayed on site in a little shack the two of them erected for the build. After work, we would grab our swimsuits and head to the rec center, and the boys would practice all their ski tricks off the high dive. I was pretty comfortable with backflips and could do them off the high dive and springboard, but Billy wasn't satisfied with this… He hounded me until I found myself running and hurling my head backwards off the high dive doing gainers. Billy said that after the first time he saw me do that, he knew I was going to have a great backflip on snow.
I was leaving the Hahnenkamm with a train loaded with hungover people from all over Europe. The man next to me was carrying one of those massive Swiss cow bells—he could barely lift the thing—and I had over a 100lbs of luggage combined in a ski bag and a roller duffel. By default, I can barely get on and off the train with all that luggage, so I end up standing most train rides. Well, as the stops continued and enough people got off the train, I saw a seat open up and, needless to say, I wanted to sit down… I left my ski bag in the corner, rolled my duffel to the seat, and as I'm lifting it up to put it overhead, WHAM!!! My pants split open from one side to the other... There was absolutely nothing to do but take the bag down and get something out of said bag to tie around my waste. I changed trains twice that day in bottomless jeans with just a fleece tied around my waist!
WHAT DO YOU WANT YOUR LEGACY TO BE?
I hope with all my might that I have created something in my life that changes the trajectory of kid's lives. . . I am one of the founders of the Billy Poole Foundation, which is a non-profit designed to empower and inspire children to get outside. I still sit on the board and have run an event in Anaconda, Montana for 13 years called, "Ski with A Pro Weekend." If college isn't an option for some of these kids, I want them to know they can leave town and get a job in a ski town. It's how I got my start! Hopefully that would open some worlds for them.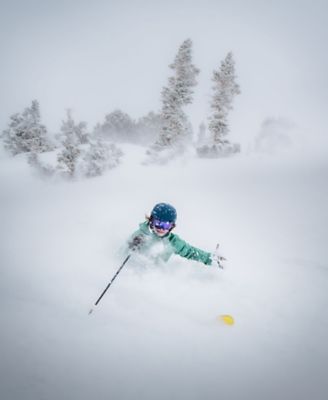 HAVING STUDIED SHAKESPEARE AT OXFORD, WHAT DO YOU LOVE MOST ABOUT HIS WORK?
I love the voice that Shakespeare gives to females. He makes women protagonists, heroines, strategists, and often gives them the most insightful and intelligent lines in his plays. In my opinion, his understanding of the complexities and depths of humanity is unrivaled to this day.
MOST PEOPLE DON'T KNOW THAT POETRY WAS ONE OF YOUR FIRST PASSIONS. WHAT'RE SOME OF YOUR FAVORITES?
"The Love Song of J. Alfred Prufrock" by T.S. Eliot
"Clepsydra" by John Ashbery
"Song of Myself" by Walt Whitman
"Waiting: A Field at Dusk" by Robert Frost
"That Is Just To Say" by William Carlos Williams 
WHAT IS YOUR LIFE MANTRA?
Sweatpants, sparkles, Star Wars.