Ethan Pringle is regarded as one of the most well-rounded climbers of his time. Raised in the Mission District of San Francisco, he started climbing after discovering his local Touchstone Climbing gym, Mission Cliffs, just four blocks away from his childhood home. For 8-year-old Ethan, it was paradise. He fell in love immediately, spending much of his time learning how to use every inch of the wall, dynamically jump to big holds, and climb with tension—the trifecta of gym climbing.

Now a climber of more than 20 years and Mountain Hardwear athlete of over 10, Ethan has successfully climbed some of the hardest routes in the world, even establishing a few of his own. In 2007, he succeeded in the fifth ascent of "Biographie" (5.15a/9a+) in Ceüse, France: his first of the 5.15 grade. Then in 2015, Ethan repeated "Jumbo Love" (5.15b/9b) at Clark Mountain, California, which is generally believed to be the hardest sport route in North America.
list is equally as impressive. Most notably, he sent "The Nest" (V15/8c) in Red Rock Canyon, Nevada in 2015.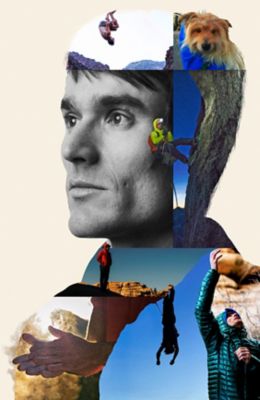 "I feel lucky to be able to switch between disciplines so easily. Each one provides a different challenge and a different kind of satisfaction, but to me, it's all just climbing. Being able to approach any line with the same amount of enthusiasm and curiosity—how you protect it, how dangerous or tall it is, what parts of your body you're using to climb it—is extraneous no matter if you're climbing boulders, bolted faces, or big walls."
Though he's devoted most of his time between sport climbing and bouldering, he's even proven himself a world-class trad climber, flashing the ultra-classic, 10-pitch "Moonlight Buttress" (V 5.12+) in Zion National Park and completing the first free ascent of "Blackbeard's Tears" (5.14c/8c+) in California: one of the hardest traditional routes in California, if not the world.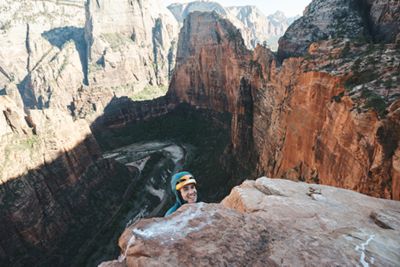 "I realized how much my background in those other two disciplines complemented my trad-climbing practice; I'd done enough highball bouldering and run-out sport climbing that the risk management, logistics, and confidence trad climbing requires didn't feel like a new set of demands, just an extension of what I was already doing. Once I started trad climbing, I fell in love with it for many reasons: the striking lines, the satisfaction of using all sorts of strange jamming techniques to get up cracks of varying sizes and angles, the exposure, how much ground you can cover in a relatively short amount of time, and the clear-headedness provided by those long periods of physical engagement with the rock. It felt like something I'd been training my whole life for."
WHO DID YOU LOOK UP TO AS A YOUNG BUCK + WHY?
Like everyone else in my generation, I looked up to Chris Sharma the most. There were lots of other amazing sport climbers, regionally or globally recognized, that I thought were badass, but Chris was always the most impressive. He repeated and established many of the world's hardest climbs for 20 years. He won so many comps he entered, always climbing with confidence and an effortlessness that captivated everybody. Plus, he was super nice and took interest in everybody that talked to him, no matter who they were. I remember meeting him at Mission Cliffs while he ate his burrito when I was 12 or 13 and was totally starstruck. I couldn't believe he seemed as interested in getting to know me as much as I wanted to fan out on him. It was awesome to become friends with him and climb together some over the years.
WHAT'S YOUR WEIRDEST RITUAL?
How much deep breathing I do before I start climbing might seem weird to people, but it really helps me. Sometimes I'll take a full 2 minutes to just breathe and calm my nerves between when I am all bottled up and tying in and when I actually pull on the wall.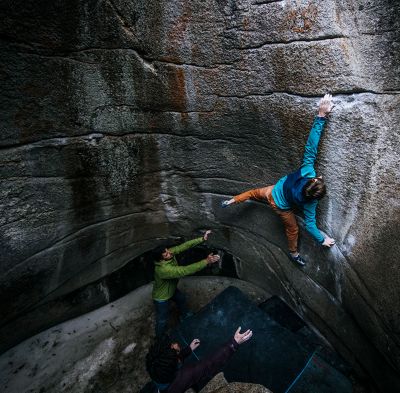 WHAT IS YOUR APPROACH TO CLIMBING?
Climbing, to me, is like a formula; I apply it in the same way to every project or goal. I break the climb down to its smallest parts and analyze them, become intimate with the climb, and learn how to try hard on it.
TRICKS FOR A FIVE-STAR HUG.
Hold on tight. Don't let go. The longer the better.
WHAT'RE YOU MOST PROUD OF?
My kindness, sensitivity, and capacity to understand and have compassion for others.