climber + alpinist (he, him)
Few people know Mountain Hardwear better than Tim Emmett. As our longest-standing athlete of over 20 years, there's no doubt dedication bleeds into every aspect of who he is. But what really defines Tim's climbing is his vision to see potential in something new where others cannot. From pioneering deep water soloing and BASE jumping to climbing dicey, run-out routes with ease, he holds himself to high standards and consequently has set higher standards within the rock and ice climbing communities.

Tim is one of the world's most well-rounded climbers—his pursuits have proven that. in February 2016 he climbed "Interstellar Spice," the first Ice Climb in the world graded WI 12 at Helmcken Falls, Canada. He has also established some of the hardest rock climbs in Cuba, Mongolia, and Wales; and achieved podium position four times at the World Ice Climbing Championships. Most recently, he completed the first ascent of "Mission to Mars" (WI 13) at Helmcken Falls—estimated to be the world's hardest ice climb.
With para-alpinism, he merged two high-adventure sports together—BASE jumping and big wall climbing. After ascending a large wall on vertical rock, he put a parachute on to descend down. Only a handful of people do this type of climbing, and he himself retired from it at the age of 40 due to its high risk and after becoming a father.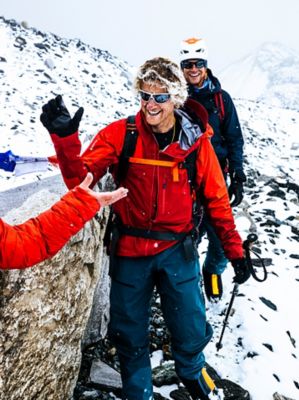 climber + alpinist (he, him)
WHAT ARE SOME OF YOUR MOST MEMORABLE MOMENTS BEING ON THE HARDWEAR TEAM?
One of the moments that shines the brightest is when I went to Everest Base Camp with the team in 2019. This was a unique opportunity to spend several days getting to know some of the team and sharing both the challenges and beauty of the Himalayas together.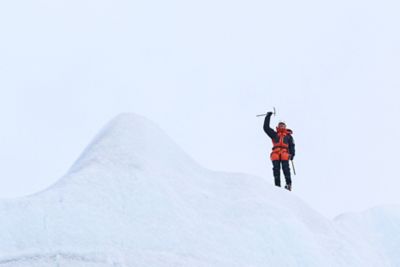 WHAT WAS YOUR LIFE LIKE WHEN YOU FIRST JOINED MHW?
I first started with MHW in the UK in 1999. I was working as a sales rep for a climbing company and then started competing in the Ice Climbing World Cup in 2000. This was an eye-opener for me because this was the first time I had competed internationally, and after being mediocre in rock climbing comps, I realized I must be better at ice and mixed climbing. In the first competition in Austria, I was sitting in isolation for the final, about to climb, and I thought, Wow this is really happening… I'm in a competition with the top ice climbers in the world, and I'm one of them! This is crazy! Being there and having the support of Mountain Hardwear were both real turning points in my professional climbing career.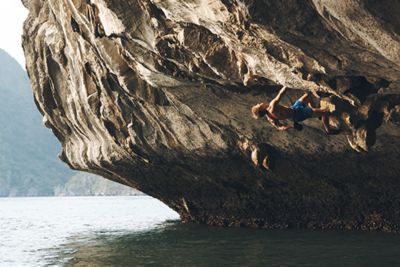 HOW HAS BEING A DAD SHAPED YOUR CLIMBING CAREER?
It's made me more organized with my time. When I go climbing, the minute I leave the house, the clock starts ticking, and its game on. (It's amazing how much you can get done in 2 hours!) I often go to bed earlier and get up really early to get routes in before it's time to take my son to school.
WHAT IS IT ABOUT DOING SOMETHING NO ONE ELSE HAS EVER DONE OR GOING WHERE NO ONE HAS GONE THAT APPEALS TO YOU?
My climbing style is the pursuit of new experiences. Whether its new climbs, new places, new styles or new levels of climbing, I get a huge amount of satisfaction from venturing into the unknown.

It's a true journey of exploration. Nobody knows or can tell you what is going to happen—it's down to you and your team: your experiences leading up to this point and your evaluation of what you know and think is possible.
WHAT'S KEPT YOU ON OUR TEAM SO LONG?
Rather than focusing on numbers and margins, the focus at Mountain Hardwear has always been to make the best products. It's a small enough brand that I know most of the names of the people that work there, and they listen to athletes' feedback when prototyping products. That means I get products that are designed purely for the activity, and when I wear them in the challenging situations I expose them to, they do what they need to and don't hold me back.
WHAT IS YOUR FAVORITE/MOST MEMORABLE/CRAZIEST CLIMBING STORY?
The mission was to connect the Circe Of the Unclimbables with the Vampire Spires via the Nahanni and Little Nahanni River and be the first people to BASE jump in the area. On the last day, we got a lift in the plane to get back to the lodge and thought it would be more fun to wear our wing suits again. We ended up opening the door mid-flight in an attempt to jump out of the plane. As I stepped down onto the footstep, my leg wing inflated, and suddenly I was horizontal, flying next to the plane while I hung on to the door. My partner couldn't contain himself and burst into hysteria, seeing me initiating my superhero impression without meaning to!
A sustainable solution to layered leg warmth
Sale price:

$206.25
Regular price:

$275.00
Standard issue tent for mountaineering expeditions
Sale price:

$712.50
Regular price:

$950.00