climber + route setter (she, her)
While most professional climbers today got their start climbing in competitive youth programs, Anna Laitinen wasn't introduced to the sport until the age of 17—a latecomer by most standards. Nevertheless, the fierce stoke she's known for at the crag and on the Gram ignited an instant obsession for getting up high.
Inspired by big mountains like the ones she saw on a family trip to the Alps, she drew a picture of K2 and hung it on her wall, one day vowing to become an alpinist. Unfortunately, climbing in her hometown in Finland was sparse, so getting to these places she'd seen in movies and photos was a challenge all its own. She'd take a bus three hours round-trip to the nearest gym to climb, doing homework on the ride and getting down to business as soon as she arrived, sometimes only having just 30 minutes to climb. Now a dedicated gym rat, route setter, health freak, and (despite a habit of clumsiness off the wall) a precise, focused crusher.
SETTING HERSELF UP FOR SUCCESS
Intuitively, I love crimps, gastons, and high steps, but actually I don't set many routes in that style. Being one of the few women setters at my gym, I get asked to set more "girly" routes, (which just means more technical and less dynamic) but I try to create a style that I'd like to be stronger at myself. Lately, that means long moves with pinches.
climber + route setter (she, her)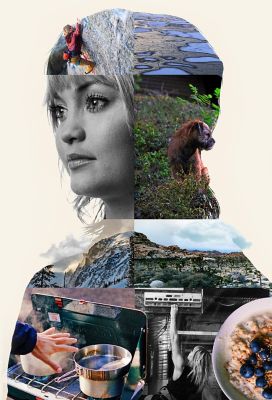 HOW HAS CLIMBING SHAPED YOUR CONNECTION TO COMMUNITY?
I've always been amazed how kind and helpful the whole community is. As a shy teenager, it was the people that helped me get into climbing, and I feel super lucky that I've found this amazing sport that has enriched my life and that I can now call my profession. None of this would have be possible without the people who took me to the crags and trips and taught me how to climb and push my own limits.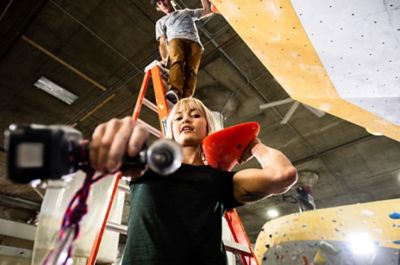 WHO DID YOU LOOK UP TO GROWING UP?
My parents' attitudes have made a such a big impression to me. My dad has always been really hard working—always doing what he loves and what makes him happy. Even in his 70s, he's still doing marathons! My mum was a big influence, too, because despite having to go through cancer treatment, she kept her sense of humor and was still smiling while I drove her to the clinic.
WHAT'S YOUR MOST MEMORABLE ADVENTURE STORY?
In 2013 when I was in school, I got to go to Kenya with my geoinformatics professor and a group of scientists to do research on the savanna; my job was to survey if there was any potential to develop climbing in that area. That experience was special because I felt like a child again, being surrounded with everything new, so I've been looking forward to going back ever since.
But that was also meant I was totally out of my element. And I get lost on every single trip I take, so this one was one of the scariest. There were lions and other wildlife everywhere, and I just remember my friend saying, "You don't see them, but they do see you!" That's when I started running…
WHAT DO YOU HOPE TO ACCOMPLISH IN 2020?
My goal is to have a more balanced season and climb harder than ever. I want to travel to new places, but I also want to reduce my carbon footprint by staying closer to home and driving throughout Europe in my van instead of flying.
DESCRIBE YOURSELF IN AN EMOJI.