climber + coach (she, her)
Alex "AJ" Johnson has been climbing for 20 years, 10 of which have been professionally. She specializes in bouldering and has claimed six national titles in this discipline throughout her career. She's also known as one of the few—if not the only—openly LGBTQ pro climbers.
In 2008 AJ made history by becoming the first American to win a Bouldering World Cup on U.S. soil. In 2010 she did it again, winning gold in Switzerland, becoming the first American to win a Bouldering World Cup abroad, the first American with two Bouldering World Cup golds, and she remains the only American to have won a gold medal overseas.
After competing on the World Cup Circuit from 2008 to 2014 and winning a silver medal at the Bouldering National Championships in 2015, AJ retired from climbing competitively and shifted her focus toward outdoor climbing projects, building an impressive tick-list filled with dozens of iconic first female ascents of numerous climbs rated up to V13 and establishing several first ascents around the Southwest.
AJ eventually returned to her roots in Minneapolis to take on a new role as head coach at Vertical Endeavors, the gym she grew up climbing in. Having coached youth athletes off and on part-time or teaching clinics since she was about seventeen, she considers this a proud part of her climbing career.
In the fall of 2018, AJ decided to come out of retirement and return to competitive climbing to try to qualify for the Tokyo 2020 Olympics. In that time, she won a silver medal at the 2019 Bouldering National Championships, earning her spot back on the U.S. team, and competed in the entire 2019 Bouldering World Cup Circuit, finishing the season as the top-ranked American athlete.
She now lives in Salt Lake City, Utah with her girlfriend and three dogs, where she is training for the next year of competitions.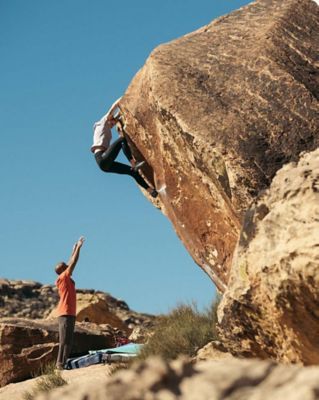 climber + coach (she, her)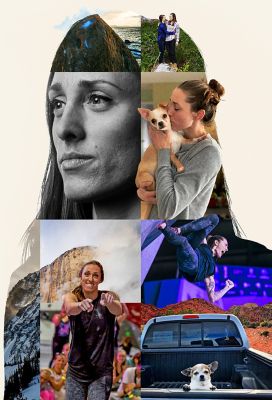 WHAT SIGNIFICANCE DOES COACHING HAVE IN YOUR CLIMBING CAREER?
Coaching gives me a sense of purpose to the selfishness of being a "pro athlete." Helping someone when they're struggling with something and watching their world open up is an incredible experience, and I often find that I learn just as much when I teach as those I'm teaching! We never stop learning, especially in a sport with as many subtleties as climbing and breaking down movement in multiple ways for peoples' varying learning styles helps me comprehend my own movement on another level.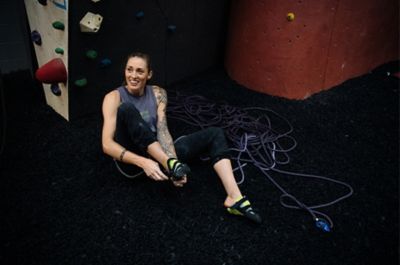 HOW HAVE YOUR IDOLS SHAPED THE WAY YOU COACH?
I took a clinic from Tiffany Levine-Campbell when I was around eleven years old. It was a footwork clinic, and I really don't remember anything she taught me, but at the end of the day, she said I have great potential, and I'll never forget that. With coaching and teaching, it's outstanding if people absorb and learn long-term tips and techniques, but if they remember absolutely nothing and all I do is make just a small difference in why they love a sport or activity, then that's all I can ask for!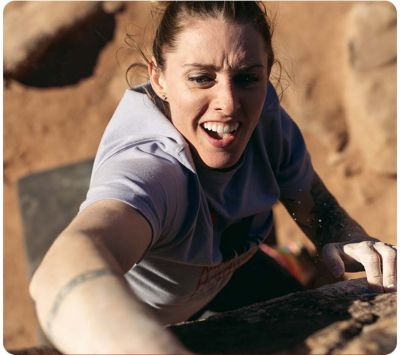 WHAT'S ONE OF THE MOST SIGNIFICANT MOMENTS OF YOUR CAREER?
Going back and coaching, I fell in love with all my kids right away; and I remember I was doing private lessons with one who was having a really hard time at school and getting bullied a lot for liking girls. We ended up not even climbing the entire time—we just hung out and talked.
Something as small as your dating preferences should never define someone in that negative a way. Especially a 13-year-old. It's not the biggest thing about who you are, and it never should be. Like, for me, I'm funny—a little gay, but mostly funny. So, to hear that she was struggling was super frustrating, and that's when I decided to come out publicly and set the precedence for kids like her to have an easier path.
I think what I'm most proud of is just figuring myself out and becoming the person I am today: not quite a finished product yet, but at least on the right track. I want other kids to be set up without unnecessary obstacles to feel the same way.
To experience that blackout focus where my body and subconscious completely take over and what I'm capable of passes the threshold of what I thought was possible.
FINISH THIS SENTENCE: YOU KNOW I LOVE MY DOGS WHEN..
I make them fresh food for dinner every night.
IF YOU HAD TO GET THE NAME OF A BOULDER PROBLEM TATTOOED, WHAT WOULD YOU PICK?
"Bruce Lee," it's a V8 in Yosemite.
All-day bottom that transitions seamlessly
Feminine fit without ditching the stretch factor
The lightest down layer insulated with a limited, time-sensitve resource
Our warmest down parka with high-lofting, packable down and increased durability
venture out
with Alex Johnson & Nikki Smith