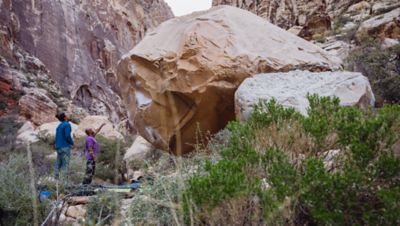 A FILM COLLABORATION WITH CALEB ROBINSON.
MHW climber Caleb Robinson and filmmaker Trevor Riley were drawn to one another's passion for seeing and documenting Black climbers. Together, they went to Red Rock with big ambitions and came home with something else. Their film, DSCVRY, is about the things you don't find at the top of any boulder.
While Caleb Robinson is newer to the climbing scene, that hasn't slowed him down. After growing up playing team sports like soccer in Pennsylvania, he is quickly setting his sights on big bouldering objectives and ticking off projects left and right.
Trevor Riley–the creator of DSCVRY–graduated from Open Aperture Photography Clinic.