photographer + alpinist (he, him)
Ted Hesser is a freelance adventure photographer, focusing on rock climbing and alpinism. His work has been published by National Geographic Online, Outside Magazine, Rock and Ice Magazine, The Alpinist Magazine, Escalando climbing magazine, and more. He's climbed big mountains all over the world, with notable ascents on Fitzroy, Denali, Vincent Massif, and Ama Dablam.

Ted began his journey in mountaineering by mentoring under Jim Williams of Exum Mountain Guides. The Tetons were the ideal place to learn competency in the mountains, quickly followed by a desire to capture them on camera.

Prior to focusing full-time on photography, he worked for nearly a decade in the clean energy industry, and received a masters degree in renewable energy engineering from Stanford University and a bachelor's degree in physics from Colorado College.

He lives in Salt Lake City with his girlfriend, Martina, and two huskies, Zeus and Luna. You can often find him in the Wasatch, trail running or getting ski laps in.
HOW WOULD YOU DESCRIBE YOUR PHOTOGRAPHY STYLE?
My photography style is a blend of photo journalism and magical realism. I try to capture authentic human moments in the mountains, and frame them through the eye of a landscape photographer.
WHAT IS YOUR MOST MEMORABLE TRAVEL STORY?
Perhaps one of my most memorable trips was climbing Ama Dablam with Garrett Madison. It is just such a beautiful mountain–one that I've walked past on numerous expeditions to Nepal. It was a real life goal to climb it–for decades! And then, boom, an opportunity arose to join Garrett and to document it.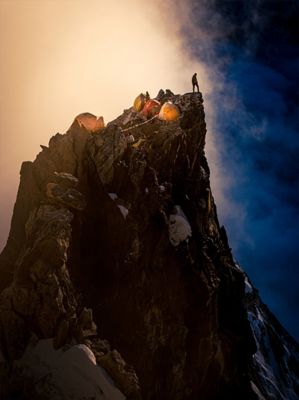 photographer + alpinist (he, him)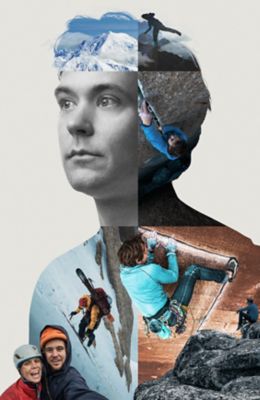 WHY DO YOU CLIMB MOUNTAINS?
I think that is the ultimate question to probe deeper into. The famous clip is that we climb mountains because they are there. But sometimes we climb mountains because we are hurt. Or because we haven't developed a robust enough emotional toolkit to deal with life. Sometimes, mountain climbing is a crutch. I'd like to say that I climb mountains because it allows me to live in the moment, and to reconnect with nature.
But there are times where my ego is the driving factor. Motivation can be a complicated brew. I try to ask myself this question before any major climb, and to answer it as honestly as I can. I believe that this process is essential to coming back home safely.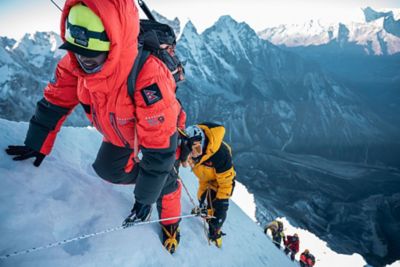 WHY DO YOU ENJOY DOCUMENTING?
I've always viewed the camera as a passport to adventure. It creates opportunities to live an adventurous life. I also enjoy the act of it. Shooting photos or video engages more of my brain. It forces me to observe what's actually happening, to be more clued into what I'm seeing in front of me: the little details, the emotional journey of my companions, the timing and ever-changing characteristics of the light. It is a multivariate process that is always changing.
I was never great at chess but this is like my own version of 4D chess.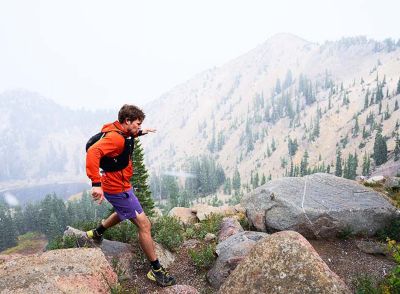 WHAT IMPACT DO YOU HOPE TO HAVE ON YOUR COMMUNITY?
I hope to create photographs that inspire people to get outside, and to engage in adventure. And I hope to create films that build empathy–that challenge preconceived notions–and that make difficult subject matter more accessible.
WHAT ARE YOU MOST PROUD OF?
I am most proud of taking the leap into this freelance lifestyle and creating a path for myself where none seemed apparent. It is a competitive space with a ton of talented people. I'm very happy to be following my dream and making it work.
I look up to so many people. I try to learn from everyone–from every artist and every climber. The world is filled with lessons.

Jim Williams of Exum Guides was an early mentor. He taught me to climb. Rolo Garibotti down here in Chalten is a wise man. I hope to grow older in the climbing community with as much grace as Rolo.

On the creative side, I consider myself lucky to call Chris Burkard a close friend and mentor. His style created a whole genre for photography on social media. And Steve Mccurry's photojournalism work has always inspired me.
WHERE IN THE WORLD DO YOU ASPIRE TO CLIMB, AND WHY?
I really want to go to Pakistan. No other mountain range looks as dramatic, or as epic, as the Karakoram. It's a dangerous place, of course, so it takes the right kind of partners and circumstances to have a trip come together, but it's super high on the list.
From time to time, if I get a chance to rest after a big expedition, I enjoy playing video games. It's pretty opposite to what I normally do: vegging out, as it were. But sometimes, a bit of yin to one's yang is a good thing.