climber, route developer + photographer (she, her)
While most kids sign up for sports they see on TV, like soccer, basketball, or tennis, when you're born and raised in the Burgundy region of France, surrounded by world-class granite and basalt mountain ranges from the Alps to Morvan, you're pulled in a different direction: up. Before she was even 10 years old, Charlotte Durif was exploring the alpine with her brother and father on multi-pitch routes. When she discovered indoor gyms at age 9, she never stopped climbing outside, but her practice turned more to single-pitch routes, which enriched her motivations.

In the 20+ years she's spent climbing, Charlotte has covered a wide range of styles and formats, including: alpine multi-pitch, sport climbing, bouldering, and competitions. She has won 6 World Championships and 17 National Championships (including one in the U.S.). She was the second woman in history to climb a 9a/5.14d and has climbed more than 680 routes/boulders 8a/5.13b and up.

With more than 200 climbing destinations throughout the world under her belt, she is proud to have bolted and climbed many routes up to 8c, both abroad and close to home. When she's not traveling the globe, she resides in Salt Lake City, Utah, where she co-owns and produces photo and video content for Cold House Media.
Climbing is a full body activity, which I find very pleasing for my inner physical balance. Being up on the wall, in my bubble with just the square meter of rock in front of me brings me peace and self awareness. It's also the best excuse to travel with the people I love and spend time outdoors there.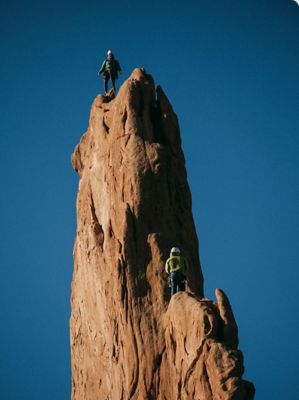 climber, route developer + photographer (she, her)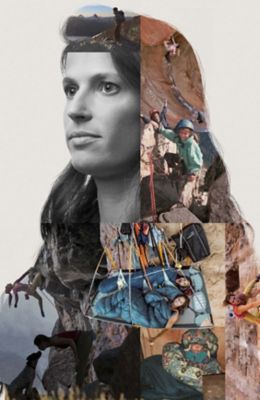 WHY DO YOU ENJOY ROUTE DEVELOPMENT?
I've always been attracted by routes that look good and obvious, more than by grades, and I love solving the puzzle in front of me. With development, it's the same thing but multiplied by having a blank canvas in front of you. I like the creativity it gives me and the reflection, which engages internally: Where do I go? Where do I put my bolts? Could I clip easily? How do I go about it?

I even enjoy the physical aspect of it, even if I'm hanging from the harness for hours, drilling in uncomfortable positions, hammering the points in the rock, tightening the nut to the maximum, cleaning again and again and again... For a lot of people, that is not a great seller! But to me, it's a very satisfying job, especially to see the evolution of a piece of unexplored rock to a route ready to be climbed.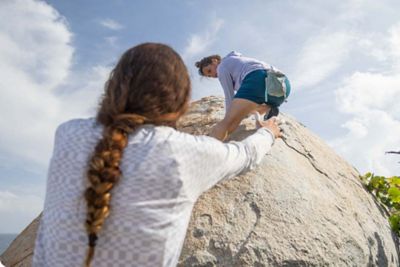 WHAT IMPACT DO YOU HOPE TO HAVE ON YOUR COMMUNITY?
With climbing becoming more and more popular, it's also necessary to develop more routes and areas so that the existing ones don't get destroyed by heavy traffic, and I like the idea of contributing to the development of more routes. I'm all for the respect of terrains, ethics, people, and the leave-no-trace mantra when it comes to the climbing areas for our era and the future ones.
HOW WOULD YOU DESCRIBE YOUR CLIMBING STYLE?
Slow, controlled and precise. I prefer long efforts in routes, than short and powerful moves in bouldering.
WHO WERE/ARE SOME OF YOUR CLIMBING MENTORS? WHO DO YOU LOOK UP TO?
Back in the day, I looked up to ladies like Lynn Hill, Katie Brown, or Liv Sansoz, who seemingly lived their climbing lives and pushed boundaries at a time where it was not that obvious for women to do so. Now I look up to people that are genuinely positive and who go out of the mold to live their best life.
WHERE IN THE WORLD DO YOU ASPIRE TO CLIMB, AND WHY?
Everywhere! Ideally in remote places that are less known or undeveloped.
A LITTLE KNOWN FACT ABOUT YOU...
I have an engineering degree in Material Science, which I obtained after an internship at the M.I.T in Boston, and have achieved a PhD thesis in chemistry and physical chemistry of materials.
WHAT IS YOUR MOST MEMORABLE TRAVEL STORY?
So many to pick from! I'd say our "A World Less Traveled World Tour" with Josh in 2017-2018, where we traveled to 13 destinations over 5 continents with our life in our bags.
"I love discovering new places and cultures, but I also love the comfort of being at home. I love cooking and baking, and spending time with my dog Lulu and my husband, Josh. I know sewing and gardening, and have been renovating our home with Josh which has been a lot of fun hard work."
WHAT ARE YOU MOST PROUD OF?
I'm very proud of everything I'm capable of doing and how I find joy in it all. That goes for climbing related activities, but also for all the other areas in my life, like studies, work, home life, etc. I'm proud of all the changes in my life and how I've been able to grab every opportunity, even the scary ones, to live my life to the fullest.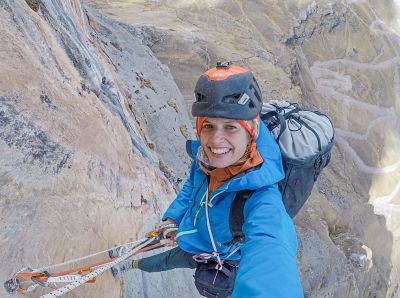 A true back-country workhorse designed for a wide range of day trips
Sale price:

$91.98
Regular price:

$185.00
All-day pant with high-waist fit that transitions seamlessly with activity and environment