climber + routesetter (he, him)
As a kid, Ayo Sopeju took everything apart. This obsession with finding out how things work threaded through nearly all activities he took part in as a child, forming a straight line into climbing and routesetting.

He started climbing when a friend convinced him to skip school and take the train to Joe Rockhead's Climbing Gym in Toronto. Immediately taken by climbing, his interest deepened after developing a crush on the desk manager at the gym. Before long, he was spending nearly all his free time climbing. As he started to establish a community there, he was invited by some of the staff to try out for a setting position. Thinking it was his chance to be pulled under someone's wing, he agreed and showed up without any experience, just an optimistic attitude… Instead, it was baptism by fire.

"It was the first time I was on a ladder in a climbing gym, and I had this thing as leaned against the wall as possible, like as far out as it could go because I was just so scared," he remembers. "It took me three hours to set a 40-foot route, and it was just the ugliest, most horrible thing ever. I remember looking back at the other setters who were working in the other zones, and they would look over every once in a while and shake their heads very obviously."

From that moment on, he dove into routesetting, eventually leading up a small team of setters at one of the most iconic climbing gyms in Canada, all while climbing hard and working his way into competing at the World Cup level. In 2008, he made his first national team and entered the world of international competition.

Ayo is currently based out of Salt Lake City, Utah where he travels around the country and internationally setting boulders with deceiving simplicity.
HOW WOULD YOU DESCRIBE YOUR ROUTE-SETTING STYLE?
In a long view of time, I hope that one description of my work is that it's always changing. Climbing and routesetting evolve pretty constantly, so I think part of my style has to do with representing or resisting certain changes that I like or think are important. Right now that typically means representing really complex climbing in very simple-looking assemblages on the wall.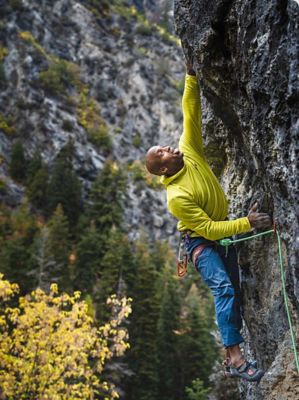 climber + routesetter (he, him)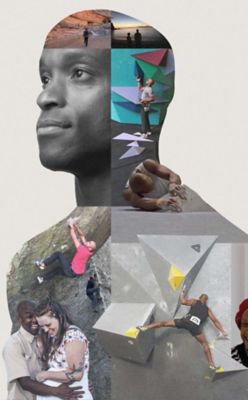 HOW DOES BEING A DAD SHAPE YOUR CLIMBING?
These days I can't help but think about my parents and how I'm basically a mashup of the two of them. Having kids means really modeling the things my parents instilled in me and my sisters. Curiosity, patience, persistence, and a sense of humor are nice tools in general but in climbing, too. Kids have an amazing way of dealing with life in a world where very few things are designed to accommodate them. It's a nice reminder that discomfort is not separate from learning.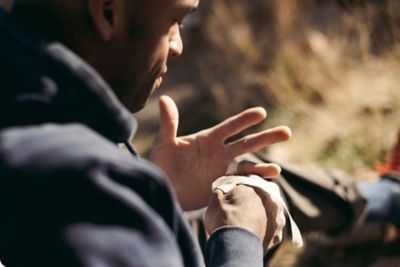 WHO ARE YOUR CLIMBING MENTORS?
Andre Cheuk, Dave Voltan, Chris Lepik, Sachi Adachi, Tonde Katiyo... There are lots of people who I've been lucky enough to learn from or form ideas with over the years. Some of the lessons from them came as advice, but mostly, I gleaned from the way that they live: Try hard, think deeply, be cool, step back.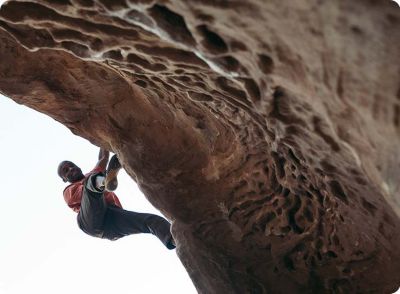 WHY DO YOU ENJOY ROUTESETTING?
Routesetting keeps me close to climbing. Without it, I'd probably still climb, but it gives me a reason to go further and pay attention to or experiment with new things or old ones that I may have overlooked. It's creative and gives me the opportunity to ask questions about movement that sometimes take years to answer. And of course, it's fun!
I climbed in my first World Cup when I was 30, which in the competition scene is the age that most people start thinking about retiring. Climbing at World Cups happened "late," but it was the start of a lot of crazy experiences that changed the way that I think about climbing and life in general. After World Cups, the concept of difficulty is less simple. Small holds or big reaches can make things hard but doubt is equally confounding. To be successful, you have to find your superpower and apply it unrelentingly.
A sustainable reimagining of our best-selling ultralight down hoody
Versatile athletic pant with a tapered fit that deftly moves from indoors to out
A versatile go-to baselayer for cold-weather activity and after