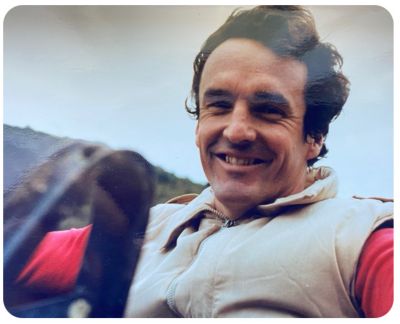 MY DAD IS MY ORIGINAL HERO.
Growing up, I saw the way he moved through the world with confidence. I would frequently see him strike up conversations with strangers on the street—in English, Spanish, or German. He learned to speak Spanish fluently during his year in Venezuela with the Peace Corps and had a decent vocabulary in German after working at a hospital there before biking across Europe on a 1960s Peugeot road bike. I was always in awe of how many lives he had lived and the breadth of experience he sought after.
Both my parents were adventurous and athletic. They met at a local windsurfing competition, and they dedicated their free time to the sport throughout the 80s, the same way climbers do today. After they married, they spent a year on the road, driving and windsurfing through Mexico.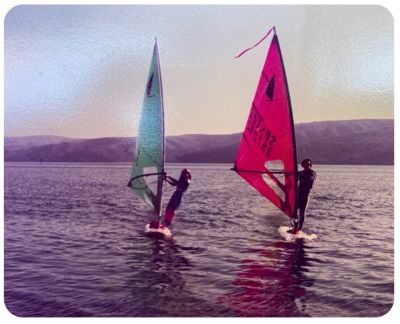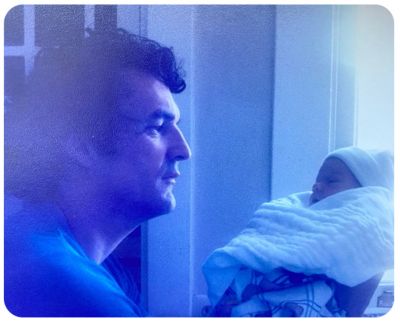 They loved the outdoors, and after I was born, the adventures didn't stop.
As my dad got older, he slowed down a little, but he never stopped. He continued to ski powder through the trees in Tahoe and complete grueling 100+ mile-long bike rides at elevation. I was lucky to have grown up spending so much time in nature with him and be given the same appreciation they had for adventure and the outdoors.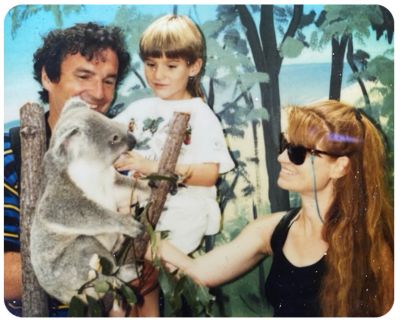 When I was eight, I was introduced to the sport of climbing, after the biggest and raddest climbing gym in the country, Mission Cliffs, opened four blocks away from my family's home in San Francisco. We were on our way back from a hockey tournament, and my dad took me inside. He had heard that the new gym contained "cool structures" and was curious to check it out. I remember wanting to skip it and just go home… I'm glad we didn't! I was always into sports, but I fell in love with climbing in a way I hadn't with anything else before.
Finding this extraordinary path at such a young age felt like the greatest gift I could have possibly been given.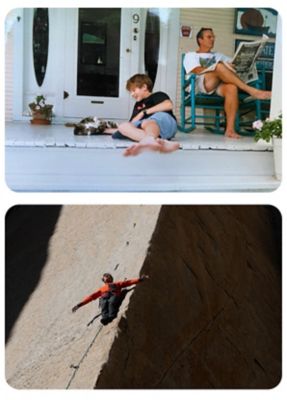 Through the gym, and then the youth competition circuit, I found community and formed friendships that have lasted decades. Seeing the level of the best climbers of the 90s inspired me and sent me on a path to push my physical and physiological limits that I've been on ever since. I've been able to travel all over the world and visit beautiful and remote places in search of the hardest, most stunning lines on rock.
I could not have pursued climbing as whole-heartedly as I have without the unwavering support of my parents. And even though I'm extremely grateful for the perspective that growing up in San Francisco gave me, my heart will forever be in the mountains, near the rocks—away from my family…
Throughout my late teens and 20s, I traveled most of the year for climbing, but I still used my parents house in the city as a homebase. One evening, in early September, 2013, I came home to find my dad on the floor of his bedroom, unable to get up.
That morning while I was out, he'd suffered a massive, right-hemisphere stroke that rendered the left side of his body completely paralyzed. He'd been on the floor of his bedroom all day, and I knew as soon as I found him that he'd never be able to get up on his own again, let alone do any of the outdoor activities he loved.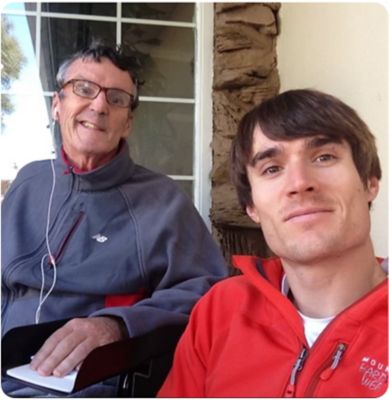 Over the course of the next few months, he lived at a couple different rehab centers, but his condition didn't improve; his left side remained offline. I continued to climb, but for a while, I was afraid to go anywhere too far away from my dad. Either my mom, my brother, or I would almost always be by his side. As the days turned into months, we adjusted to this new normal, but eventually, my dad ended up at a care facility, where he's been ever since.
Eventually, I started climbing a little more often and taking longer trips, but I always came back to spend time with him. While I was at home, I would visit him a few times a week to tend to him, advocate for him, and take him out to appointments, meals, or to a movie. And then, I would leave again to go climbing.
The time away was always an important recharge because the work of caring for him often felt isolating and exhausting, but I would also feel immense amounts of guilt while I was away, imagining him sitting in his room, at his board and care, trapped in his body, in front of the TV, in such a sad and diminished state.

It began to feel like I was living two, opposite lives: one in which I was a traveling climber, the other, a caregiver for my dad. One was in the mountains, away from the masses. The other was in the Bay Area, amongst them. The climbing life, I could share with everybody: it was one that lots of people could easily understand and be inspired by. My life as a caregiver, felt isolated and seemed like something very few people my age or even older could relate to.
Days with my dad could often be filled with a hundred little struggles that I knew nobody would ever see or know about.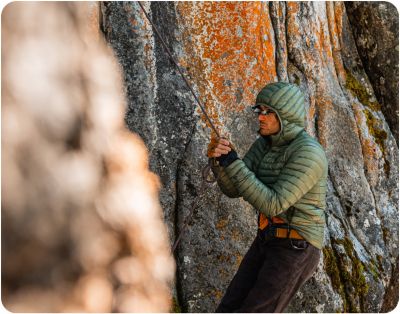 For almost a year, I was just going through the motions of helping take care of him, too busy and cut off from my heart to feel deep sadness. My dad had been stripped of almost everything: control of his body, much of his cognitive function, his freedom, and dignity. Before his stroke, he'd always been very active and adventurous. Now, he is bed-ridden. Intellectually, I knew his situation was heartbreaking, but my heart had never truly broken before and didn't quite know how to. I had never been this close to something so tragic. I was like most of the other people I knew: emotionally armored against real sadness.

For a while, being committed to taking care of my dad felt more like a curse than a blessing. (Though, committed I was, since he and my mom had given me everything.) That feeling changed on my 28th birthday.

At a bar in the Mission District, after a birthday celebration at a restaurant with some of my closest friends, my heart finally decided to open to the devastating reality that was my dad's situation, and I sobbed uncontrollably for the first time in my adult life.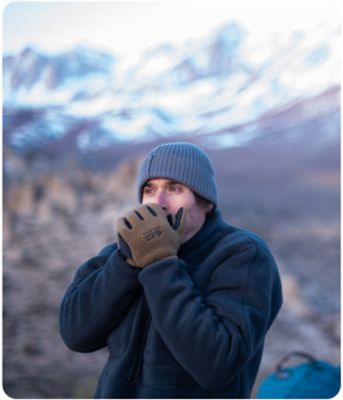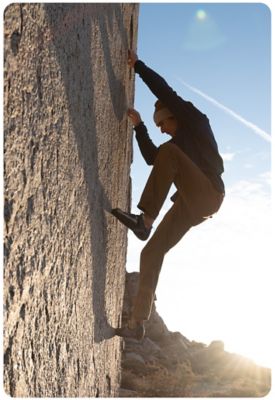 If you've ever allowed your heart to fully break open, then you know what this feels like. For me, it feels like looking into a deep chamber full of stored up emotions I didn't know I was hiding, and giving myself the space and compassion to feel it all: the hardships and the struggle, the pressure and pain I'd inflicted on myself in an effort to feel okay all the time, the devastating sadness that was my dads reality... For the first time in my life, I glimpsed the true depth of my heart.
Walking through this door, into a part of myself that I didn't have access to before was a life-changing experience, and a gift that I never would have received if it wasn't for my dad. Realizing that helped me view my dad's stroke and the opportunity to continue to spend time with him as a blessing. It also sent me on a spiritual path that I knew I could never reverse.
Now, when I'm on a climbing trip, I'll see a beautiful sunset, and imagine my dad laying in bed at his board and care, in front of the TV, and think, "He will never again get to witness this kind of beauty, from this kind of vantage." My heart breaks open, but what rushes in to fill the opening, is true love like I never knew before.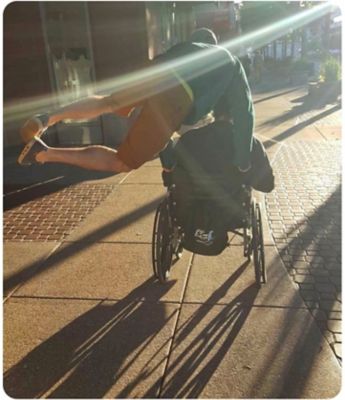 That space of love is one that I can't seem to occupy for very long, but it's a door I know I always have access to. And every time I walk through it, I feel a strength I didn't have before, almost like a superpower.
We're all taught to try to avoid "negative" emotions like sadness, but through my dad's tragedy, I've learned sadness is the gateway to love: that accepting something as difficult as my dad's situation–accepting a heart-breaking tragedy–is a way to understand what a precious, impermanent gift life is. It's still the greatest tragedy I've ever witnessed up close, but next to discovering climbing, it's the greatest gift the universe has given me.
Genevive climbing
becoming a mother,
not unbecoming myself
Written by Mountain Hardwear climber Miranda Oakley.