tested on the grand
WITH JACKSON HOLE MOUNTAIN GUIDES
Written by Devon Lambert, Equipment Product Line Coordinator at Mountain Hardwear. All photos by Mark Fisher.
I've always thought of the Grand Teton as a rite of passage for any aspiring alpinist in North America. Not only is it an amazing test of one's abilities, confidence, and knowledge, it's a perfect testing ground for the gear we rely on to complete such a feat. This summer, myself and others from the Mountain Hardwear product team partnered with
Jackson Hole Mountain Guides
to take on this summit. This trip was much more than just a trip to the top of the Grand though, it was product testing for an entirely new line of equipment coming out in Spring 2019.
So why the Grand? We ended up on the Grand largely in part to the long-term partnership we have with the guides at Jackson Hole Mountain Guides. Not only are these folks talented and legit users, but they are also gold mines of feedback for how we can make our products better. Many of these guides had just come down from their season guiding on Denali, some had made multiple summits this spring and are sleeping in a tent more days than not over the course of the year.
This trip was an amazing testament to the conditions that can be experienced on this type of mountain. It was the middle of July, it was scorching in many areas around the country, but at Corbett High Camp, we woke to snow and relentless wind. These were the perfect conditions for testing the product we built to excel in this environment. We began our ascent through wind, ice, snow, and rain and got back to camp a short 12 hours later with everyone's name in the summit registry.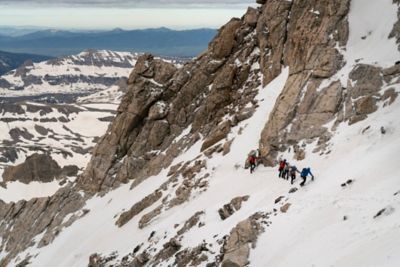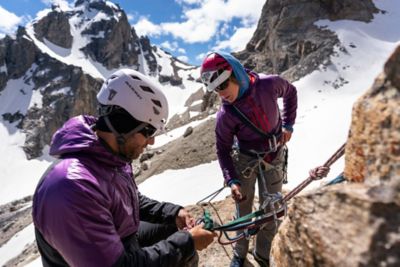 While the summit was an accomplishment for all, it wasn't the primary objective. The objective was to get the gear that we had been working on for the last year out in the field and make sure it passed the guides' tests as well as our own. Not only did we get to test new gear in camp, we got to test it out on the mountain. We climbed, scrambled, kick-stepped, and crawled all en route to the summit, putting the new equipment and apparel to the test. It wasn't just theoretical anymore, it was real. We discovered what functioned well and what needed some re-tooling. We took the guides' feedback and came up with our own. This was all to ensure that when the product comes to life in Spring 2019, it lives up to the expectations of being a Mountain Hardwear product.
So much time and effort goes into building a product, usually by the time we see it in stores or online we've been thinking about that idea for years. Often times we rely on athletes, ambassadors, and guides to relay critical feedback on new styles as we send them prototypes. Being able to talk to these guides in the field and use the gear ourselves made this experience even more unique. It had been over a year since the products were initially conceptualized at the time we took this trip. In some cases, we were carrying our 4th or 5th iteration of that product, constantly trying to refine and perfect.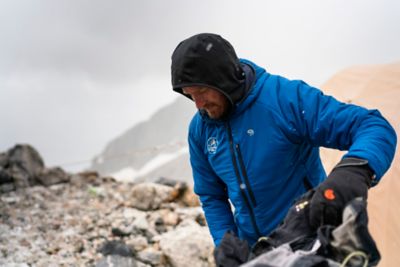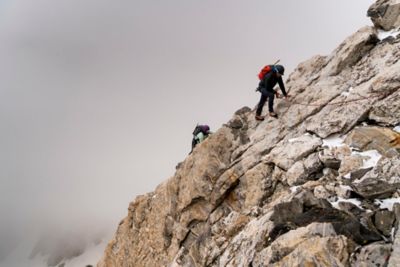 Eight months before the trip, a crew of guides from JHMG came to our headquarters in Richmond, CA to give us critical feedback at a time when new designs were just being finalized. They talked about what had worked and what didn't in the previous styles; how to make it better; and what they'd seen in their gear based at Corbett High Camp.
Now almost a year later, we were able to see what they were talking about; the rugged environment that the gear is subjected to day after day and how they've developed ways to ensure the gear has a long life. Now on their home turf, we were able to compare the old styles to new; explain our improvements, and show them the new ideas that came out of that meeting eight months ago. These partnerships are critical to creating the best equipment and apparel possible. As much as we would love to always be in the field ourselves, we dedicate a lot of our time in the office making sure the products actually get built. Having a team that is constantly using our product and pushing it to its limits allows us to push our products further than we otherwise would. We at MHW are incredibly excited to show how trips like this have allowed us to push our 2019 line beyond where it's ever been before.