EXPOSED IN THE NEEDLES
INSIDE AN ALL-DAY EPIC WITH MIRANDA OAKLEY,
MHW CLIMBER AND AMGA GUIDE.
Written by Miranda Oakley, Mountain Hardwear climber and AMGA Guide. Photos by Ted Hesser.
You can feel exposed in a variety of situations. Maybe it's 30 pitches up a climb with thousands of feet of air beneath or on a snug top-rope just one pitch off the ground. Maybe it's 40 feet above your last piece of gear or just ten. Or perhaps it has nothing to do with climbing… Maybe you're safe on the ground with a sweeping view or simply sitting under a climb with loose rocks looming overhead. Maybe you're at work giving a presentation you're unprepared for or underdressed at a party. Wherever you might find that feeling of exposure, it doesn't always directly relate to danger or risk.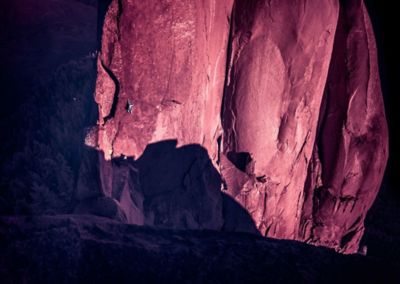 These were the thoughts going through my head as I struggled to commit to a move on the sticky, white granite of The Needles, a climbing area in the foothills of California's Sierra Nevada, just a few hours south of my home. We were only a couple pitches off the ground, but its pointy formations are perched on a hilltop making even the single-pitch climbs feel exposed. I looked down at my last piece of gear, a medium-sized, offset nut, wedged into a shallow crack five feet below me. The move required stretching my left foot out and leaning over to a stem and grabbing a hand-hold that I hoped I could reach. (And that I hoped was good…) I searched the rock above me for any weakness or fissure where I could fiddle in some gear but found nothing. My calves were starting to burn, so I had to choose: move through it and find a better rest or stay put and psych myself out. I leaned over to paste my foot and grabbed the hold. Just a few pitches off the ground, I was surprised by the level of deliberation and effort I needed to put forth in order to complete this "warm-up" climb. With years of climbing V- and VI-graded walls under my belt as a guide in Yosemite, I figured The Needles, which consists of mostly single-day climbs or shorter, would be a nice break from the longer, seemingly more committing climbs I was used to.
My climbing partner, Shelton, and I decided to do some "warm up" routes in the area to prepare for Romantic Warrior, a steep and stunning line on the north face of the Witch formation that I'd been dreaming of doing for a while. A few years prior, I came to the area with a similar goal, but after climbing some easier routes, we found them to be more serious and hard for the grade. That, combined with the grave warnings in the Mountain Project comment thread, made us change our minds and return to Yosemite a day early.
This trip would be different. I was feeling strong, and with physical strength comes mental strength. I was confident that after a few days of warming up in the area, I would be ready to tackle this objective. Yet, perched just a few pitches up Spooky, an unassuming, three-pitch 5.9, I found myself questioning my objective once again.
The feelings of exposure and commitment I've had in The Needles is, perhaps, intensified by the three-hour hike into the climbing area. The hike keeps this gem of a climbing area relatively quiet, rarely encountering other parties. While I love the solitude, I often find myself thinking twice about a risky move, knowing that even just a sprained ankle could mean a long and painful evacuation. Anything worse would be quite serious in this remote area.
I put these thoughts on the back burner of my mind as I continued to the top of the formation. We enjoyed our summit in the sunshine and ate peanut-butter and jelly sandwiches at the summit, where Shelton and I discussed trying a 5.11 called The Shaman on the next formation over. We would have to rappel to get to a saddle between the two formations where the climb started. With no guidebook and almost no information about the route, I hesitated to make any promises about starting up the climb.
From the summit where we ate our lunch, we studied The Shaman, and it appeared that there was a good crack leading up to a bolted arête. After eating, we rappelled down to the base of the climb. Upon further inspection, it seemed that what we thought was a crack was not a crack at all but more of a seam… We wondered if we would be able to get some small gear into the tiny seam—and if we were able to, would the tiny cams be strong enough to hold the force of a fall? The more surface area a cam has contacting the rock, the stronger the protection is. A small cam with tiny lobes, by nature, will be less strong than a bigger cam, even if placed perfectly.
About 30 feet up the seam, there appeared to be a knifeblade; and another 30 feet above that, there was a shiny expansion bolt. A knifeblade is a type of piton made for aid climbing. It's basically a sliver of metal that gets hammered into a thin seam—not to be confused with a standard angle piton, which is a piece of metal folded lengthwise into a V shape that can be hammered into a wider crack, making it much stronger and more trustworthy than a knifeblade. Unlike a regular piton, a knifeblade is not meant to take the force of the fall; you can often see one flex under body weight alone. The expansion bolt was the only sure bet as far as protection on the first 100 feet of the 200-foot route. I quickly decided that it would be a bad idea to try this route, despite the fact that the book only called it 5.11 and gave it no "R" (runout) rating.
We continued rappelling from the saddle into the main gully and scrambled up to a classic three-pitch 5.10 called Airy Interlude. It's a beautiful climb and, as the name suggests, feels quite exposed. Following a corner system about halfway up the Witch, you then take a right-leaning splitter over to another corner system, where you join up with a climb called Igor Unchained. After leaving the corner, you're forced to trust foot smears on subtle textures and hand-jam up the diagonal right-leaning crack. I felt fairly solid as my feet stuck to the granite, and I knew if I fell, I would be totally fine. We scampered our way to the top just as the sun was setting. Glad to be done with the technical climbing before nightfall, I still couldn't relax knowing we still had a couple rappels and a strenuous hike to get us back to camp. I was starting to learn that all-day epics were not limited to the climbs themselves…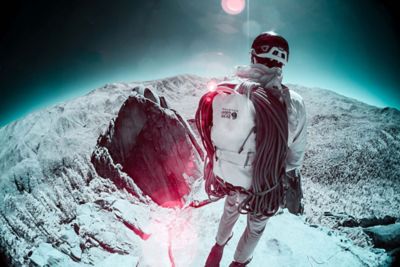 The next day as we hiked back out to the climbing area, I started to notice that my legs were already fatigued, but Shelton decided that he wanted to climb The Shaman afterall. He thought that if the book didn't give it an R rating, it would probably be possible to fiddle in some small cams in the seam. I told him I would support him by giving him a belay and cleaning the route on top rope, but I was not willing to lead the climb myself.
Shelton climbed up and down the first 20 feet of the formation a few times. We couldn't tell which of the cracks at the bottom would lead us to the upper seam with the knifeblade and the bolt. Shelton was able to find a few tiny cam placements in the first 15 feet but didn't feel comfortable "going for it" with no obvious gear placements in sight before the knifeblade. Even if Shelton was able to make it to the knifeblade, I wondered if it would even hold his weight. It seemed like the route was rarely done, and to me, that meant the knifeblade could be decades old. Not willing to make a hard move above his tiny cam placements or leave any gear to lower down off of, Shelton decided to down-climb the progress he had made and remove the gear as he came down.
Back on the ground, we spied a crack about 15 feet to the right. Although we originally didn't think it was part of the route we were intending to do, we could see from the ground that the crack was indeed not just a seam and that it would take mid-sized cams for a ways up. Shelton decided to go up this crack and pendulum over to our intended route.
Pendulums are considered aid climbing because they require weighting the climbing gear in the crack, lowering a bit and swinging over to your intended line. We decided this would be the safest way to get up the first 30 or 40 feet of the climb. Although it would not be a redpoint, Shelton figured that the ends (getting to climb a cool line) would justify the means (a bit of aid climbing). If Shelton had gone up the main line, he would be taking a huge risk by making hard moves above tiny cams not far from the ground. If Shelton had fallen and one of the cam placements didn't hold, there was a good chance he would have hit the ground. If the move were higher, he would probably be fine if a cam or two blew out of the crack under the force of the fall—only as long as he had a good cam below it. Being only 15 or 20 feet from the ground, there was no room for error.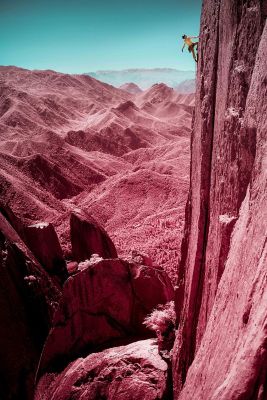 After climbing up about 40 feet, Shelton built a simple two-piece anchor, two cams equalized with a sling, and yelled, Take! When penduluming, it's important to make sure the gear you are penduluming off of is really strong because if the gear blows as you're swinging over to the desired line, the consequences could be dangerous. From the pendulum point I lowered Shelton about 10 or 15 feet, and he swung over just below the piton.
At this point, Shelton could not place any gear due to rope drag (the weight of rope as it's going through bends in the rope that make it hard to pull up). He had to climb at least as high as the pendulum point before placing gear. If he fell, he risked swinging back over to the line on the right. But the seam Shelton had pendulumed over to was not big enough for any cams anyway. He climbed up to the knifeblade and was able to pull the old piton out with no resistance, continuing up without gear in the thin water-grooved seam.
My hands were sweating at the belay, but Shelton showed no signs of being nervous. I watched as he attempted to place some gear in vain. He made it to the first expansion bolt, and I felt briefly relieved. But soon after the bolt, I realized that there was still no gear that could fit into the seam. Over 70 feet off the ground, it seemed like he was entering back into ground-fall territory; yet his upward movement remained smooth and confident. I felt better knowing that his ability to climb through hard terrain would provide adequate protection on the route, despite the fact that gear protection was less than ideal. He eventually made it to the bolted arête at the top, and I felt confident that, if he slipped, the expansion bolts would hold his fall.
Upon following the pitch, I was even happier with my decision not to lead it. The few cams that Shelton was able to place on his way up were either tiny or behind questionable flakes. I was doubtful if there was any gear on the 100 feet of terrain that could have withheld a fall. On top of that, the climb was covered in bright-green lichen, one of the distinguishing features of the rock in The Needles. On most climbs, the lichen has been worn thin by climbers and is not slippery. Due to lack of traffic, the lichen on this route was flaky and had little friction. I felt that my foot could slip on it at any moment.
Back at camp that evening, I celebrated Shelton's bold but risky lead, bragging about it to our friends. Shelton brushed it off as if it was no big deal, but I refused to let his ascent be overlooked.
I don't think any of that gear would have held his fall!
I told our friends.
But he just kept climbing like it was nothing!
Shelton was way too humble to do any bragging for himself, so I did for him.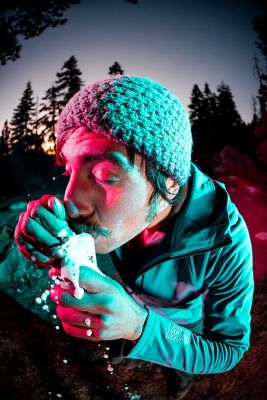 As I laid in my sleeping bag, I started to imagine what would have happened if Shelton's foot had slipped on the lichen-covered rock… Would any of the few tiny cams he had placed have held a fall? If not, he would have surely hit the ground. How would a rescue go so far out into the mountains? In addition to the three-mile hike, there was at least an hour drive before reaching cell service. I was haunted by the ghosts of my climbing heroes and wondered if it was wrong to celebrate this kind of risk-taking.
Why does the element of risk make the ascent so much more impressive? Would I be celebrating Shelton's ascent if the climb was well protected? If Shelton were to retreat, would I celebrate that decision? I certainly didn't feel proud of my decision not to lead the climb, although I knew I had made the right call. I worried that by celebrating these decisions to take on extreme risk while climbing, we encourage unnecessary risk. I wondered how many climbers who have died or gotten seriously injured would have taken those risks if they were not encouraged in this way… Suddenly, my stomach felt heavy with guilt.
After 20 years of climbing, I have seen the community lose some of the greatest climbers to climbing accidents. Most of these accidents happen when they shouldn't. They happen in moments of relative safety when people have, perhaps, let their guard down. Although some accidents do happen when climbers are taking known risks, the majority happen when we think we're safe. But still, I wondered, is celebrating risk-taking in this way somehow contributing to carelessness? We recognize the importance of being safe, but we almost never celebrate safe decision-making the same way.
On the hike back out the next day, I complimented Shelton on his decision to avoid the scary start of the climb but was concerned about the level of risk required to climb the second half. I was glad he was a good climber and didn't fall. I tried not to psych myself out with these thoughts, but I remembered that when climbers forget about the presence of risk is when they are most exposed to it.
We were on our way to try a hard climb called Pyromania, a beautiful and steep finger-crack that curves up through bright yellow and green, lichen-covered granite. The start of the climb looked like a hard boulder problem with no gear for the first 20 feet. It's not much higher than a boulder problem to get to that first slot where I could place gear, but with a pointy boulder directly under the climb, the landing area looked less than ideal. I decided to top-rope to feel out how the climbing was getting there, and immediately, the bottom, unprotected section seemed to be the crux. I decided it wasn't worth leading. I placed a couple of cams above the boulder problem, equalized them with a sling to make a small anchor, and clipped my rope through it before lowering to the ground to try again.
The Needles was developed with strict climbing ethics. I knew that the old-school climbers from back in the day (and some newer climbers, too) would not approve of this technique. Knowing that I would essentially be climbing the crux on top-rope, even I considered this to be "cheating." But I didn't care enough about being able to say that I sent the route if it meant risking two broken ankles.
In the end, I was glad I didn't take that risk. After barely getting through the crux on top-rope, I fell and said 'take' a bunch of times on the upper-crack section. I was happy to be able to try the line but would have to come back and work it a bit more before sending the top half of the climb. I don't think I will ever really redpoint the climb because, to me, the reward of redpointing the route would not justify the risk of climbing the first 20 feet unprotected.
The next day, I woke up to sore muscles. I wasn't sure if my legs could handle another big day. Shelton was feeling similarly. After eating breakfast and drinking coffee, we decided to bail on Romantic Warrior once again. With limited time, it was not feasible to rest a day and then try the route. It is a route that is still on my list. Perhaps next time it would be beneficial to not go as hard leading up to the route: maybe just a few warm-up climbs before trying it. I knew it would still be there for me whenever I felt totally ready for it.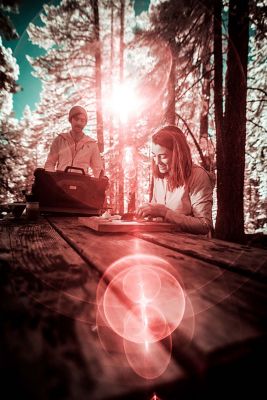 We packed up our camp and said goodbye to The Needles. It is such a magical area that I look forward to coming back. Bailing on Romantic Warrior would give us a reason to come back and try it while we were fresh and energized.
We slowly made our way west on the small, windy road leading us out of the foothills of the impressive range of mountains that I call home. I reflected on our trip, the climbs we did, and my reactions to them. I was struck by how committed and serious the climbing felt on these relatively short climbs in this remote location compared to how I feel climbing 3,000-foot walls in Yosemite Valley. I have seen helicopters pick climbers off of El Capitan 2,000 feet off of the ground. Although, I would hate to ever call for a rescue anywhere in the world, knowing what the Search and Rescue team in Yosemite is capable of has had an effect on climbers in the area. Knowing that a rescue is a phone call away on any formation in Yosemite Valley means that if a serious accident were to happen, a rescue is likely an option. I wondered about my proudest ascents on grade V and VIs in the Valley and if I would have been as willing to do the climbs if I were in a more remote area. Even on my solo ascents of El Capitan, I was never alone.
I was bummed to leave without climbing Romantic Warrior, but in the end, I knew that Shelton and I should be proud of our decision to mitigate a potential risk. Given the seriousness of the climb, I knew that we should only attempt to do it if we felt 100-percent ready. Doing the climb while feeling tired after days of hard climbing and hiking, would increase the chances of us falling on the climb. According to the comments I had read about the climb on Mountain Project, parts of the climb are harder to protect so we would be relying much more on our abilities to climb without falling. It never feels good to bail on an objective, and we would not be coming home with heroic stories of our ascent, but I hoped that making the smart decision to avoid potential risk would satisfy our adventurous souls and placate our delicate egos.