moonlight buttress
MHW ATHLETE ETHAN PRINGLE
Written by Ethan Pringle. Photos by Francois Lebeau.
Trying to onsight Moonlight Buttress had been a goal on my bucket list for years. It's one of those routes you see pictures of and think, "WOW"! Linking over a thousand feet of exposed, flawless finger-cracks, it's seen thousands of ascents, both free and aid, but only a dozen or two onsights. But in all those years, I'd never made it a priority. Slowly, Moonlight fell into the category of classic climbs that I would eventually get around to doing—someday. But when? After spending years working on my crack climbing skills in places like Yosemite, Joshua Tree and the Front Range of Colorado, I felt like I was more than ready. But even though I knew I had a good shot, sandstone splitters are a huge weakness of mine. No matter the outcome, I knew trying it would be a challenge.
In the winter of 2018, I was approached my Mountain Hardwear about an idea for a video project centered around a multi-pitch or big-wall objective. As spring grew nearer, the filmmakers secured permits to shoot in Zion, on Moonlight Buttress. I was finally being forced to climb this fabled, world-class trad-climb, for work! Ugh, my job is hard! All I needed was a capable, psyched partner.
The first person to come to mind was my friend Tiffany Hensley. A fellow Californian, Tiffany was someone I'd known for over 10 years on the competition circuit, but hadn't ever shared a rope with. In the comps, she crushed with the best. After retiring from competition climbing and spending some time on the road, Tiffany had taken a seasonal position in Mexico, introducing at-risk youth from the outskirts of Monterey to climbing for a non-profit called Escalado Fronteras. She's got a big heart, a calm demeanor, a great sense of humor, and a penchant for suffering with ease. She would be the perfect partner for a grueling, all-day multi-pitch climb.
Plans were made, and dates were set. Thoughts about Moonlight began to build in my imagination.
I picked Tiffany up at the airport in Los Angeles, in mid April. We drove towards Zion, catching up on life, telling stories, and laughing the whole way. We stopped in Vegas to give our asses a rest (and for some very interesting people-watching), then pushed on to a friend's house in St George.
We had a couple days before our scheduled attempt at Moonlight, and wanted to take a lap on something a little easier to get our heads in the trad-climbing game, dial in our systems, and maximize our time at this bountiful destination. We decided on the Zion classic Shune's Butress, a 5.11- recommended to us a dozen times over by friends and people on Mountain Project.
We caught the bus into Zion Canyon early the next the morning. Surrounded by tourists, our dirty, gear-filled backpacks and duct-taped-patched puffy jackets earned us some curious looks, but our focus was elsewhere. Outside the windows of the bus towered grey, green, and orange walls, leaning gently toward us like sentries lit by the early-morning sun. I hadn't visited Zion since I was a kid, and now I mind-climbed every featured face or crack system I saw. I was so glued to the scenery that the bus driver had to keep reminding me, over the intercom, to get out of the stairwell. Cue more curious looks from the tourists.
I led up Shune's, trying to stay calm on the slick sandstone. Three pitches up, I went to battle with the 5.10 off-width crux. I lost purchase mid-grovel, thought about the one #4 camalot between me and bodily harm, and down-climbed slowly out of the flared bomb-bay, back into the chimney. I stood on a small ledge and regrouped. I got through it on my second attempt, but it wasn't pretty. I tried so hard on that pitch, I felt throttled and dehydrated afterward. I'd sent 5.14 with less effort. If 5.10 felt that hard, how would the 5.12 pitches on Moonlight feel?
After four more long pitches, we stood on top of Shune's, broken but smiling. Our avocado, cheese, and veggie sandwiches had turned into giant gobs of something seemingly inedible, but we scarfed them down anyway before starting the rappels. I was pretty worried that the beating my body had just taken would still be with me two days from now, when we were scheduled to attempt Moonlight. At least I wouldn't have to worry about my partner. Tiffany was fast and skillful, and we'd had nothing but fun together.
Sure enough, it felt like a train had hit me when I woke up the next morning. My feet and toes throbbed, and my shoulders felt like they'd been knifed. But we had permits, and a schedule to stick to. I would be ok.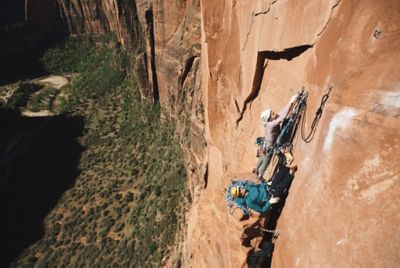 The alarm goes off at 4:30am. We stagger down the stairs of our hotel, and pile into a rented mini-van with the film crew. At the parking lot, we put on headlamps, shoulder our packs, and walk towards the river. It's dark. I still haven't seen this part of the canyon, or laid eyes on Moonlight Buttress during the daytime. Contrary to the name of the route, it's a moonless night, and I can barely tell where the wall ends and the sky begins.
Tiffany and I rack up, tape our hands, and say goodbye to most of the members of the team, who we'll be reunited with on top. At last, we are climbing Moonlight Buttress! There seems to be a breeze in the air, assuaging some of my fear of the brutally high temps we'd seen on the weather forecast.
We blast up the first couple of easier pitches to the bolted, 5.11 traverse. The rock on the traverse is bullet hard, with engaging movement on patina edges. Tiffany follows cleanly, with little effort. After that pitch, the climb goes straight up to the "rocker-blocker": a ledge literally bolted onto the wall and connected with two short chains. Despite that, it still rocks gently. Here, the harder climbing begins.
By now, the sun is on us, but it's not nearly as oppressive as we'd feared. On lead, I jump off the rocker-blocker and snag an edge just out of reach. The next move is probably the hardest on the route: a rock-over move to a far-away crimp. I stick it and mantle up into the dihedral, slow my breath, and start lay-backing the 160' long corner that's purported to be one of the hardest pitches.
Fortunately, there are plenty of rests, and very few bad holds. It seems as though all the traffic over the years has hollowed out the finger-locks, making them deeper and juggier. I climb my way to the top of the epic corner, milking each rest and trying to conserve as much energy as I can for the thinner, more sustained sections. When I finally clip into the belay, I'm psyched to have gotten one crux out of the way.
So far, the climbing has been really enjoyable, and gone down without too much struggle. But just above is the pitch I'm most intimidated by: the notorious "flared corner". After that, three more 5.12 splitter pitches guard the summit. Still plenty of chances to fall, but having the long corner behind me gives me some confidence.
I start up the flared section, surprised at how much weight I can give my feet. I shuffle up the corner until it flares so much I have to start power lie-backing: one foot almost at the same height as my hands, the other one lower, rand-smearing.
I climb with as much control as I can, locking off every move in between the deepest breaths I can muster, and trying to stay as calm as possible. The pump starts to increase, but I find little stances to relax into. With this technique of resting my way up it, I finish another pitch. Tiffany dispatches the pitch on top-rope, and we decide to take a little rest, and wait for the wall to go fully into the shade.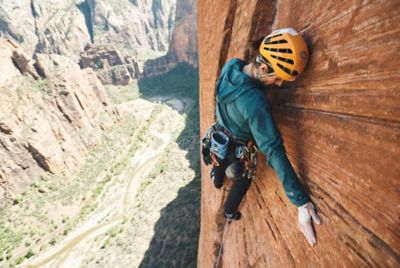 Thankfully, this ledge is wide enough to lay our backs flat on, and stick our legs up the wall above. I call this, "legs up the wall", or in this case, "legs up the big-wall". It feels amazingly restful.
I put away the first of the three splitter, 5.12 finger cracks, and belay Tiffany up to another ledge. The beginning of the following pitch looks much harder: a very thin crack, with no face-relief. My toes are killing me, but I dig deep, keep my feet high, and shmampus (smear-campus) through tight finger-locks for 15 feet, before the crack widens a little and some footholds appear on the face. I finish the pitch, and allow myself to celebrate a little.
We've made it so far at this point, I'm confident I can handle the last remaining 5.12 pitch: a corner that turns into a spider-web of vertical and horizontal cracks, then continues up one last steep splitter section to the anchor. We are way off the ground, and this beautiful pitch turns out to be as fun as it is striking. I climb so relaxed, in fact, that one of my feet slips off the wall near the top. It's a heart-fluttering moment for the film crew, who's just feet away, but my other three limbs are secure enough that I don't fall.
The whole crew waits on top with cameras, like paparazzi. We exchange hugs and high-fives, food and water, smiles and laughs, and tons of photos. The view is breathtaking, the exhaustion satisfying. It dawns on me: I've on-sighted Moonlight Buttress! I feel a mixture of pride, and relief. Eventually, we pack up and leave. Surrounded by tourists descending from Angels Landing, I stomp down the trail, marveling at the majesty of Zion, on cloud nine.