climber, photographer + advocate
(she, her)
Nikki Smith started climbing in the early 90s and has been working in the outdoor industry and climbing world since 1998. Nikki's photography has been featured in many outdoor publications and is a National Geographic Adventure photo contributor. She's authored five climbing guidebooks to date and has written many feature articles for major climbing magazines including Rock and Ice, Alpinist, Deadpoint, and Urban Climber. She has completed over 150 roped first ascents of sport, trad, mixed and ice climbs from 30' to 1600' throughout Utah, Wyoming, and Idaho, and has traveled the world to climb.
As an advocate for the LGBTQIA+ community, DEI Committee member for the American Mountain Guides Association, and board member for the Access Fund, much of Nikki's work is now focused on building a more inclusive, diverse, and safe community within climbing and the outdoors. What started as a reminder to herself, Nikki's tattoo, a reference to a Brené Brown quote, represents the impact she hopes to have on her communities. She believes representation matters and is motivated to cultivate a sense belonging for queer youth in climbing.

"I want to make people feel welcome in the outdoors and beyond. Climbing and the outdoors have been so vital in my life, and I want to make sure everyone gets to have their own transformative experiences in the outdoors."
DESCRIBE THE PERFECT CONDITIONS FOR WRITING A GUIDEBOOK...
For me, it has to start with a love for the place. It's usually an area that I have a long history with; many first ascents, and lots of time in the area. It's a long process that I don't try to rush. I want what I do to be good, not out on a deadline. I created my own publishing company so I can create the books I want to see. If I want to spend extra pages on history, profiles on local legends, I have the ability to do that. Guidebooks combine many of my passions, climbing, photography, art and design, writing, history, and community. Once it's done, it's a tangible and long-lasting thing that I can hold.
A Granite Guide: Ferguson to Lone Peak
Beehive Ice: A Guide to Utah's Ice and Mixed Climbs
Uinta Rock: A Guide to the Mirror Lake Scenic Byway
Wasatch Mixed: A Guide to Provo and Santaquin Canyons
Wasatch Mixed II: A Guide to Northern Utah's Mixed & Select Ice Routes
climber, photographer + advocate (she, her)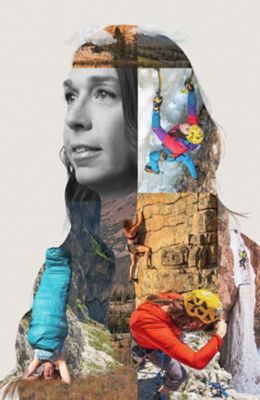 HOW HAS THE ROLE OF CLIMBING AND PHOTOGRAPHY IN YOUR LIFE EVOLVED SINCE YOU FIRST STARTED?
For a long time, it was my entire life. It started out good, but over time, I used it negatively to avoid dealing with my "real life" issues. If I didn't get out for that rare to form ice climb or first ascent, I'd get so upset. Now I feel like I've been able to return to climbing for the reasons I originally fell in love with climbing for. I climb for myself, and if I can't get out for some reason, it's ok. I have a lot of other passions in my life, and they are all important to who I am.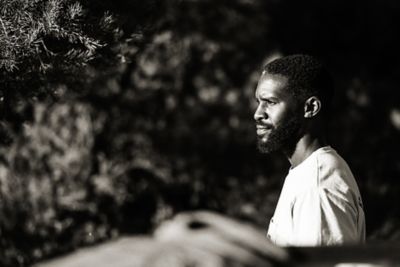 WHAT TYPE OF PHOTOGRAPHY OR STYLE OF IMAGES IS YOUR FAVORITE?
For people, I love portraiture. It was something I was afraid of for so long. You have to get in close, get to know people, get them to open up. I love getting an image that really captures who they are as a person.
WHAT IS THE BIGGEST THING BEING A CLIMBER HAS GIVEN YOU?
Climbing has given me a space to focus, to be outside with great friends, and to put all our energy into an experience. You really get to know someone well when they are your only lifeline far from the car. The relationships I've built from climbing have been so vital for me.
BEYOND CLIMBING, HOW ELSE DO YOU EXPLORE THE MOUNTAINS AROUND YOU?
I trail run, mountain bike, hike, backpack, ski, and snowboard. While climbing allows me to focus and remove distractions, trail running does the opposite for me. I spend a lot of time thinking while I'm running. I'm able to work out issues in my life. I sometimes write in my head as I run, then stop at a stream or overlook and put all my thoughts onto my phone. I also spend a lot of time foraging in the fall. A lot of our food comes from our garden or the mountains. Our pantry is filled with jams made from elderberries, currants, Oregon grape, and raspberries.
WHAT'S YOUR FAVORITE THING TO BAKE?
I'm a much better cook than a baker, but I love making chocolate mole cupcakes. They are the perfect combination of sweetness, decadence, and spice...just like me!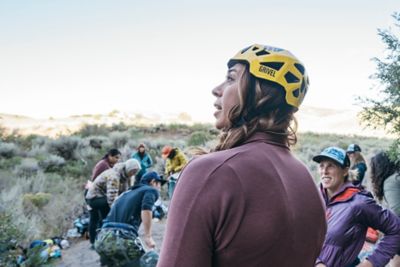 Our most protective sleeping bag for the coldest conditions and high-altitude expeditions
Minimum sale price:

$742.50 -

Maximum sale price:

$765.00

Regular price:

$1,020.00
venture out
with Alex Johnson & Nikki Smith