FRENCH FLOW: PHOTOS FROM CÉÜSE & SURROUND
A PHOTOJOURNAL FROM FRANCE BY MHW EQUIPMENT DESIGNER REESE BUTLER
Equipment Designer Reese Butler was hoping to rediscover a natural rhythm among the pocketed limestone crags of Céüse, France. Scroll through his photojournal and uncover with him the simple joys and challenges of a climbing trip most only dream of. Additional photos by Carolina Rodríguez.
First day: I found the best/worst way to carry my two bags, a huge 140L duffle on my back and another 45L climbing pack on front—it felt like there was a pair of dull scissors cutting my neck off from both sides. After a grueling but relatively short walk through the 12th arrondissement, we linked up with our close friend, Louis, from our trip here two years ago, snatched his set of keys, and went to take a nap back at his apartment.
Woke up at Louis', who was kind enough to give us his whole room and bed for our trip. As I tried to wake my partner Caro, she was nodding her head like she was acknowledging me but was definitely still asleep. The soon-to-be familiar smell of cigarette smoke got us out of bed.
Earlier in the year, Caro and I changed the way we travel and running evolved into a big element in our lives. At the time, we were training for a race in the Eastern Sierra and were about to go to Japan with no agenda. Being the overly-active people we are, we couldn't just walk around and experience the culture, we would run and experience it.
So, we ran to Le Peloton Café and back home for a second breakfast with Louis and Jean-Baptist (JB). Louis, Caro, and I went to Arkose Massy, a climbing gym just south of Paris, proceeded to get spanked by the French-style setting, and had an amazing gourmet lunch at the gym. In the fog of jet lag, the little things like seeing our friends after a long two years and drinking lots of marginal espressos was just what I needed to settle into the start of our trip
Another morning, another run: Today, we were en route to Comet Café to continue our search for the perfect melting pot of cafe/breakfast perfection. I admire how the French do such a good job with their small spaces, similar to Japan. We finished our night at La Belle Mine, a cafe we fell in love with two years ago in the Latin Quarter. A small cafe on the ground floor of our friends' apartment, it occupies a welcoming corner where it operates as a cafe in the morning and bar at night. The business relies on opening its glass accordion doors and spilling out onto the wide sidewalk. (A perk of the smoking addiction in France: outside seating.) One evening, when our cheese plate ran out of cheese, the bartender excused himself to run to the fromagerie down the street to buy more. This business and type of experience has had a big impact on me culturally and represents a lot of what I believe we're missing in the States.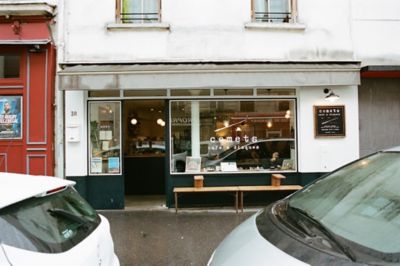 On our last day in Paris, we ran to Jozi Café, where we proceeded to get completely soaked by the rain that only came down while we were outside. (Who knew that wool shirts expand two sizes when they get wet?!) We met our friend JB at the metro, and for the first time since our last trip to France, we congregated with our entire group of friends.
Céüse was our primary reason for this comeback trip, but upon reflection, I had forgotten what a huge role our friends played in our reason for returning… If climbing has brought me anything, it's a community and close friends, both of which know no bounds.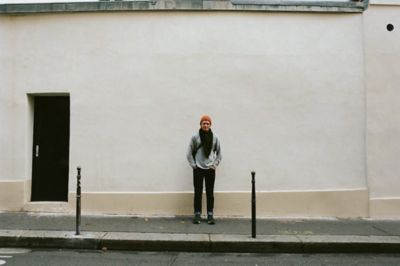 Paris is wonderful but it was time to get some climbing in. The romantic descriptions of the French countryside were confirmed: beautiful rolling green hills that slowly morphed into giant limestone and granite monoliths the further south we drove. Pastures with ethnic diversity of cows and their respective fromageries sprung up more and more frequently the further outside of Paris we got.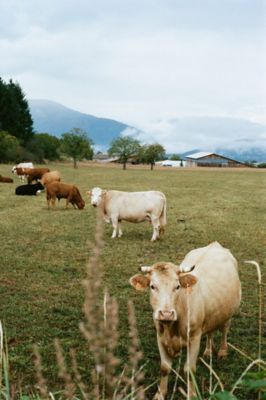 Caro and I are not fans of French coffee, but she did have the nerve to say that the touchscreen gas station espressos were still better than one of my favorite cafes in Berkeley. After a long day of driving to our cottage in Grenoble, we walked to the town center where we were quickly reminded that not all cities stay open as late as Paris. A cheap draft pour of Delirium, and we were soon off to bed.
Tina Dalle was today's destination: a beautiful cliff about an hour away. You can't see the cliff from the parking area, but after walking down the road and turning the corner, our jaws dropped. How is this here?! How is there no one here?! How!
After a brief endeavor to flake the new and newly tangled 80m rope led to a proud 6B/C flash. I also got a really good onsight attempt on a 7B, but no luck on the send. Feels really good to get on the limestone that we traveled so far for.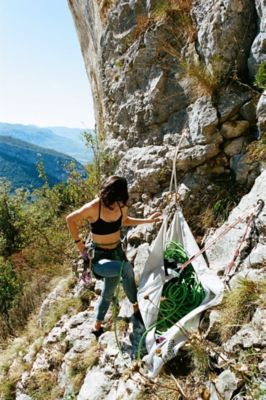 The next morning was spent meandering around in the rain in Grenoble. Between the stress of the rental car, fast pace of Paris, and anxiety about getting on rock, the weather seemed to be telling us to take the rest day we really needed. Soon we'd be off to the real destination of the trip: Céüse.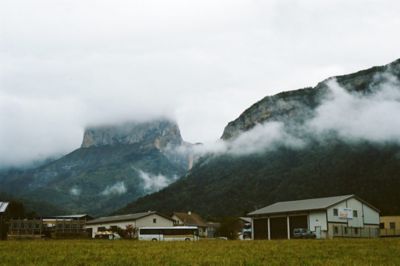 Céüse has a notorious hour long approach, and without enough time to get on the rock, we opted for a run around the neighborhood. For scale, an american 'neighborhood' is roughly the size of three French villages. It's different here… I could get used to it.
I felt like we finally found what we came here for: a deep sense that we were in the right place. Céüse was always the destination, but there was something about this small town, our cottage, every experience, big or small, and our day-to-day rhythm that felt like the greater recipe we needed.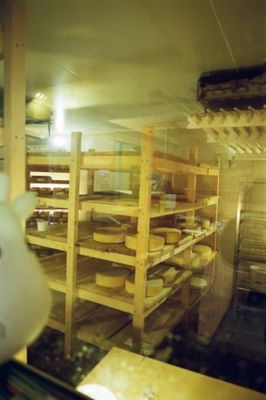 We've climbed in a lot of world-class crags, yet it's still surreal to hike the same trail that climbing legends had to hike before some of climbing history's ground-breaking ascents. There is something about it that makes you feel like you've "made it" as a climber; you're not just a hobbyist anymore. Regardless of the grade you're climbing, being here feels like a testament to my dedication. It's inspiring. It makes you want to try hard. Céüse is a proving ground that acknowledges your climbing strength, skill and ability to commit all the same.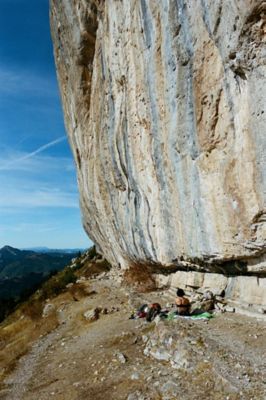 We were told that Céüse was too cold this time of year… Well, by high noon, we were sweating bullets, pulling all our clothes off, and the rock was too hot to climb.
Caro made good work of Nitassinan (7a), meanwhile, I couldn't even do the opening moves… the brief yet steep start was nearly featureless. We got on another climb, Angel Dust (7a), and got a hard lesson on the bolting style of Céüse. When we were here two years ago, we weren't really pushing our limits; now, climbing at a harder grade and without hesitation, it felt like we were taking 20-25-foot whippers every single fall.
I've never been someone that's particularly scared of falling, but this felt like something else entirely. Falling wasn't even a factor, it was simply a result of trying hard and not holding myself back. I'd take off from the draw, search through the sea of sloping limestone dishes until I couldn't hold on anymore, fall, pull up, and go again. As long as I wasn't at decking height, I was lucky to have a belayer half my weight for big soft catches.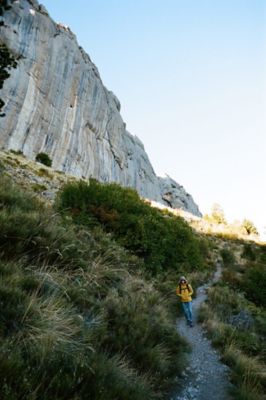 With an earlier start and restored hopes, we charged up the trail with vigor. Unfortunately, it didn't take long for both of us to get shut down again… Céüse does not complement the short climber, and at 5'2", Caro is in that category. I often pride myself on excelling on vertical faces with small holds, but these tiny, sloping pockets were something else. Though we were pushing through mental barriers on the rock, we were also beginning to question why we came back to Céüse.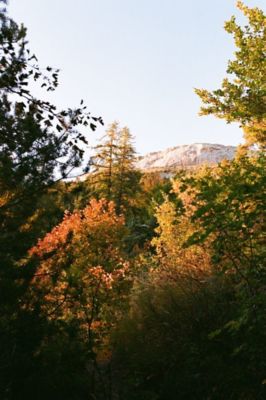 We took a much-needed rest day for our psych. (Nothing a few truckloads of bread, wine and cheese couldn't fix.) It's hard to travel halfway around the world with aspirations and goals that feel out of reach the second you make your first attempt. We vowed to come back stronger and able to take advantage of the beautiful climbing that really ramps up at the higher grades; this is always the thing that's pushed me to climb harder. There are so many inspiring lines around the world that I want to do, regardless of the grades, 5.9 or 5.13… I just wanted to be able to pick a route and climb it.
Sunday was a good day. We made it up to the cliff in 45 minutes— those familiar with the approach know that's not too bad. We had another morning snafu on a contrived route with some ridiculously big 25-foot falls but ended up meandering our way over to Lapinerie, a route we had thought about trying prior to showing up in France. Steep and juggy with big moves, this route was a nice change of pace from the technical demands of most Céüse routes.
Finally, I found my route.
It can be hard to find a rhythm when traveling, but I think we finally found it. Every morning we take our time while the rock is still hot, have a medium boiled eggs and toast, read and drink a few cups of coffee, pack the bags, and do the hour-long slog. After 30 minutes of sunbathing at the base of Berlin Sector, we climb, until it's too dark to see, slogging our way down the trail. By the time we hit the cottage, we dive into bread, jam, and cheese that feels well-deserved.
We appeal to our home palate (and wallet) for dinner, usually something simple like lentils and rice or nachos, while watching a cooking show. We don't have internet state-side so it was a novelty we took advantage of. After sleepily doing the dishes, we crawl up into the loft, Caro usually inch-worming her way up the ladder in her sleeping bag, and rest our eyes. This was a rhythm we could do forever, a special type of routine that we don't even have back home.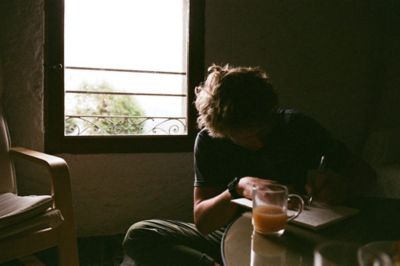 We had one more day of projecting Lapinerie before the rain came in. The lower slab demands precision on small holds with delicate but powerful moves, and then, you get a good rest before heading up the 30-degree headwall where the heart of the route lies, and its consecutive dead points for 40 feet, culminating to a final dyno.
The last holds I crank off of destroy my fingers, but I move into a slightly sloping pocket with my right hand, bringing my left to a high crimp. Once I get high feet, I have to rotate my right hand in the sharp edges of the pocket as I step up and turn into a right undercling before throwing for the finish. No send, but we made some good links. Lentils again for dinner.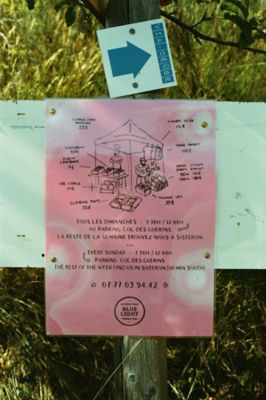 On what we thought was our last day in Céüse, I gave Lapinerie one last hard effort and made everything but the last move to the anchor…it was one of those moves where you don't think you're going to make it, so when you do, you're not prepared to hold on.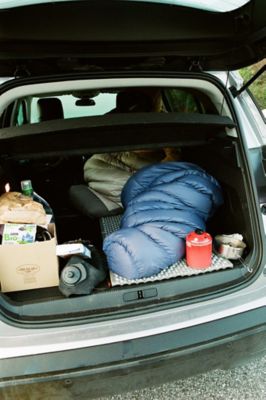 We had already extended our stay in Céüse by three days, so we crashed in the back of our rental car, had a BoBo bar for dinner and probably the worst night of sleep I've ever had.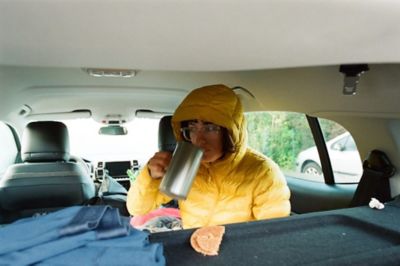 Our original intent was to mix climbing-centric locations with interesting cities, but after finding such a great rhythm in Céüse, it was hard to shift our focus back to city life. The town center of Lyon had a lot to offer, but it was hard to get over the loud party scene that dominated that part of town. We came to some big realizations on this part of the trip: homemade nachos top French dining and most importantly, there is no need to plan for 'cultural experiences' when traveling.
As long as you remain open-minded, you're always going to experience the people and culture of new places, it's impossible not to. The more we tried to force cultural moments, the less authentic they felt. The best experiences we had were always surrounded by climbing because it was an activity of common interest with others that we didn't have in the cities.
Just a few days ago, we'd made friends and loose plans with these lanky German dudes also trying Lapinerie. Another climber came up to us to inquire about our Crag Wagon packs because he'd seen them online and realized I was the person in the demo video… All these valuable moments were either from running or climbing, and I think it's because we knew we were 'doing something' already, so we didn't feel any more pressure on top of that to see a certain place or check something off a list. In this state, we were just sponges: content with our movement, soaking in everything around us.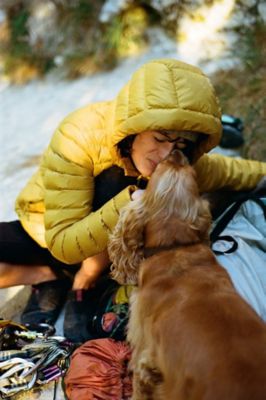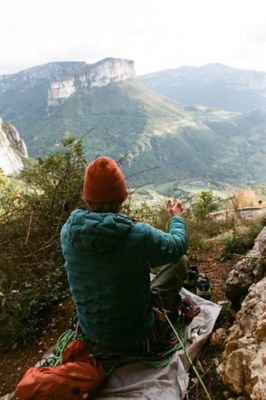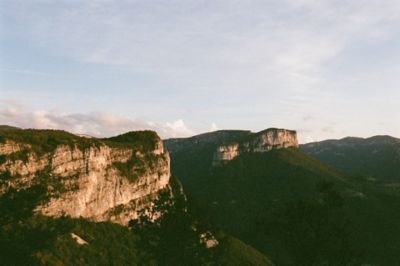 After a few days of climbing at Tina Dalle and staying back at the same small place in Grenoble, although amazing, we still longed for Céüse. With our days able to climb dwindling and projects still unsent, we did three back-to-back-to-back day trips from Grenoble to Céüse, a two-hour drive one way.
First day, first go, I sent Lapinerie. It felt effortless. I'm never one to be overly exuberant about sending a route, but even better is this lasting sense of deep satisfaction that was the last big tick to justify the whole trip for me. I could now be happy, regardless of what happened for the rest of the trip.
One of the beautiful things about climbing is that although it may not seem like it, it is a team sport. You can't go sport climbing alone, and if you have a good partner, you're both looking out for each other, motivating each other and being as supportive as you can be. It was time to help Caro get her trophy for the trip.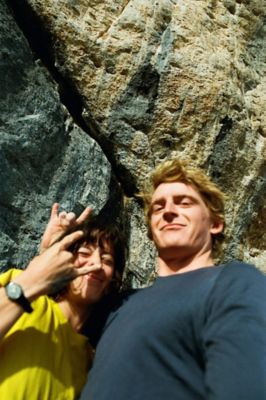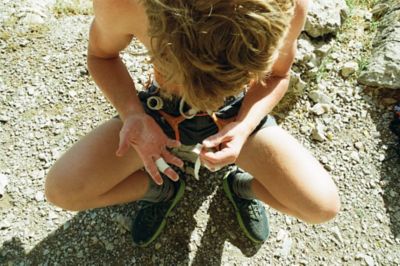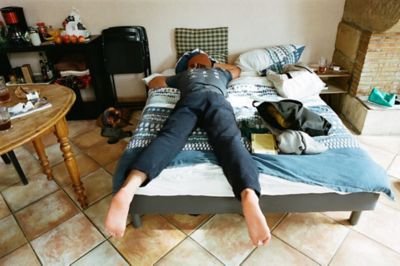 After spending two days on her project, Caro finally sent her first 5.12 (7a+). Her relentless motivation is something I'm envious of; I've always been one to go with the flow. I've never climbed with anyone so determined and detail-oriented. It can honestly be a pain to belay her long projecting sessions, but I know she would do the same for me.
The way she climbed up the 35-meter route of sustained small pockets and crimps spread far apart was like a dance. She topped out Gre Blanc just as a light rain began and came down crying with tears of accomplishment. She later confessed it was her secret resolution and goal for quitting her job to send a 5.12.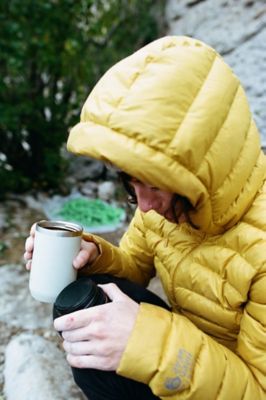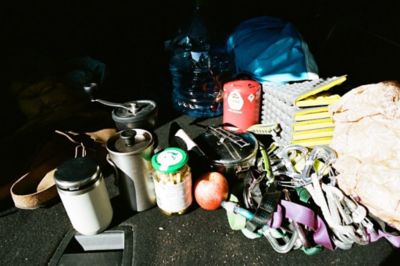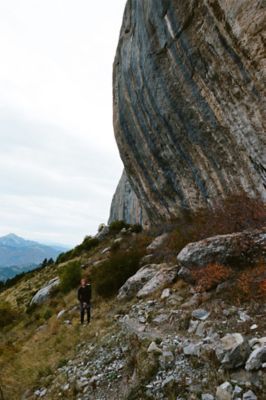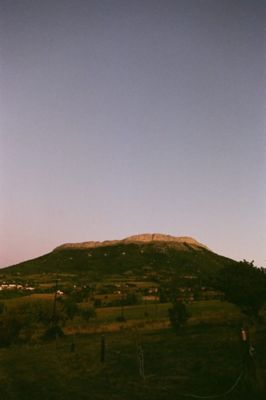 It's hard to tell if our month in France went by fast or slow. There were rest days where time moved at a snail's pace and consecutive days of climbing where it all blended into one experience without days as a distinction…
As much as we were mourning our cozy cottage in St. Laurent, our friend's company back in Paris was received with open arms. Running or climbing was usually our most likely plan for the day, but it was also the catalyst for how we experienced everything else. Running was how we explored new cities and countrysides, allowing us to see so much in a short time. Climbing gave us a sense of accomplishment, brought us to beautiful places, and allowed us to share stories with new friends. Doing these activities put us in a headspace that allowed us to enjoy the little things. The city espressos were sweeter on a day that I had gone on an early morning run and the rest days were more rewarding after having climbed into the dark the night prior. It's the people that take the biggest slice of the cake, however, forming new friendships, growing old ones stronger, and deepening our connection with those really close to us. These are the things I am most grateful for that climbing brings to my life.