make an impact (just don't leave one)
Days of traveling by air and road took me back to the east face of Jebel Rum. My climbing partner, Mujahad, and I paused on our way up a four-pitch 5.10 called "Inferno," as intermittent raindrops fell from a dynamic sky. Speakers crackled and the harsh voice of the town muezzin began to call believers to prayer from Wadi Rum Village a few hundred meters away. The clouds shifted and the sporadic raindrops began to fatten.
"I should have prayed today," Mujahad lamented as if his prayers could keep us dry. We were only one pitch off the ground, which made it easy to bail as the rain grew steady and eventually turned to hail.
It was my first time seeing rain in this Martian desert. Just like Zion or Red Rock, I knew that this soft sandstone would become more fragile with moisture. It did not rain for very long, but I knew that we had made the right decision.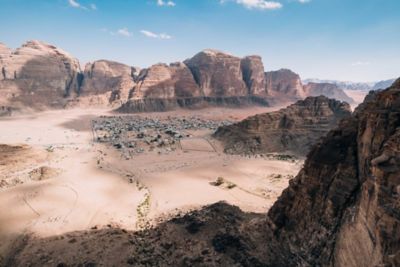 Wadi Rum is a desert valley in the south of Jordan. Among climbers and outdoor enthusiasts, it is known for its steep sandstone formations that rise thousands of feet into the sky from an otherwise flat, red sandscape. It is perhaps more well known in western culture for its unearthly vibes featured in interplanetary films such as The Martian or Star Wars: Episode IX. But if you take a closer look at Wadi Rum, you will find that it's a trad climbing mecca for the nearby budding climbing communities of the Middle East.
On the weekends you may get the chance to meet climbers from Amman, Tel Aviv, and even Ramallah, Palestine, who are getting after it and learning the basics of the staunch trad ethics in which the area was developed. On my first trip to the Middle East in 2017, I had the opportunity to meet many of these climbers. As a climbing guide in Yosemite, my job is to introduce sport and gym climbers to the world of trad multi-pitch climbing, and I wondered if there was a way I could contribute to this community.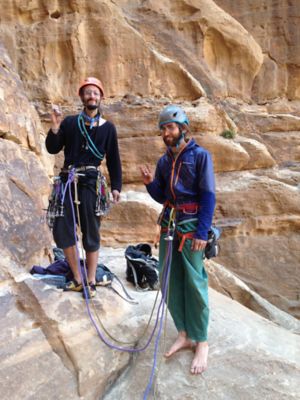 Back in the village that evening, Mujahad and I met up with friends from Amman, Marwan and Negi, as well as foreign climbers: Tim, Elliot, Markus, and Julie. Together with Mujahad's friend, Philipp, we organized a two-day climbing event at a Bedouin camp in the desert. Marwan offered to book local Bedouin accommodation at one of the desert camps and organize "Bedouin taxis" to get climbers from Rum village to the camp. I was in charge of scouting a climbing area and teaching basic trad climbing lessons.
Like most climbers of my generation, I learned to climb in a gym long before I climbed outside. Originally developed as a place for experienced climbers to train, climbing gyms and sport climbing areas have become the main venue for beginner climbers to learn the basics of the sport. Nowadays, it's common to see people who have gotten quite strong without ever placing traditional protection or sometimes without even stepping foot on real rock. The climbing community in the Middle East has also been shaped by this new revolution of sport and indoor climbing.
In 2017, I had the opportunity to get to know some of these middle eastern climbing communities that had taken root in the local gyms and sport climbing areas. I spent one month in Ramallah, Palestine, where I was introduced to the small but incredibly welcoming climbing community. I met American climber Tim Bruns, who—along with Will Harris—began developing sport climbing areas around Ramallah and guiding beginners in 2014. In 2016, they finished building Palestine's first climbing gym, Wadi Climbing.
My month in Palestine was shaped by the incredible kindness of my new friends like Mujahad and Tim and by the beauty of the arid countryside and canyons, where most of the outdoor climbing can be found. But it was also shaped by the stark contrast of this beauty amid the hardships that Palestinians must endure daily.
Because of this, Wadi Climbing is more than just a climbing gym, it's a safe space for the local climbing community to hang out, train, and escape from the ongoing military occupation that defines the lives of most Palestinians. The community there was one of the most welcoming groups I'd ever met in my time traveling. I was eager to give back to this amazing community however I could. I figured that teaching trad climbing skills could be my way of contributing.
The next day, Mujahad, Negi, and I took a Bedouin taxi into the desert to scout for climbing areas where I could teach trad lessons. Wadi Rum Village is where the paved road stops, so Bedouin taxis must be 4×4 vehicles with high clearance and slightly deflated tires. From there you must drive through soft, red sand to reach the majority of the climbing areas. Aied, our taxi driver, was a tall, slight Bedouin man. He had done some climbing himself and was familiar with the areas we were scoping. He was skeptical that any of these areas would be good for teaching trad to beginners…
I was starting to get nervous because it seemed that all the crack systems started a pitch or two off the ground. All I needed was a few cracks right on the ground to teach gear placements, anchor building, and multi-pitch belay management. After a day of driving around in the desert, the best area I could find was a sport climbing crag called, "Um Zelga."
Although Um Zelga was not ideal for the clinic, it hosts a couple of trad routes and was just a 30-minute walk from the Bedouin camp where we would be staying. I hoped to find cracks to teach gear placement anchoring along the 30-minute walk from the Bedouin camp.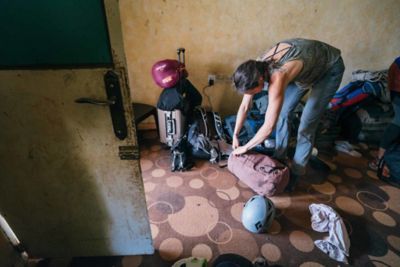 The next day, Mujahad and I decided to go back on our own to climb "Inferno." It was the last of the classic moderates on the east face of Jebel Rum that I had left to do after visiting in 2017. As we walked to the base, I tried to explain to Mujahad the importance of clean climbing and Leave No Trace (LNT) ethics. Mujahad never stops asking questions. I found some of his questions easier to answer than others.
"Why can't I leave this banana peel? The goats will eat it," he asked as a herd of goats munched scarce desert ruffage nearby. "Why is it bad to place a bolt if it makes the climbing safer?"
How do I instill the climbing ethics of Yosemite, in a place so different and distant from where they were established? Would we leave no trace on Mars? I tried to explain that this area was special because it was relatively untouched. If we traveled through it without leaving a trace, it would keep it that way. He looked at me with some skepticism. Like any smart Palestinian, Mujahad questioned everything.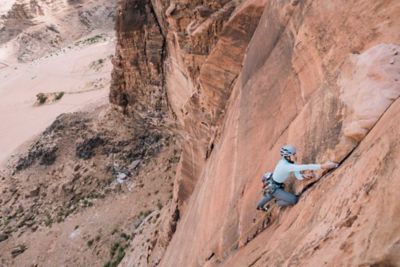 That night, climbers began to arrive in Wadi Rum. More and more people arrived, which was both exciting and nerve-wracking for me. I knew most of them had experience, but how much? With too little experience, my trad climbing lessons might be lost on them. With too much experience, it might be useless. I also worried about how many people could lead. It would take much more time if only I and a few others could put up top ropes for everyone. But after meeting new people and seeing familiar faces, I realized that no matter what happened, everyone would be psyched.
Climbers trickled in until well after dark. We ate a traditional Bedouin meal of rice, chicken, and salad and drank sweet tea by the fire. The next morning, Hana, a trekking guide and climber from Amman, led a yoga class on a soft sand dune warmed by early morning light. We ate breakfast and set out for Um Zelga.
Gathering a group that size was not easy. People had come from all over and were catching up and getting to know each other. We ended up with over 50 Jordanian, Palestinian, and foreign climbers.
Along the way, I managed to find a few cracks just off the ground. We stopped, and I demonstrated gear placements and anchoring. We had a few racks to choose from, and before long, almost everyone was grabbing the gear and placing into cracks. I walked around with Tim and Markus, inspecting and critiquing their gear placements. Rock quality in Wadi Rum can be questionable at best, so I demonstrated how to choose a good section of rock to place gear in and explained why it was especially important to check the rock on this friable sandstone.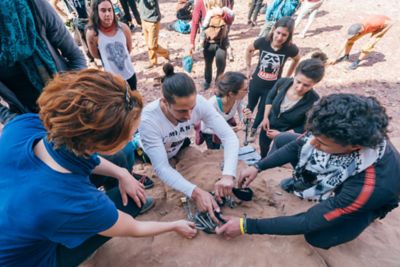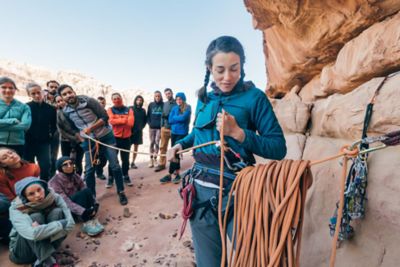 Towards the end of the day after hours of climbing, I gathered everyone together to talk about disposing of waste and leaving our climbing areas clean. I told them about areas in the States that had been trashed by climbers and that we had the opportunity to keep climbing areas in Wadi Rum clean and pure. After packing up our own gear and waste, we all walked around the base of the crag searching for cigarette butts, plastic, pistachio shells, and fruit peels. I was the last to leave the crag, looking for any last bits of trash and found almost nothing. Um Zelga was immaculate.
As the sun got lower on the horizon, we walked back to camp. I was elated by how the day went. People were asking all the right questions and seemed to pick things up quickly. I chatted with some of the Palestinian climbers on the hike back. Like climbers everywhere, they wanted to know about Yosemite. I compared and contrasted the glaciated granite walls of Yosemite Valley to the windswept sandstone of Wadi Rum. I explained how the ethics of clean climbing and LNT have shaped the climbing history in both of the areas.
The next day while teaching anchoring, I saw an opportunity to start a discussion about LNT. As a climbing guide in Yosemite, it is part of my job to do so. I was pleased to realize that some of the Jordanian climbers were well aware of the seven principles of LNT. With a little guidance, we talked about how following those principals will make us better trad climbers and keep us safe while climbing in Wadi Rum.
As an American climber I have mixed feelings about preaching our LNT ethics abroad when we climbers in the States have set such a poor example in our own climbing areas. I tried using our climbing areas as examples of what could happen when we don't follow LNT principles: multiple trails leading to the same climbing areas, destruction of delicate desert vegetation, pin scars in cracks, unnecessary slings around trees (one-time-use rappel anchors made by people lost on descents) are just a few of them.
I explained that in the U.S., climbers have lost respect from the general public after they've seen the way we have abused our natural setting, and it sets a precedent for other people recreating in those areas: If they see trash, they will be more likely to leave trash, and if they see trampled plants, they may be less likely to stay on trail. I hope that by bringing awareness to these principles of LNT, they can prevent these things from happening rather than having to reverse them later as we are now trying so hard to do.
But the community of climbers I met in the Middle East was eager to learn as much as possible about the ethics of trad climbing and LNT. They filled up their backpacks with plastic bottles left behind in the desert and packed up their own banana peels and pistachio shells. I knew that by becoming stewards of the land, their connection to it would grow even deeper.