doubt your doubts, and climb on
A WEEKEND AT THE WOMEN'S CLIMBING FESTIVAL
Written by Kylie Fly.
It was the dead of Winter and I was driving home from the mountains. Fat snowflakes swirled across the highway, pounding the windshield and drifting across the hood of my car. I had just wrapped up a chilly mountaineering and rock climbing objective in the Eastern Sierras of California—one of my favorite places in the world— when I came across an interesting podcast. It was talking about an event called Flash Foxy Women's Climbing Festival. WHAT! I was floored. A climbing event especially for women? As a climber who is often surrounded by male partners, it seemed surreal to imagine a place where I can connect with so many new potential climbing partners in one place.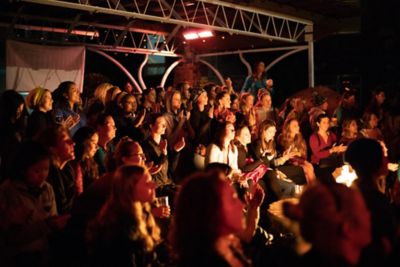 Opening night at the Crash Pad and the audience is captivated. Photo: Kylie Fly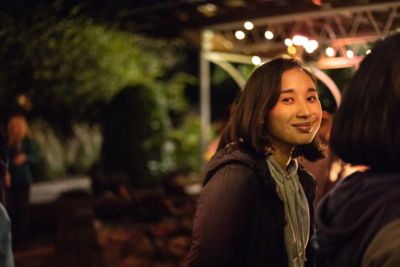 Not only is Yang Thso a total crusher, but she also braved herself and showed up in Chattanooga for her first WCF on her own, as her friend had to cancel last minute. This is how the community grows and without platforms like Flash Foxy – it wouldn't be possible. Photo: Kylie Fly
The Women's Climbing Festival is an event celebrating women climbing with women to inspire one another, learn about the location and pay their dues by participating in local stewardship projects. The event encourages community and inclusion and for women to connect over something they all deeply share and love: climbing. I traveled to Chattanooga, Tennessee this Fall and experienced for myself just how radical it is. With easy access to fantastic boulder problems, attendees are able to enjoy the event festivities by night and crush on the rock by day.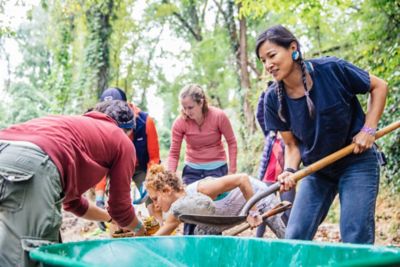 Flash Foxy and Women's Climbing Festival Founder, Shelma Jun participating in the stewardship project at John C. Wilson Memorial Park, led by youth leaders of the local Lookout Mountain Conservancy and the Access Fund. Photo: Kylie Fly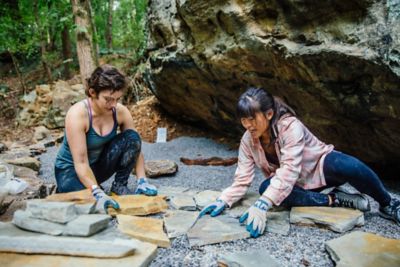 WCF participants lending their hand in gratitude to the efforts of LMC. Photos: Kylie Fly
The world needs more places that celebrate opportunity. WCF creates a space where women can connect on what is possible. So often we, both men and women, create barriers for ourselves. We tell ourselves we cannot do something—that it's out of our own reach—beyond our capability, even. Eventually, we begin to believe our own doubts and become convinced we have either plateaued, it's too late, or that we will never be good enough. This type of thinking and mental processing is extremely limiting. I am a firm believer in the idea "doubt your doubts and dig a little deeper." During the climbing festival there were many inspirational discussions, presentations and films highlighting women taking their own power to push their perceived limits and see what they are capable of. Rarely is the case that this approach does not lead to enormous amounts of growth.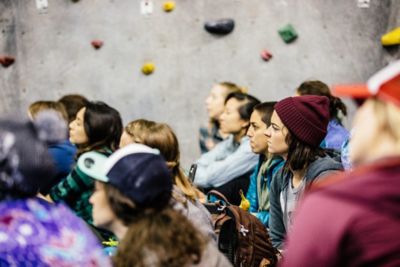 Saturday's panel discussion featuring (from left to right) – Shelma Jun – Flash Foxy, Becca Droz – Rock Climbing Instructor, Brittany Leavitt – Brown Girls Climb & Outdoor Afro Regional leader and Nikki Smith – Pull Photography. Photos: Kylie Fly
Life is full of challenges, but it's also full of opportunities. When we have the confidence to lean into that with a positive outlook, amazing things can happen. This weekend at WCF I witnessed several women come together in conversation and on the rock opening up and making themselves vulnerable with a desire to learn and grow. It wasn't just about climbing, as most things in life are not one-dimensional. It was about the human connection and learning to embrace a process that can be very hard and intimidating and even discouraging at times. Women climbing together at varying levels of experience and strength created opportunity to teach, to learn and to embrace challenges. Encouragement from the ground and celebration at the top made for a great day on the rock. Sharing dips in chalk bags and laughs over mistakes and try-hard moves, ego was left at the door and self-empowerment stepped in.
When we recognize our strengths and weaknesses and work hard to improve them then we can work against the very thing that is holding us back. WCF provides a space for women to connect in this intimate way, learning from one another and gaining confidence by simply sharing where we are at in our process and learning how to improve.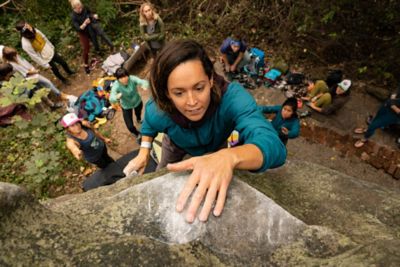 With guided clinics on various topics including introduction to trad climbing, bouldering, the importance of mindfulness in climbing and safety skills such as self-rescue, WCF provides the tools needed to increase confidence and ability. Each clinic is small enough that attendees can truly connect with the guide, each other, and receive the coaching they desire without social pressures. I was honored to climb with Angie Payne, professional boulderer and total crusher. Going into the weekend as a trad climber I had my reservations about only bouldering, especially alongside pros. I was a little nervous and insecure about my ability with a type of climbing I don't often engage in, but Angie made me feel right at home. She walked me through the basics of bouldering outside and taught me how to boulder safely. My greatest takeaway from Angie's clinic was her awesome attitude—she is laid back, humble and crushes routes while also supporting full heartedly others' ability to send. She believed in me when I did not, and that says a lot about a climbing partner.
Angie teaching her clinic group about the fundamentals of bouldering, staying safe and listen to your own level. Photo: Kylie Fly
During Angie's clinic, Stephanie showing us what a smooth transition from indoor to outdoor looks like. Photo: Kyle Fly
At the end of the day, as climbers, we want to increase our confidence and skills and to grow our ability focusing on what it takes to get where we want to go. The greatest takeaway we have been gifted from this event is increased self-confidence and a tribe of women to call upon when we need a belay or a safe place to land.