era vella
TIM EMMETT REFLECTS ON HIS MOST

EMOTIONALLY CHALLENGING PROJECT YET
Written by Mountain Hardwear climber, Tim Emmett.
It's taken me three months to get here and I have three days to go. Three months of discipline – going to bed early, waking up early, going for runs, training, physiotherapy exercises, antagonistic training. No coffee in the morning. Drinking herbal tea instead. None of the fun stuff. No bread, pizza, beers, or going out with the lads. Instead, it's clean eating, going for runs, training late, no drinks or cocktails.
I'm lean, fit and in the best shape of my life.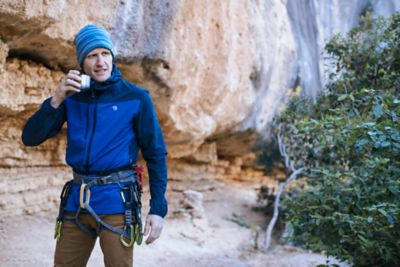 I came to Spain with a purpose, a dream and a life goal. At 43, I wanted to see if I could push my body to the limit and climb the hardest route of my life. I'm an ice and mixed climber, an alpinist. When winter comes I climb with axes in my hands and crampons on my feet. But this year the plan was to switch it up and try something I've never done before.
I want to climb 9a.
My dad passed away this year. I wasn't expecting it at all, it came out of nowhere. It emphasized something that I strongly believe in – that life is short, you have to make the most of it while you can. I worked out that if I live to the same age as my dad, I have 28 summers left in my life. Perhaps more, maybe less – who knows? One of the things I really wanted to achieve in my life is seeing how hard I can climb, my absolute maximum. Just before my dad passed, I managed to climb something I never thought I could, a route called Superman 8c+ (5,14c) in Cheakamus Canyon, Squamish, BC. When I got to the top, I felt like I had more in the tank. I knew I could do more to raise the bar, so I decided to go for 9a.
I booked a trip to Spain for a month, with the mission of climbing one of the most beautiful and impressive climbs in the world – Era Vella. A 50m overhanging wall more like the bow of a gigantic ship. Climbing legend Chris Sharma (the first ascensionist) recommended that I try it as it's one of his favorite routes.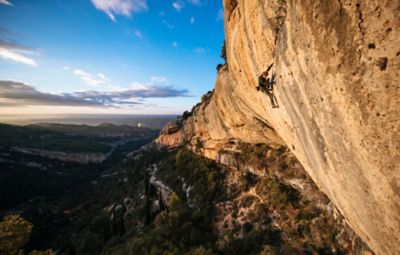 ERA VELLA AKA "SHE WAS BEAUTIFUL"
Yesterday, after a hard frost and early start, getting warmed up in the shade was tough. More like the experience of winter climbing with down jackets and numb hands. On the warm up, climbing a few moves then hanging on the rope to let the blood flush into the capillaries and bring life to the fingers. It was the coldest day so far.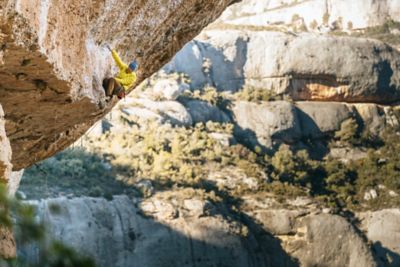 I decided to go for it and climbed up the bottom wall, with gymnastic moves through the horizontal roof. Breathing hard, I reached the rest below the headwall. After several minutes, my heart rate had lowered and I was ready to go. I took of my warm jacket, and started the sequence of moves to get up the crux. I felt good.
Reaching a small pocket with the tips of two fingers I pulled hard and stretched up for the next hold. Something wasn't right. My left arm felt strange, I grabbed the quickdraw and hung on the rope. My ring finger on my left hand was limp. I started squeezing it and it felt ok. Then, as I pulled on it slightly, a pain shot through my forearm. This was not ideal.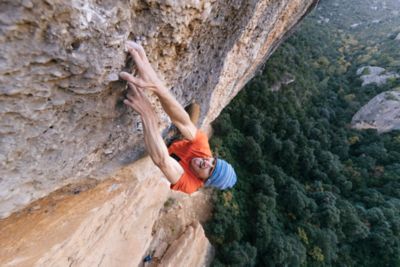 Most of the holds on the routes are two finger pockets so I continued climbing on my front two fingers. This was ok until the last move of the crux, an aggressive move for a three-finger pocket with left hand. I grabbed the quickdraw instead, in self-preservation mode. The top half of the climb is ok with the front two fingers alone but the bottom wall has three moves on it that I can't do without my ring finger.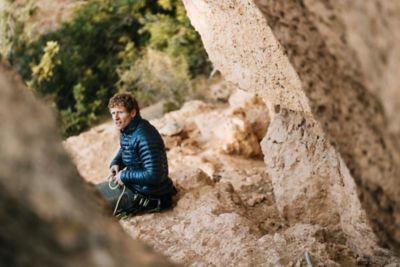 Back at the apartment in Margalef the reality of failure is here. My finger needs time off before I can test it to its limit on Era Vella once again.
It's not going to happen on this trip. I have an empty feeling in my stomach, as I wonder what to say to my social media amigos, who some of which eagerly await my progress. I've been totally open with them, bringing them along with me on this virtual journey. So much support and good willing, it's been a blast. The best thing is, that Era Vella isn't going anywhere. Before this trip I had never been to Margalef, the home of this mighty climb and many others too. But now I know exactly what I'm in for, I have time to recover and train specifically for it. I'm already excited to come back, fitter and stronger than ever.
She was beautiful. Era Vella.