climbing and creating
BEHIND THE SCENES OF A WORKING CLIMBER AND CONTENT CREATOR
By Mountain Hardwear climber, photographer and filmmaker, Jon Glassberg.
All photos by Jess Talley.
Since I started climbing at age 11, my whole world was consumed with traveling, competing, training, and spending every moment thinking about rocks, performing at my best, and nothing else. As I got older and started to add photo and video into my skill set, trips started to become more exciting for me and more enticing to my sponsors. I realized that I needed to find a good balance between climbing and work to find the sweet spot that allows me to create content for the companies that support me while also crushing my projects on trips all over the world. Originally, I thought this was "the dream" but in reality, it was a bigger challenge than I expected. Finding the work/climbing balance has become a whole new challenge of its own.
Turns out it's not just as easy as going on a climbing trip and taking a couple of cool pictures.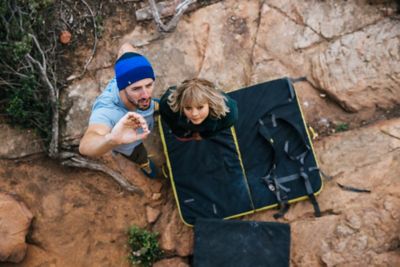 This summer, I escaped the summer heat by chasing winter in Rocklands, South Africa, the mecca of bouldering and one of my favorite climbing areas in the world. The goal was to hit the sandstone with my Mountain Hardwear teammates Kyra Condie and Anna Liina Laitinen to tick some leftover projects from a previous trip, and generally, tear it up. I was lucky enough to bring my talented photographer girlfriend Jess Talley along to help create photos, social content, and videos in real time, hooking up the team with content to post on Instagram each day as well as getting stories to the Mountain Hardwear crew to post up and promote the trip as it was unfolding. We just wanted to make cool stuff in real time, instead of waiting until we got home a month later to post about a trip that already felt like old news.
For this type of project, Jess and I had a solid kit of gear and a pretty good workflow each day. I played the role of video guy and climber taking the occasional picture and Jess mostly took photos. I brought a RED Epic M X, Canon 1DX MK II, Canon Lens Kit, GoPro, Sony RX 100 MK IV, and a DJI Mavic. It seems like a lot, which it is, but it all fits nicely into a large camera bag and that was what we brought to the boulders each day. Most climbing sessions, we were out there capturing content from whoever was sending, including me on my projects, or on rest days, following around the best sports action. Each night we would come home, back up footage, edit photos, export selects, and upload to a Google Drive folder for the team to download from. We would go through every image, make selects and edit down a collection of 100 images or so from each day, battle with slow internet upload speeds to Google Drive and then double back all of our footage to redundant drives each night. Working off of one plug in our room was extra challenging with a dozen batteries to charge each night from various electronics. Typically, we could get posts out by the next morning to promote the previous day's sends. Getting the team images each day really helped us give the trip a "real-time" feel and helped us create some buzz around our trip. It was a huge amount of work but we were on a roll.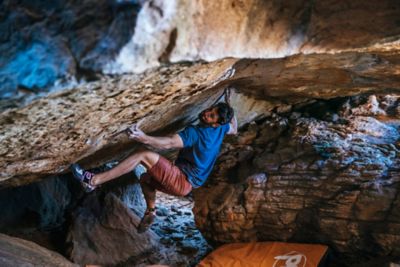 Turns out that creating all that content and having climbing projects of your own is where the real challenge starts. Each day I would stress about getting cool video shots, making rad photos, and delivering content to my team while simultaneously having a mental breakdown about my own climbing objectives. I was stressing about my skin, conditions, coordinating pads, and working my projects like "Mooiste Meisie" (8b/v13) while running around trying to make content with everyone else. It's hard to be in two places at once and deciding to be a climber or a photographer each day was tough. Taking the time to put the camera down, focus on sending a hard boulder and shift gears is a challenge I have not fully figured out yet. I have always battled with being a pro climber and being a full-time photographer and what that means to me. I think most dedicated climbers find balancing work and climbing to be a challenge, but when your work is climbing, the line is less defined. After a few days of work, I was able to send "Mooiste Meisie". It was way more of a mental battle than a physical one and I knew from day one on the project that it could go, it was just a matter of freeing up some mental space to put me in the right headspace to send. It was more of a relief than anything and it felt great to check that box and be able to refocus on shooting again with a clear conscious.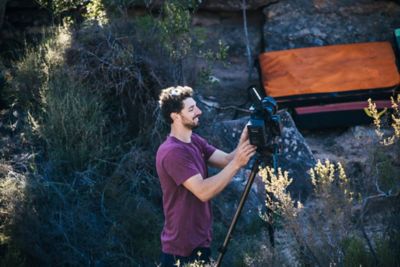 As Jess and I found our rhythm with the team and we dialed our workflow for creative content, I was also able to find my flow on the rocks and tick some projects that had been stressing me out and made me feel accomplished. I realized that having a hard climbing objective and simultaneously taking on a challenging photo or video project is what I thrive on. I look for the multi-layered challenges that work me mentally and physically beyond just pulling on small holds and getting to the top of a boulder. I'm becoming less and less satisfied with days of just climbing or just shooting. I want it all and that process is ever evolving as I try and cram as much stuff into each day as possible. I want to create things that I am proud of and if I get to send some projects and feel like I earned my place on the team, that's just icing on the cake. With this trip to South Africa for Mountain Hardwear, we were able to create things as a team that I was really proud to share and experience Rocklands completely from the climbing to the shooting and everything in between.