woman up climbing festival
Last month, we headed south to the second annual Woman Up Climbing Festival, held at Touchstone's Cliffs of Id in Culver City, CA. The two-day festival featured a women-only climbing comp, athlete clinics, workshops, and more. Mountain Hardwear climber Anna Liina Laitinen was on hand and part of an all woman team of route setters for the comp. We sat down with Anna after the event to talk about her experience at Woman Up.
Describe the woman up festival.
The Woman Up Climbing Festival is a festival where a bunch of female setters sets boulders for both an Open competition and for the Citizens comp. There were over 80 boulders set by 11 setters from grades v1 to v9. There are no guys competing, only females from different ages and levels. The whole event ended with a clinic day hosted by some of the big names competing, legends and other inspiring ladies. The festival had an energetic vibe with a relaxed twist. People were having fun, sharing beta and trying hard!
I was invited to the festival to be a part of the setting team. I've never set in a competition before, so I replied YES in the middle of the night when I first received the email about this event. I also taught my first clinic on Sunday which was also a new and welcoming experience.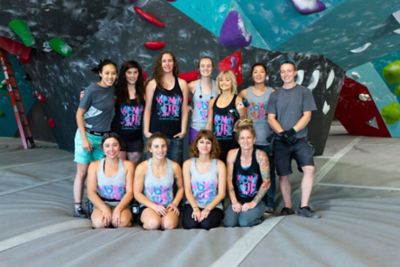 what was it like setting with an all women-crew? is it different than setting with guys?
It wasn't that different actually. In my home gym Kiipeilyareena we have been helping each other with lifting heavy features, boxes, ladders, holds and sharing ideas or giving critiques of the boulders. We were doing exactly the same with these girls. I guess sharing and helping is a universal part of climbing.
What was it like watching all these women climb problems that you set?
It was really fascinating to watch the climbers on something I created! It was really fun to make a route and see how people managed to move on my physical sudokus I set for them.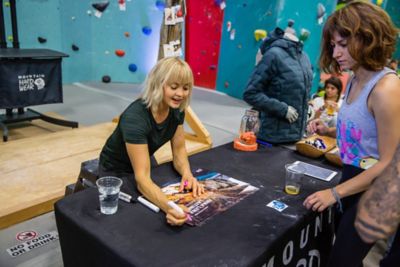 This was your first poster signing… how was it?
To be honest… I was quite nervous. I wasn't sure what I was supposed to say, write or do! The most challenging part was probably spelling everyone's names correctly! Which actually made some of the situations more fun and informal. Thanks for spelling your names for me, everyone!
What clinic did you teach on sunday? How did your students respond to it?
The topic of my clinic was a "Session with Anna." I assumed that most of the participants might have been beginners or climbers who have had climbed only a little, but I might have some tips to share. We went through some basics concerning climbing techniques, trying a boulder, stretching routines as well as setting personal goals and how to achieve them. I thought that the best way to share some tips and ideas which have worked for me, was to just climb with students and give them personal attention and tips. That is why it was just called as a session. After positive feedback and hugs from a couple, I felt relieved that the clinic went actually pretty well!
Who would you recommend go to the woman up climbing festival next year?
Everyone! I hope I'll get invited again next year either to set or compete.