If you've ever been to Payahuunadü—or as most of us know it: Bishop, CA—you might think of the world-famous Buttermilks and its massive granite highballs. But if you've ever been to the Women's Climbing Festival, something else comes to mind. Not because the attention shifts away from the land or even the climbing itself, but because something else comes into focus: community.
The Women's Climbing Festival (WCF) came to fruition through a mutual desire to have a space that physically connects women in climbing. This year was its third in Bishop.
The event (and climbing itself) inspires collaboration and allyship in every aspect of its programming. But it doesn't shy away from the hard truths about community either. Access is privileged. It isn't always a clear path, particularly if you're, say, a woman—a person of color—trans—disabled—or maybe just new. These conversations have been a part of WCF's legacy since the beginning. And while tough and at times uncomfortable, we've been listening…
We want to do better—for you and for us.
And so, as our crew of designers, marketers, athletes, and ambassadors anticipated Mountain Hardwear's third appearance at the festival, these barriers and what an authentic community means to us guided our decisions around how we wanted to show up and contribute. The way we see it: community has to be cultivated. So, we decided to do that the only way we know how: climbing and spreading the stoke!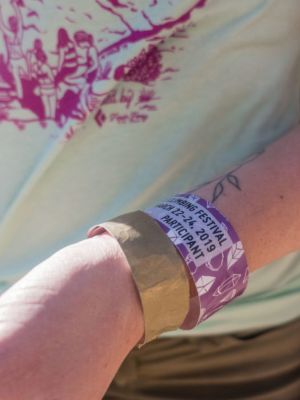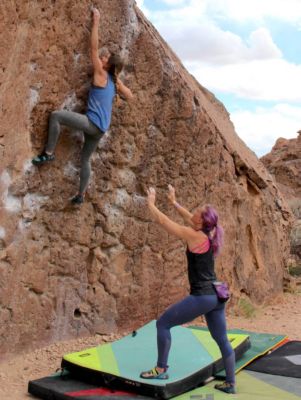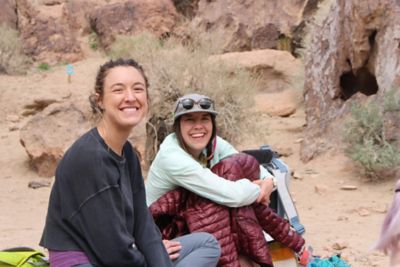 (L-R) For some of our employees, it was the first time climbing outside. Miranda Castles, product line coordinator, and Sablle Scheppmann, national sales manager, both sent their first problems at our community climb. Judging by the smiles, the stoke was high.
As partners of Brown Girls Climb, we saw an opportunity to join forces and call in community-seekers in a big way. With their lead, we encouraged people to post about the importance of community, and ultimately, we helped send one person to the festival. We got to read through responses on what affinity spaces mean to climbers that identify as women of color (you can read Mariana Mendoza's winning post here) and try to understand where we fit into those spaces. Their words–words like 'co-create,' 'resilience,' and 'intention'—sparked new ideas among our team and motivated us to do more.
It led to this idea of a "community climb." At first, that was just a fancy way of saying, "Hey, let's play on some rocks together and make sure no one breaks an ankle." But it didn't actually feel like just another weekend of climbing. For some of our employees, it was the first time climbing outside. For others, climbing these boulders was a ritual.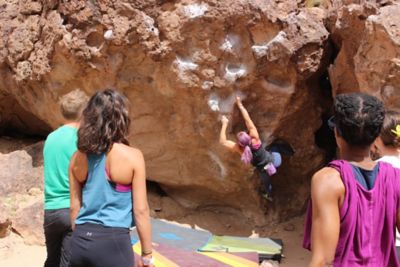 One of the favorite problems of the day was "Bleached Bones" (V4). Here's Marley Jeranko, MHW copywriter (and author of this article), topping it out.
How hard you climbed didn't matter. There were V7- and V0-climbers three feet away from each other, and either send was celebrated equally. Instead, it was about trying each other's beta—cheering one another on—taking photos—telling stories—and getting real about our experiences outside, at the gym, at work, and in the world. We made meals, connections, and plans for later.
But what the rest of the group may not have realized is that to us, it goes beyond climbing. As climbers, we leave with rougher skin, higher stoke, and if you're lucky, a complete tick list—but as makers for the climbing community, we carry those stories we have and hear at the crag into our work. Our experiences together feed into how we express climbing and the culture in our products, our images, and our words.
It's our way of saying: your experience matters, and we're here for you. Because after all, we're here with you.
After a full day of bouldering, the Community Climb crew snapped a group photo with our seven Mountain Hardwear employees and Anna Liina Laitenen, an MHW athlete.