flash foxy's women's climbing festival
Written by Mountain Hardwear Marketing Operations Manager, and Women's Climbing Festival attendee, Lina Adams. Photos by Angie Payne.
We fall the same, we bleed the same and we put an equal amount of sweat and passion into climbing as men – but what I think we have more of – is relentless willpower. We are women who give it our all. So much so that we manage to sell out on an event with 275 tickets within minutes, with 850 more on the waiting list (from 30 states and two countries) with an additional 20 volunteers, 18 guides, stewardship leaders and facilitators, and 52 athletes and vendors. All Women.
Welcome to Flash Foxy's Women's Climbing Festival.
Founded by Shelma Jun and friends in 2014, Flash Foxy is a multi-media platform that celebrates women climbing with women. A place where women can come to be inspired by and connected to fellow women climbers. In a few short years, Flash Foxy has grown and expanded their activities to the aforementioned Women's Climbing Festival (WCF), an event that came to fruition through an identified mutual desire to have a space that physically connects female climbers and provides them with an opportunity to meet and climb together.
As Shelma puts it "when we see another female climber, we support each other – it's a Tribe."
That's what makes this event so appealing. It's a weekend promising stoke and cheer and camaraderie, without limitation – everyone who's there is THERE, for themselves and for each other.
Mountain Hardwear is lucky to have a well-rounded female climbing team, out of which three were able to attend the event; Angie Payne – comp climber turned boulderer who has since also found her passion for photography, Kyra Condie – top competition climber paving her path to the Olympics and who led a Sunday clinic called "Applying Strength to Bouldering", Miranda Oakley – perhaps the most humble but badass big wall climber out there, and clinic leader of "Introduction to Big Wall Climbing".
We followed Kyra on her clinic and truly enjoyed being in the mix of things. It took place at the famous Buttermilks, guided by Becca Droz. While our own keyboard fingers were a tad too sensitive to the granite – we enjoyed rooting on all the strong personalities who pushed themselves and each other through some spectacular climbs. Seeing how the group's support can get someone to completely step outside their comfort zone and climb a highball on their first day climbing outside, is quite unique to this sport. I think it's safe to say that everyone who climbed that day or took part of any other clinic, made memories that will last a lifetime. As will all the new friendships and connections they made.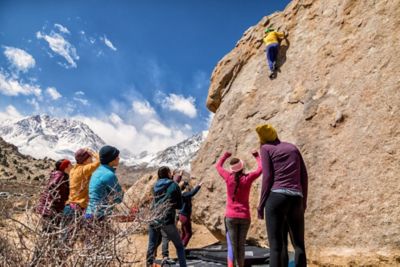 With their third annual festival in their original location, Bishop California – we could not help but to join in on the movement that Flash Foxy and the WCF has begun. We did so with something specific on our minds, Style! Why, you may ask? Because we're climbers, we're strong and try hard but we still care about style. Style, as seen both through the way we move our bodies up the face of a rock but also through what we wear while doing so. It's all intertwined. If we like what we wear and feel comfortable in it, we climb better. We're able to focus purely on the task at hand, not how our pants might tear when doing a heel hook, snag when scrambling down the back of a boulder or fit in an unflattering way.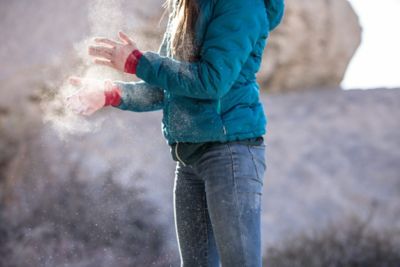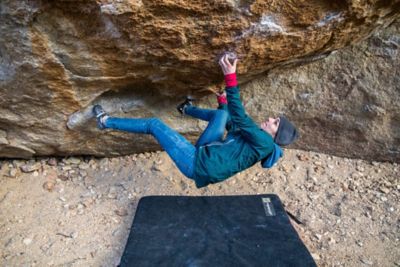 That thought was the inspiration behind the Hardwear Denim Jean – a true hero when it comes to durability, stretch and good looks. Knowing that women are always on the hunt for their next favorite climbing pant – we thought, why not bring the jean with us to Bishop?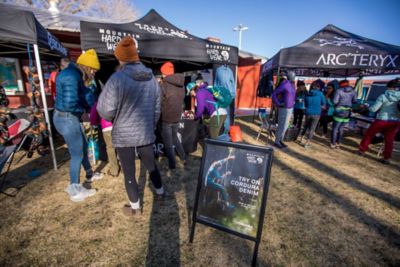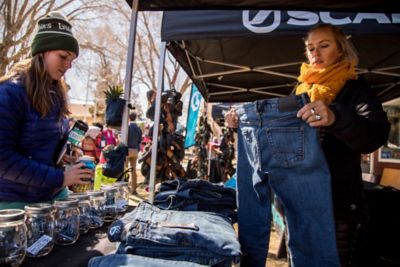 The WCF's Open Market is often one of the event highlights, the place where us brands get to speak to the consumer directly, exchange thoughts, ideas and stories. We had brought every size of the jean, as well as its partner – the Hardwear Denim Shirt with us, anxious whether or not the ladies would strip down in the cold morning air, only to try on our denim. Within a few hours, 180 women had stopped by the booth and entered into our denim raffle. Most of them, after trying on our jeans and loving them.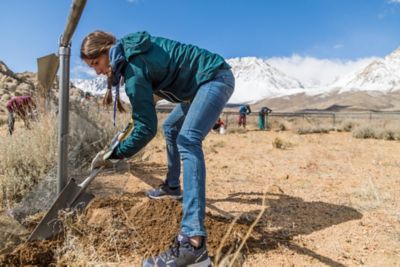 Looking back at the event, one aspect that makes it unique and made us honored to sponsor it, is how Flash Foxy and the WCF truly care about the location where they're organizing an event. Besides spending approximately 84% of their event budget locally, giving back to the local economy, they also raised $2,900 for the Access Fund and local stewardship nonprofit, Friends of the Inyo.
On Sunday morning when it was time to meet up for the Stewardship Project, the newly established tribe of women, rallied again. Our Mountain Hardwear athletes and organizers were among the 135 women who participated in graffiti removal, campground/fire pit clean up, repair of infrastructure damaged by fires as well as trail maintenance and trash pickup. Our crew actually ended up on a quite special project, which consisted of removing an old metal fence in the middle of the scenic landscape, and boy did the whole team take it to heart – we demolished the thing (our workwear being the Cordura Denim).
Rarely do we get to experience spirits being as high as when women come together to support each other and to protect what they care about so deeply. It's a magical thing, as is the entire valley surrounding Bishop.
Learn more about Flash Foxy.