:
inside the 2019 usa climbing combined invitational
What to know about this format and what's ahead—with a word from the champ and Mountain Hardwear athlete Kyra Condie
All photos by Jon Glassberg / Louder Than 11
Every competition is a show of strength and strategy—not every competition has this much at stake. For those who competed in the 2019 USA Climbing Combined Invitational in Salt Lake City, it wasn't just about a trophy or a title, a win meant—for some—a dream realized: a spot on the USA Climbing team and a continued journey leading to a ticket to Tokyo. But it wasn't just the prize that threw athletes into the pressure cooker…
While most competitions present an opportunity for competitors to play into their strengths to succeed, this international format combines three disciplines of climbing into one competition: speed, bouldering, and sport. And for many, it's their first time training extensively in one or more of these categories. Failure in just one could mean performing in none on the highest world stage.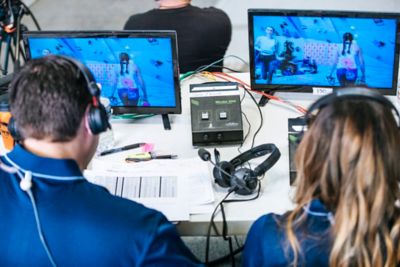 To help break this event down to the basics, we turned to Jon Glassberg, a Mountain Hardwear athlete and owner of Louder Than 11 (LT11), a broadcasting and media production company that creates film and photo content in challenging environments around the world. Since 2008, LT11 has partnered with USA Climbing to provide photo and video services at events all the way up to live broadcasts. Their crew was on the scene again this year, capturing all the best moments.
"Probably the most interesting event from an analytical perspective—since it is the least studied in U.S. competition—is speed," Jon explains. It's the only event that puts two athletes head-to-head, competing on a standardized 15-meter wall with identical routes. Time matters, but beating your opponent matters more.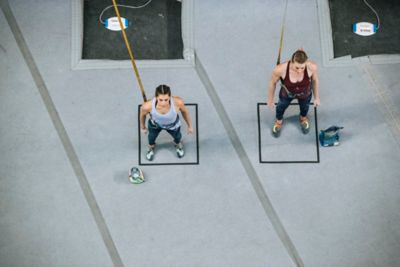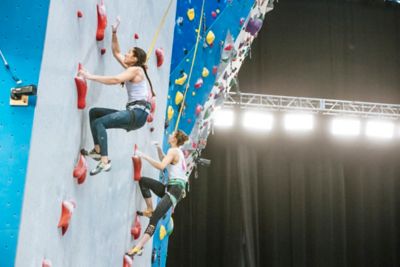 "We know bouldering and we know lead climbing, but speed is an outlier that creates an interesting challenge for most competitive combined athletes," Jon says. "Typically, you need to be solid at two out of three events and decent enough to be middle of the pack in the third—meaning speed is likely the weakest event for most combined athletes."
It may be new to the equation, but it holds just as much weight. Which is why most contenders are training speed as much as they can to slowly cut away at their average time. For men, a 6- to 7-second time is competitive. (The current world record is set at 5.48 seconds.) Likewise, women are shooting for a 10- to 11-second time (with a world record set at 7.32 seconds). And if you've ever gone to the climbing gym and tried getting to the top of a 50-foot wall as fast as you could, it may take you 30 seconds or more—these athletes make it look more like a track and field event.
But since the competition is all about general placement and less about winning each event, the goal for lead and bouldering qualification rounds is to make finals and place in the top six. For the lead qualification round, competitors have two routes, flash format, with a minimum of 20 minutes rest between routes. Bouldering is on-sight format for the qualification round with five boulders per gender. If an athlete is consistently placing in the top six in each round of competition, they have a good shot at winning the overall combined.
After all of the athletes make it through the rounds and qualify for the combined final round, competitors are faced with a back-to-back style event—starting with speed, then bouldering, and ending with lead—that showcases overall mastery of the sport. Speed finals is a knockout bracket style, bouldering consists of three boulders with four minutes per boulder, and lead is a single route with six minutes maximum time allotted. In other words: it's not a lot of time to recharge. Especially given that the style switch-up is drastic.
"After two intense days of qualification, athletes are tired, skin is thin, and mental strength is drained," Jon points out. "Only the best overall competitors will perform at a high enough level to win, and it's usually obvious who has what it takes."
At the end of the day, Mountain Hardwear athlete Kyra Condie was one of those competitors. By earning the top spot in her division, she secured the first of four spots on the women's combined national team.
Kyra brought her dynamic style to every stage of the competition and looked as strong as ever—but believe it or not, the night before the final round of the competition, she hardly got any sleep. "I kept picturing my first speed race in the final and it would get my adrenaline going, so I was lying in bed at three in the morning with my heart racing," she remembers. "I ended up trying to use that time to visualize success instead of failure, which I think helped calm my nerves during the competition."
"Winning this competition was a huge validation in my training and hard work that I've been putting into this format the last year/few months," Kyra says. "I wasn't sure if I was finding the right balance between sport climbing, bouldering, and speed to be prepared enough in all three disciplines, so it's really great to feel like I've been doing it right. I don't have a coach telling me what to do for training, so it's really important for me to see that it's working.
"It's also a huge relief leading into planning for my 2019 season. Before the competition, I knew I was planning—and hoping—to do the 2019 World Cup circuit, but I still had to qualify to be on the USA Climbing National Team. By winning this event, I prequalified myself to be able to go to all of the World Cup events this year for the U.S."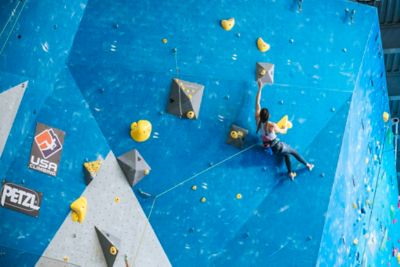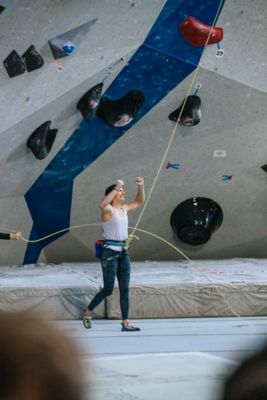 Following the Combined Invitational, Kyra competed in Bouldering Nationals, where she placed in the top 10. Next up, she'll participate in the sport climbing and speed climbing Open National Championships on March 8-9. These are also qualifying events to be on the national team, but since she already solidified a spot, she says she will treat these competitions as practice for the upcoming World Cup season.
Keep up with the rest of our athletes' competition season by following
@mountainhardwear
on Instagram and sign up for e-mail updates to be the first to know when a new blog post is out!