If you've stepped foot in any outdoor retail shop within the last three decades, the GORE-TEX name is not lost on you. For most of us, "GORE-TEX" signals safety. It's dependable protection when we need it most—it's resilience in the harshest conditions. And this reputation is rightfully earned…
Because if you're like us, it triggers flashbacks of the coldest, wettest days on the mountain. Ones where you're deep into the backcountry and storms rolled in quickly and unexpectedly. Ones where you thought there's no way you'd actually make it out unscathed—yet somehow you did: comfortably warm and dry.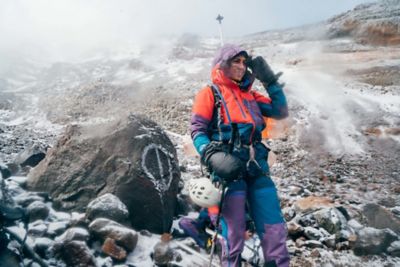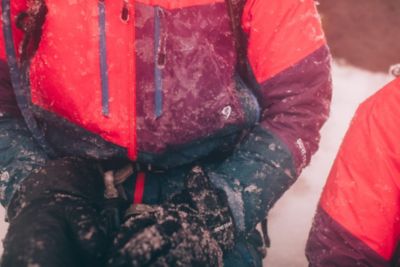 See, we've all had some experience that's left us shaking in our snow boots. But if you put your trust in outerwear made with GORE-TEX fabrics, it didn't let you down. It's this very principle that led us back to Gore.
But first, let's backtrack a bit…
Mountain Hardwear has a long history of pioneering technologies with Gore. Most notably: the Windstopper Fleece in 1996, XCR in 2000 (which later became known as the Pro-Shell), and Windstopper next-to-skin technology in 2001. Perhaps the biggest achievement though happened twenty-five years ago, when we introduced the original Exposure Jacket.
"The Exposure was such an iconic piece back in the day and represented a fresh new approach to technical shells," says Steve Adams, MHW Product Line Manager. "When we started talking about what our new outerwear should be, all signs kept leading us back to Gore and what the Exposure represented."
It's a proud part of our history. But let's be clear—we don't celebrate our heritage by going backward. Instead, we humbly tip our helmets to where we've been and shine our headlamps on an even bolder future. That's exactly what we did in 2018—starting with a sustainable approach.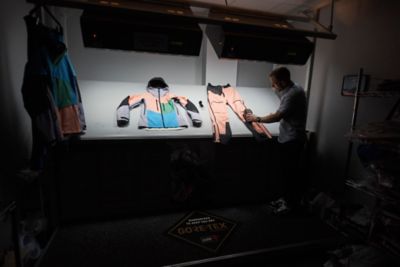 According to Bernhard Kiehl, Gore fabrics sustainability leader, "The incorporation of recycled and solution-dyed textiles has the potential to significantly lower the environmental impact of the textile materials used to make GORE-TEX garments." So, basically: we'd be doing our planet a solid.
Knowing that this process not only uses less water but creates less wastewater, too, we jumped on board. Because the way we see it, sustainability is an opportunity—and it just made sense to say yes to that opportunity. The fact that Gore offered these kinds of solutions that lined up with our values was just one more reason that made them the right choice for our brand.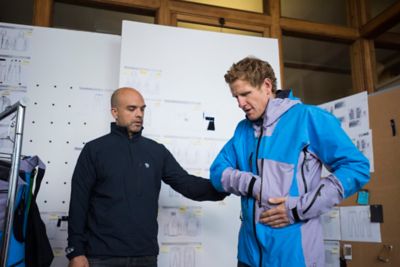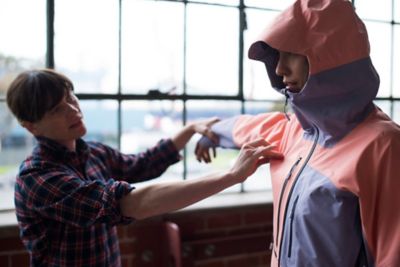 From that point, the Gore's fabric gurus began collaborating with our designers. And what we found was that there were also some unique visual opportunities that came out of their selection of eco-friendly fabrics. "Because of this clean dyeing process, our color palette was limited, but we celebrated the constraint by creating some unique colorways," explains Peter Valles, MHW VP of Brand Creative. "We wanted to challenge convention in the market by offering a tool for alpine ascents with a unique approach to visibility in the mountains. It needed to feel modern but unique and purposeful, and the solution-dyed color process of Gore's fabrics added depth and durability to the designs while enhancing the colorization of the designs."
Ultimately, our partnership with Gore and the new
Exposure/2 Collection
that came out of it is a signal of where MHW is headed in the future. As Peter puts it: "The new Exposure collection is a good representation of our new brand philosophy and commitment to Gore—it represents a commitment to building the best products possible in the most sustainable way, and our new recycled solution-dyed Gore-Pro is the key ingredient to this commitment."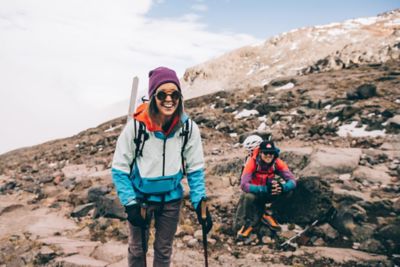 It's a new day for Mountain Hardwear. We're entering a new quarter-century, we've taken on a new look, and we're taking advantage of new, more sustainable materials. But don't worry, not everything has changed…
We're still as eager as ever to innovate products that can take our adventures to the next level. The only difference is that now we have a partner that can match that stoke.