While Lauren loves climbing, her first love was trail running. For Lauren, there isn't much that can beat a hard day powering up a mountain trail and the adrenaline that comes with swiftly moving her feet across winding rocky trails.

At home, you can find her tending to her plants and experimenting in the kitchen. Her great-grandmother was Filipino, and she has many memories of her home being filled with plants. She passed that green thumb to her mom and was raised in a house filled with plants and a large garden in the backyard.

"Being in nature outdoors is preferred, but inside, I try to surround ourselves with lots of plant varieties and green life everywhere. Our home is filled with plants and some with really particular care needs. I don't have quite the green thumb of my mom or great-grandmother yet, but I'm learning, and caring for plants helps me feel close to both of them."


She's always enjoyed working creatively with her hands: from puzzling, charcoal realism art, ceramics, tying fly fishing flies, and more recently, making beaded earrings.

When she's not pulling crimps in the Wasatch, Lauren works in the tech startup industry, though the dream is to eventually take the time to dedicate more time to climbing and running.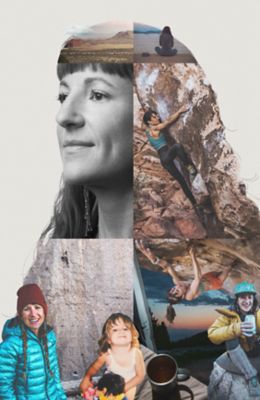 HOW DID YOU GET INTO CLIMBING?
In my early 20s, I had a boyfriend who was a climber, and I did not understand his gravitation to rocks or climbing… It frustrated me that he'd bail on plans to go climb for the weekend. It wasn't until I moved to Washington, DC, and we broke up, that I actually picked up climbing on my own–for me. A coworker invited me to join him and some other coworkers at the gym once a week. I was in a really tough job and needed an outlet and needed community. I had always been an athlete and was looking for a new activity to re-spark my interest–my pickup soccer games and running around the city wasn't inspiring me anymore.

To my surprise, I was hooked on climbing immediately. I really enjoyed the people, the consistency, the ability to gauge progress through grades, the mindful movement of my body, the problem solving, the meditative slowing down of my mind and thoughts. I was starting to understand why people loved this activity and lifestyle.

We started making the 5.5-7 hour trek to The New River Gorge in West Virginia every weekend. I didn't own a car, and there were times I would bring my pack to work on Friday, then take a night bus from DC to Pittsburgh to hitch a ride with a friend to The New, only to return on another overnight bus back to DC and straight into the work office on Monday morning. It was dedication. And my officemate probably didn't enjoy the unwashed smell from the weekend.
WHAT ARE YOU MOST PROUD OF?
I've been working with a therapist on a weekly basis for over a year now and I wouldn't trade it for anything. I still have so much work to do, but I am so proud of myself for putting in the work. I'm learning that I can do really hard things.
Our mental health is as important as physical health and I'd like to work toward debunking the notion that working on your mental health is only for a small subset of people or that it is negative. Sometimes that means even taking a break from climbing or trails.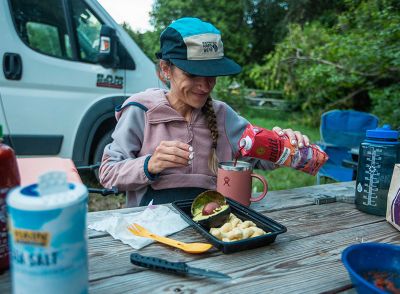 Climbing outside is my spiritual space. Mother Nature, the mindfulness of climbing, the meditative movement, the connection to the organic matter around me, all help me to connect to something bigger than I am. I have a daily mindfulness practice and climbing plays a big part in that. It helps me to slow down, disconnect from the pressures of the world, be present, and reconnect with what is truly important. It brings clarity and stillness to my mind. I've frequently paused mid-route, touched my forehead to the rock, and focused on slowing down my breath. This practice is especially helpful when I feel fear right before a scary crux! Climbing trips quickly became and still are my "church–so good for me spiritually, mentally, physically, and emotionally.
HOW HAVE YOU BEEN INFLUENCED BY OTHER WOMEN IN CLIMBING?
While I had a few awesome close women climber friends out East, it wasn't until I moved west that I realized how many women were in the sport and how freaking strong they were (and are). There was a time while living in Boulder that I really had to try to play it cool when my housemates told me that our neighbor was "like, a professional climber" and probably in her 50s, on the short side, and blonde. My jaw dropped. It's hard not to look up to Lynn Hill. I'm ~5'3" and really admire her incredible ability to utilize beta that is specific for her height and strength. I feel super lucky to have grown to know her over the years – and even appreciate her poking me to try harder..

These days I'd say I have less mentors but countless people I look up to, including all of my comrades on the MHW team. Holy smokes, what a stellar group of people who are so encouraging and truly want each other to succeed in whatever way that means to them as an individual.
I'm a third culture person. I was born in Ohio but spent a handful of years growing up in the "kampung" or village in Indonesia climbing trees barefoot, splashing around in our pond trying to catch fish with my hands (then eating with my hands…), taking the tuk-tuks to the markets with my mom, and befriending the homeless in the community suffering with leprosy. I'd take myself to the all-Indonesian school in the morning, then come home to play with our pet squirrel named Kacang ("Peanut"). I then went to a 45-kid K-12th grade international school the last two years we lived there. Moving to the suburbs of Columbus, Ohio when I was 9 years old was shocking to say the least. I was scolded for my outspoken dislike for materialism and was sent to the principal's office more than once for refusing to say the mandatory daily pledge of allegiance to a country I didn't understand. To this day I cherish my formative years in Indonesia and the family I was raised in, and the way it continues to shape my perspective of the world and my place in it.