america's premier everest climber + mountain guide (he, him)
Garrett Madison began guiding professionally in 1999 in his home state of Washington on Mount Rainier and has since personally led 60 climbers to the summit of Everest over the course of 14 expeditions and counting without serious injury, more than any other mountain guide. The founder of Madison Mountaineering, a guide service company that offers expeditions to the seven summits and beyond, he regularly leads high-altitude expeditions on mountains such as Aconcagua, Vinson, Kilimanjaro, and Elbrus throughout the year, specializing in Mount Everest.
In 2011, he led the first expedition in history where climbers succeeded in the Everest–Lhotse combination, reaching the summit of two 8,000-meter peaks in less than 24 hours and repeated this "double header" again in 2013 and 2018. Garrett is currently the only climber in the world to repeat this combination (3 times and counting...) and holds the record for guiding four climbers in this endeavor.
In 2014, he led the first ever successfully guided ascent of K2, arguably the hardest and most dangerous mountain in the world, reaching the summit with two climbers and three sherpas.
Having observed hundreds of climbers in challenging situations on the mountain, Garrett Madison has identified which techniques work, and more importantly, which techniques do not work in scaling the world's highest peak. He is widely regarded as the go-to source on the challenges and complexities that the mountain presents.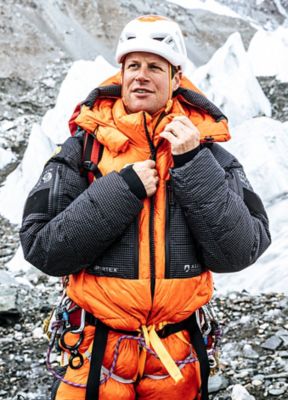 america's premier everest climber + mountain guide (he, him)
WHY DO YOU CLIMB MOUNTAINS?
Growing up in the Pacific Northwest as a kid, my dad and I would go out on week-long backpacking trips in the summertime. This was a formative time for me in learning how to be self-sufficient in the wilderness. When we climbed Mount Rainier for the first time, we applied those skills along with the technical mountaineering skills to get to the top of the mountain. When I started going into the mountains regularly, I began developing expedition skills, learning how to go out for an extended period of time to climb and make it back safely.
I started Madison Mountaineering because I wanted to continue doing what I love but for myself, leading expeditions to the highest peaks in the world, and specifically on Mount Everest.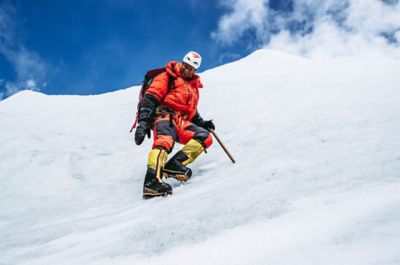 WHAT WAS IT LIKE SUMMITING EVEREST FOR THE FIRST TIME?
My first expedition to Everest was in 2006. We had an amazing summit day with the whole route to ourselves. It was cold and windy. There was definitely some exposure at times. When I got to the top I and waited for the other members to arrive I pulled out the satellite telephone I'd been carrying and I called my parents back in Seattle, they were just sitting down to have dinner back in the U.S. I was able to talk with them and thank them for all of their support over the years. I broke down in tears because I was so happy that I got to share that moment with them. It was a really special moment for me to have the opportunity to climb Everest and make it to the top, because I honestly didn't think that the chances were very high. I remember that amazing feeling of being on top, then coming down and thinking, "I want to do this again."
It's been a goal in my life to return to the summit of Everest time and time again, to help other people on their journey to the highest point in the world, and to share the experience with them.
The first time I summited Everest, I experienced a tremendous amount of positive energy and self-empowerment, and I realized if I can help other people experience that, then I'm doing a good thing for them and it's a good thing for the world. It's a way to create and spread good energy.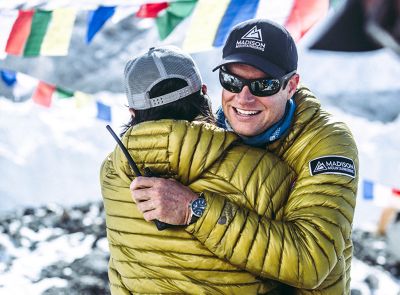 WHY WOULD ANYONE WANT TO CLIMB MT. EVEREST SO MANY TIMES?
I love the process and work involved in going to Mount Everest. It's a big challenge. I get to lead my climbing partners on an amazing journey and form lifelong friendships with some. These partnerships and the work involved are more important for me than standing on the summit.
Arriving in Nepal, trekking through the Khumbu Valley, reaching base camp, then climbing from there up through the Khumbu icefall, the Western Cwm, the Lhotse Face, and finally the southeast ridge to the summit is all very beautiful. Everyone who does this also has to push themselves through challenging conditions.
Reaching the summit is obviously one of the primary goals of the expedition. If we're able to reach the summit and get down safely, it's a very satisfying feeling. For me, knowing that I've helped other climbers along the way achieve their goal of making it to the summit is very rewarding.
Working with my Nepal Sherpa staff throughout the expedition is always very rewarding for me. I've known these guys a long time and we have an enormous amount of mutual respect for one other. From start to finish they are involved with me on the Everest expedition.
WHAT IS YOUR PERSONAL CLIMBING PHILOSOPHY?
I think it's very important for all of us to approach the expedition or the climb with three primary goals. The first goal, the most important, is returning safely from the expedition. The second goal is to reach the summit, and the third goal is to have a fun and enjoyable experience. I think the summit should be viewed as a bonus on any expedition or climb and I think it's important to view the experience as a day by day journey. We go through all kinds of different situations and experiences and there's lots of opportunities for personal growth, building relationships with other members on the team, experiencing new continents, new landscapes, and new cultures. Challenging ourselves and being outside our comfort zone, whether it's not sleeping in our bed at home, dealing with the altitude, pushing through tough weather or a difficult route with a heavy pack.
For me it's important to view the expedition as a journey and not look at it as a success or failure based solely on reaching the summit. I think if we view the entire expedition as only a success if we reach the summit, that's a very short-sighted approach to the overall expedition experience. It can be so much more if we view it as a journey with all of these great opportunities for personal growth along the way.