How Alex Johnson Woman-ed Up
how alex johnson woman-ed up
Woman Up isn't just another climbing competition. You guessed it: it's an all-women event. What really differentiates it from other gender-focused climbing events is that it celebrates women in every aspect of rock climbing—from routesetters to weekend warriors to professional athletes. It aims to inspire women to join the industry, encourage them to discover new skills and achieve their personal goals, open up conversations about gender inequality in climbing, and help underrepresented people find their community. (You can learn more about the Woman Up Climbing Festival here.)
But like any other competition, there's an underdog. Emily Harrington, Cloe Coscoy, Brooke Raboutou, Natasha Barnes—yeah, they're not that. These were the women that were slated to dominate last year's Woman Up. Alex Johnson? She'd been out of the competitive climbing scene since 2014… Sure, going into it she was head coach at Vertical Endeavors and had two world and five national titles under her belt—but that was almost five years ago—she had already retired from professional climbing—she was nearly 30—and well, that's unheard of. There's your underdog.
So, if you missed Woman Up 2018 and heard that AJ snagged the top spot, you were probably like, Whaaaattt?! *exploding head emoji*(She was, too.) But if you look closely at the whole story, it all kind of adds up…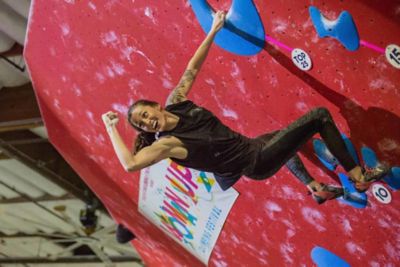 "I felt like I had done the best that I could have done," AJ says about her hiatus from climbing. "No one really did a big story or anything when I won the first (World Cup) or the second one, and so I was like, 'Oh, people don't really care about this. I'm just going to go climb outside.'"
She's always had a kind of on-again, off-again relationship with climbing, so taking a step back professionally wasn't all that abnormal. But after a while of repeating routes in the Las Vegas desert (and a little bit of "misbehaving," as she puts it), she moved back to the Midwest for a change of pace.
Turns out, coaching was the perfect training plan. Her motivational one-liner, "I'm old—if I can do it, so can you," translated into improved physical strength, ruthless tenacity—oh, and a legit six pack. Which worked to her advantage because not long after, the climbing community caught wind of something big: Tokyo 2020.
"At first I was kind of ho hum about it," says AJ. "I didn't think negatively about it—I guess I didn't really think about it at all… And then I had a revelation at a Taylor Swift concert."
Ok, we know what you're thinking, so let's pause here. AJ's no T-Swift fan. This was purely a favor to a friend. But sometimes your life changes when you least expect it…
"I was like, 'She's 30, and she's still doing her thing!' So, I decided I was going to go for it," she enacts optimistically. "Starting that day, I cleaned up my diet, and I've just been fighting to get on all these teams to try and qualify."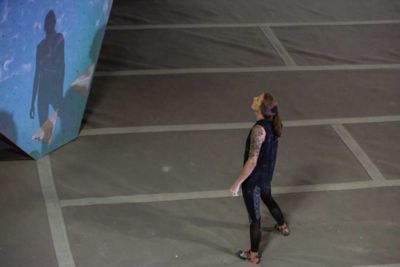 Woman Up was step number one. She only had four weeks to try to get in shape, but she figured if she could pull it off, she could just dip her toe back in the water to see if competitions were something that she was still good at.
The trouble was that not only are the players a lot different (and by different we mean way stronger), she wondered how she would adapt to the new setting style. "(Climbers now) grew up in a gym setting with more competition-style climbs than I did," she explains. "They're doing all these run-and-jump, bouncy, volume, manipulation climbs." To her, "pulling it off" would mean just keeping up with these younger hotshots. Winning wasn't really a consideration…
But she did.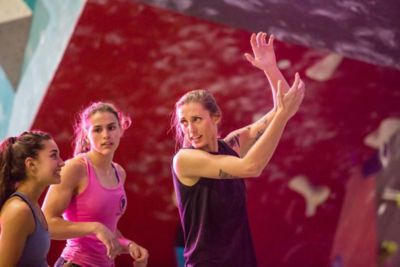 "A lot of people there knew it was my comeback or my soft reentrance, so it was super inspiring and motivating to see all these people that I used to compete with and have them say, 'Wow dude, you're really fit right now,'" AJ says.
Maybe all that time away from comp climbing was exactly what she needed. Maybe it was the serious #gainz she made from coaching. Maybe it was that come-to-Jesus moment with a popstar. Maybe it was just the lack of pressure and massive amount of support that Woman Up created. Whatever it was, it was the perfect formula for AJ's success. The real challenge was what came next.
She'd won Woman Up. She'd exceeded her expectations of this trial run back into competitive climbing. So, now what?
"I knew that what lied ahead was going to be longer and bigger and more glamorous," she affirms.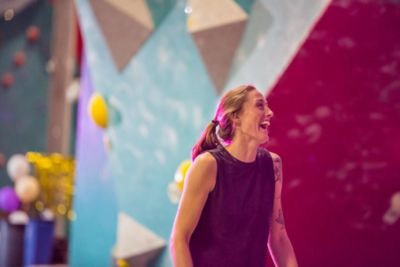 She's not wrong in that rationale. Since her win in 2018, she's competed in a half dozen World Cups and four national events and traveled to China, Russia, Switzerland, and Germany. She certainly doesn't have to add another to her schedule. Yet, despite the chaotic and demanding lifestyle of the World Cup circuit, she's making a return to Woman Up this July.
"Every event I've done this year so far has been a step towards the biggest goal ever," AJ explains. "With Woman Up, the pressure kind of alleviates itself, and that's usually when I climb my best—when I'm just present and having fun."
There's a fun factor, for sure, but even more valuable is its inclusivity and opportunity to learn. This year, the festival has an all-day routesetting clinic led by the same crew who sets all the problems for the Woman Up comp, women-only lead climbing classes, panel discussions, and workshops with pros like AJ, Beth Rodden, Lynn Hill, and Lisa Rands, along with professional photographer and MHW ambassador, Nikki Smith.
It's sure to keep up the positivity and stoke it's always had, but one thing that's definitely changed: AJ's no longer an underdog. So, come watch her defend her crown at Dogpatch Boulders in San Francisco on Saturday, July 21st and join her for a clinic on Sunday, July 22nd!