TYING THE KNOT
Finding stability through change in climbing and friendship
Written by Jon Glassberg, Mountain Hardwear climber and owner of Louder Than Eleven, an outdoor media production company based in Boulder, Colorado.
I'm getting married this year. Tying the knot, getting hitched, taking the plunge, buying the cow! It's all very exciting, and as the wedding day approaches and my friends weigh in on the meaning of life (as one does in these kind of "big" moments), the topic of climbing often comes up. What's next—kids? Will you still have time to climb hard? Will you travel as much? My response is usually the same: Without climbing in my life, I wouldn't be "normal," I wouldn't be me.
I have spent the better part of 25 years traveling and climbing with friends all over the earth—that's a long time for a person to evolve, focus to shift, and perspective to change. But, despite all the moving parts, there are two things that have always remained the same: my love for climbing and the relationships I form with partners along the way. Which is why it was unsurprising that after the last year of endless back-and-forth coordinating to pull off one of the biggest events in my life, I found myself searching for a way back to these things. I wanted a trip where I could disappear, send some world-class boulder problems with a close friend, and get grounded again before saying "I do."
I met Josh Larson at the Dark Horse Bouldering Series in Boston around 2011. Josh was a full-time setter, and I was making videos, climbing, setting, and generally just "in the scene" as much as I could be. It can be really hard to find an evenly matched and motivated climbing partner, but when our paths crossed, it was an obvious lifelong friendship. Realizing how much Josh and I pushed each other and how similar our styles were was a happy discovery; and when we projected boulders together, we never knew who would come out victorious. There was some friendly competition, a lot of shoe- and chalk bag-throwing and some less than tasteful expletives… (Like that time in Fontainebleau.) But that was why it worked so well. We shared similar motivations, temperaments, climbing psyche, and above all, passion for the sport.
As the years wore on, Josh became Head Coach of the U.S. Climbing Team and secured a full quota of athletes for the 2020 Summer Games in Tokyo, a heroic feat that requires a 24/7 schedule of world travel and athlete management; meanwhile, I went on to build a successful outdoor commercial film and photo business that consumed nearly all of my time. With both of our lives dedicated to traveling and climbing on anything we could get our hands on, our paths crossed consistently, but it seemed like every time we connected, we were working—with our girlfriends—in a big group, and generally just pulled in a lot of directions with so-called "responsibilities" to tend to. With all of this adding up, we never got the pure bouldering trip experience we both needed.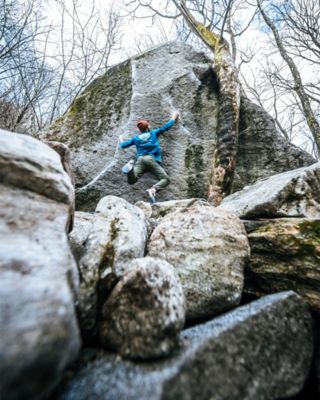 Then suddenly, both of our lives hit a fever pitch of excitement with back-to-back engagements to our partners in the spring of 2019. I posted a photo through social media to announce the news, and Josh immediately called to say, "We just got engaged too but haven't told anyone!" At that moment, I knew there was no alternative: we needed to have a joint bachelor party!
We discussed disappearing in Patagonia to develop boulders or exploring Mongolia for untapped hidden climbing areas that would occupy us for a week or two. But ultimately, we landed on the climbing haven of Ticino, Switzerland, where we could go completely insane on as many hard boulders as possible with no plan other than to rip it up on the rocks.
We got a lot of flack from our partners about how we should be "partying with a big group of friends somewhere crazy," but that never really crossed our minds. We were all in on smooth river-polished granite in Brione and the solitude that would provide us both. It wasn't about raging at the bars or living up our last single moments, we just wanted to do the thing we both love to do: climb.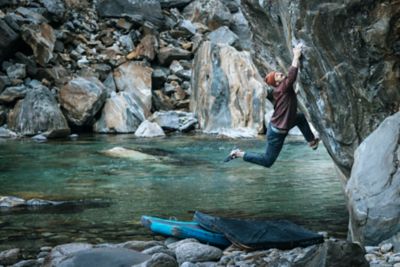 We set off in early March and quickly fell into a rhythm of easy living. Wake up, eat cereal, pack the car, project all day, drive home tired, stop for a roadside pizza, slam a bottle of wine, and pass out by 8—yep, this was the life. I made a list of climbs to check out before our trip, and before we knew it, we were ticking off boulders quickly and ignoring all real-life responsibilities. Sure, that lower back pain got worse, Josh tweaked his knee (again), we tossed some wobblers, and realized we were not in our 20s anymore, but despite our little speed bumps, we were having the time of our lives. Succeeding—failing—that temporary feeling of sending hardly seems to matter when you're getting in quality time on the rock with your friend.
Without saying it out loud, we both knew that these trips would be harder and harder to come by. And as I reflect on my life and what is coming next, I can't help but think about how climbing has shaped my life, remained constant, and provided a sanctuary from the chaos of the day-to-day in this weird world we live in. Knowing that there are even greater life-changing events on the horizon, the simplicity of escaping to climb and do nothing but climb brings comfort.
I realized that this is why climbing is such a big part of my life and why I can't live without it as a driving force behind the scenes. Whenever I need a reset, climbing gives me that clarity and balance. When life changes, jobs flux, and the world feels a little more chaotic, climbing and the friendships we have through climbing never falter.
By the end of our trip, Josh and I both realized that we deeply missed our significant others, and it was time to head home. We parted ways in Zurich, and I returned to Colorado recharged and grateful for our short bouldering expedition, ready to begin the next chapter: marriage.