climber + rock guide (she, her)
Genevive Walker began climbing in the Shawangunk Mountains in 2012, sparking a love for steep routes with drippy tufas, roofs, and anything that requires kneebar trickery. After 7 years in the sport, she started her career as a Single Pitch Instructor (SPI) certified by the American Mountain Guides Association (AMGA). Being a part of the first all-female SPI cohort in 2018 opened her eyes to the disparities and inequalities within the climbing industry and ignited her mission to build community and both offer and support representation for BIPOC climbers.

Living full-time on the road for the last five-plus years has awarded her the opportunity to travel the world and experience different cultures while focusing on her strengths and skills as a climber and guide.

When Genevive isn't climbing, she loves to slackline, cook, and spend a copious amount of time with friends.
Climbing helps me cope with my insecurities and anxieties by being in the moment. It helps me see and feel those moments of calm and quietness, which helps me realize that I'm capable of being in control, even if it takes a lot of work. Climbing also helps me control unhealthy habits that I struggle with, both mentally and physically. Instead of focusing on the number on a scale, I pay more attention to how my body feels. Climbing gives me goals to focus on, especially when I get stuck in negative thought patterns and need a way to revert back to my main focus. I love being able to push my body and mind through a projecting phase because you go from thinking there's no way you'll be able to do a route to actually doing it, which is fascinating.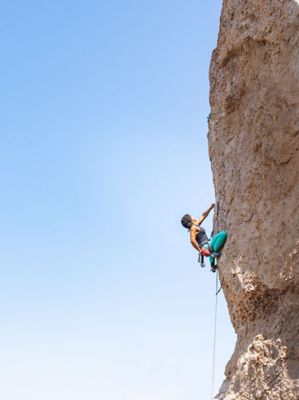 climber + rock guide (she, her)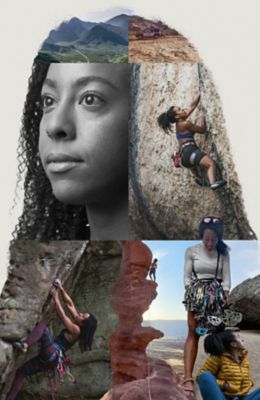 WHAT DO YOU STRIVE FOR AS A ROCK GUIDE?
I guide with the hope to inspire others to become leaders in their own circle or community. I want to share the skills that I've learned over the course of 9 years and help others feel competent when they step outside. I've been working in women-centered environments and would like to focus more on BIPOC spaces in the future. Mentorship is important when learning something new; and throughout my climbing experience, I've seen a huge lack of BIPOC mentors. I want to fix this by encouraging more BIPOC climbers to learn the skills needed to safely enjoy the outdoors so that they can also become mentors in their own community.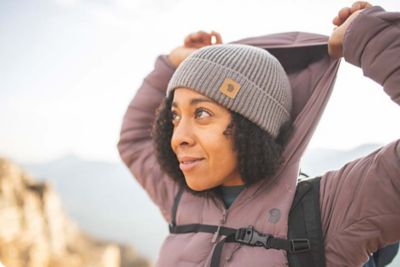 WHAT ARE YOU MOST PROUD OF?
My Single Pitch Instructor certification is something I'm really proud to have because it was something I didn't think I could ever do. I knew a few guys, but no women, with the certification and was always told how difficult the course was. Because of that, I compared myself to the men who steered me away from the course and believed my skills and experience weren't enough. After taking the course, I came to realize that my competencies far outweighed the ones I compared myself to and passed with flying colors. From that moment forward, I constantly remind myself that I am capable of a lot more than I think and to never hold myself back from taking chances.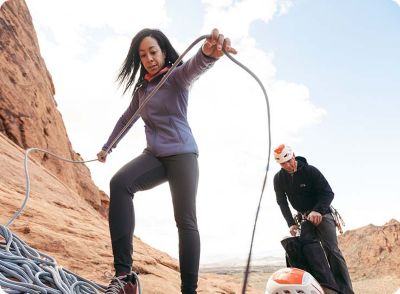 HOW HAS YOUR JOURNEY WITH VAN-LIFE UNFOLDED?
I first moved into a Hyundai Tiburon that I built out back in 2016 and drove from New Hampshire to Joshua Tree to start my first road trip out west. It was my first time doing something that big on my own, which was scary, but it gave me time to think and reflect for the first time in years. I learned a lot about myself but mostly that I was capable of doing things on my own. Without any direction or path to follow, I bounced around from climbing area to climbing area, made new friends (who I still see today), and made so many special memories. This was when I realized that independence doesn't mean loneliness but strength from within that's been hiding for too many years.

I eventually upgraded to a Honda Element which I also built out and moved into immediately. After getting back from a three-month Southeast Asia trip, instead of resetting life and possibly starting grad school, I hit the road for what was only supposed to be two weeks but turned into three years. Fast forward to life now, I'm still on the road full-time, but I've upgraded once again to a Dodge Promaster and added my now fiance, who shares the small space with me. Even though we give up many comforts of home living like showers, warm water, and a bed big enough to comfortably fit two, we wouldn't trade this life for any of it.
WHAT'S YOUR FAVORITE PLACE TO CLIMB?
The Gunks is where I first learned to climb, and there's so much I haven't even seen yet. The style is steep with tiered roofs, which I love, and the fall season provides the most beautiful scenery around. I grew up about 20 minutes away, so being able to visit my family and climb makes this area number one on my list.
WHAT'S SOMETHING MOST PEOPLE DON'T KNOW ABOUT YOU?
I spent two months in Tonsai in Thailand to climb and almost every night I'd slackline at a local outdoor bar which sparked my love for slacklining. It took me a couple weeks to learn and be able to walk the line, but I was hooked from the beginning. I enjoy learning new tricks from spins to walking backward but my most memorable one is doing a front split on the line.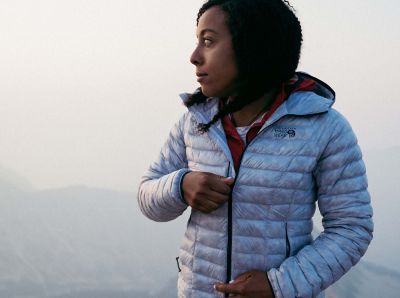 Two climbers looking up at a big rock face
Guide to Going
Full-Time on the Road
Written by Genevive Walker, Mountain Hardwear climber.