While Caleb Robinson is newer to the climbing scene, that hasn't slowed him down. After growing up playing team sports like soccer in Pennsylvania, he is quickly setting his sights on big bouldering objectives and ticking off projects left and right.

Before falling in love with bouldering, Caleb worked as a route setter, which helped him get the hang of fundamental climbing mechanics and movements, as well as problem solving. Now he is focused more than ever on gaining the strength that's required for bouldering, so he can feel confident with higher grade sport climbing routes.

In between attempts, he often has a camera nearby. As the founder of Origin Explorations, a photography company, he hopes to capture moments of folks in the community and highlight their stories.

Caleb recently moved to Salt Lake City, Utah in the beginning of 2021 to be closer to the climbing destinations of the West. These days, you can likely catch him making moves in Joe's Valley or Red Rock Canyon.
HOW DID YOU GET STARTED CLIMBING?
I climbed a couple times when I was a kid, maybe between 8-12 years old. It was something I knew I really enjoyed, however, growing up I played soccer very competitively my whole life. It wasn't until I stopped playing soccer right before college that I wanted to pick up another sport to fill my time and fulfill my athletic desires. Climbing was a natural fit and suited alot of my abilities, which helped me progress quickly. I immediately really enjoyed it. I got a job at the local gym, The Gravity Vault in Radnor, and found myself climbing 4-5 times a week. The rest is history…
WHAT IS YOUR CLIMBING STYLE?
Climbs that generally fit me involve powerful moves on decent holds. I think compression also suits me fairly well. I generally consider my anti-style as crimpy overhanging climbs. But I've been training my anti-style a lot, so my strengths and weaknesses are always evolving.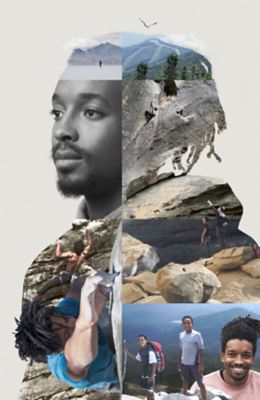 WHO ARE SOME OF YOUR CLIMBING MENTORS?
I don't think I've ever really had a climbing "mentor." There have always been climbers that have inspired me along the way, whether that's the legends of our time or local friends. But I think the lack of representation of BIPOC in the sport has made it hard for me to identify anyone as a mentor. In a lot of ways, this has felt like a path I've had to dream for myself. I've gained a lot of inspiration from black success stories that span the history of modern sport. Names like Serena Williams, Simone Biles, Jackie Robinson, Allyson Felix, and Muhammed Ali have inspired me deeply. Legacies like theirs are ones that I look up to.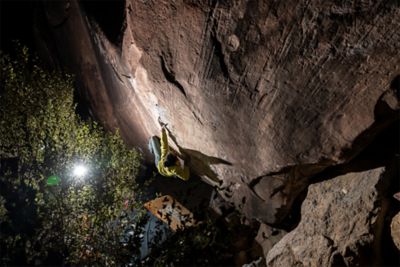 WHAT IMPACT DO YOU HOPE TO HAVE ON YOUR COMMUNITY?
I want to be a figure of representation for the BIPOC community and push the boundaries of DEI in the outdoor community.
I climb for a couple reasons. One because It's a part of who I am: I feel the most like me when I am able to have some type of mind-body connection. I often find this through movement or athletic activities. Climbing does that for me because of the immense mental focus and resilience it requires in tandem with peak body coordination, strength, and technique. I also climb because I want to find my potential as an athlete. In some ways I feel as though I wasn't able to accomplish this when I played soccer. I made a hard decision to stop playing my senior year in high school while I was getting scouted by colleges. For most of my life, playing in college was a big goal of mine, so I felt like I stopped short of what I was capable of when I decided to stop playing. Lastly, I climb because it's a beautiful way for me to experience the world, landscapes, and people. Being able to travel far and wide in order to climb has given me opportunities and experiences I'd never have otherwise. Being in beautiful spaces refreshes my soul. Having a community that's spread out across the globe is a beautiful way to share and amplify those experiences with others.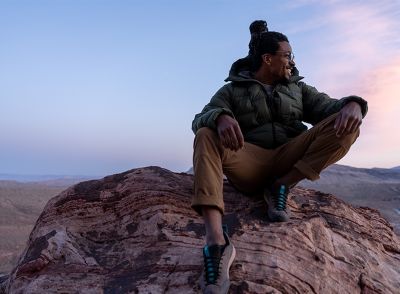 WHAT IS THE BIGGEST CHALLENGE YOU FACE?
Honestly, it's really easy to let climbing consume my life in a negative way. Finding a way to be a multidimensional person can be hard while trying to pursue climbing professionally. I can easily be obsessive over climbing which leads to being dismissive of other areas of life. Sometimes being obsessive feels necessary amidst a hard project or rigorous training, But it can easily become damaging to other things like relationships if it becomes all consuming. At the end of the day I want to be able to be the best version of me in every sphere of my life. I'm definitely not perfect, but that's what makes it challenging.
WHAT IS YOUR RELATIONSHIP TO ART?
In high school, I pursued a lot of fine art and oil painting. I think the time I spent investing into art back then really gave me a framework for my artistic style and expression. I picked up photography right after high school. While I've done a variety of types of photography, my formative years as a painter and fine artist are driving the direction of my photography portraiture and fine art.
WHAT DO YOU CONSIDER YOUR GREATEST ACHIEVEMENT SO FAR?
I still feel so new to the sport that I barely consider what I've done notable. But if I had to pick, climbing double-digit boulders within my first 4 years of climbing was a goal I had and achieved. But the real goal was less about grade-chasing and proving to myself that I could have consistent progression, and I did, and that's something I'm proud of.
WHAT IS YOUR FAVORITE PLACE TO CLIMB?
Earth, for sure. I've heard there are lots of rocks on other planets, too, but it mostly looks like choss… In all seriousness though, I don't think I have found a favorite place yet. There are endless amounts of places left for me to explore.
I used to be able to solve a rubix cube in less than 2 minutes. Also, my name is pronounced "kah-labe."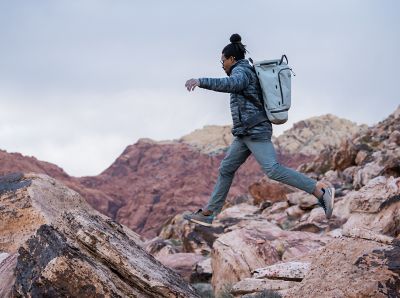 A super-packable fleece midlayer for lightweight performance on the trail.
Sale price:

$67.50
Regular price:

$90.00
Down-insulated hoody woven from a single stretch fabric for warmth and movement
Sale price:

$180.00
Regular price:

$300.00
A sustainable reimagining of our best-selling ultralight down hoody
Sale price:

$270.00
Regular price:

$360.00