100 Miles in a Ghost Shadow
100 miles in a ghost shadow
Written by Rachel Metcalf, MHW Product Development Manager and member of the 2019 Everest Base Camp trekking team.
Having never been to Nepal, it was hard to know how to be truly prepared for a three-week trek it it's mountains. So, as I started packing for our trip to Everest Base Camp, (
learn more here
) I did what anyone else does before hopping on a plane across the world: check the weather… Rain. Lots of it. Immediately, I began imagining stomping up to Everest Base Camp in muddy trails and frigid air, views clouded by dense, dark skies. Knowing that a synthetic-insulated jacket could layer easier under a rainshell and keep me dry in these conditions, the
Ghost Shadow
moved higher up on my packing list.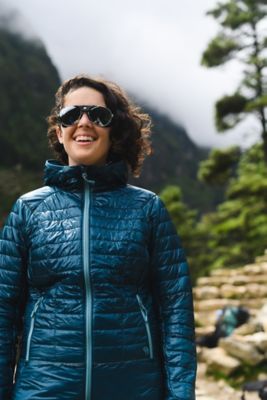 Beyond the practicality of the Ghost Shadow, the amount of environmental consideration that went into this product was impressive. It's made of 100% post-industrial recycled fabrics and semi-recycled trims and insulation, giving it 88% total recycled content; it uses over half as much water to manufacture; and it keeps chemicals that are used in most water-repellant treatments out of the environment.

Having grown up surrounded by mountains and being in nature, environmental stewardship is extremely important to me. So, this opportunity to reduce my impact on the outdoor spaces we love was impossible to pass up. Now, it was just a matter of whether it could live up to the challenges we'd face.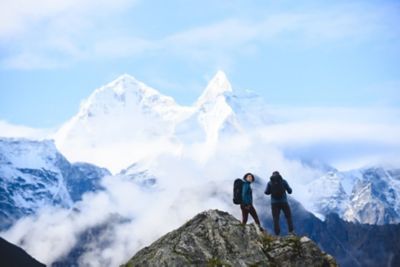 As we walked the Khumbu Valley of Nepal, we traveled through an endless number of microclimates, some expected and some completely otherworldly and astonishing. At first, we were surrounded by lush, green foliage with waterfalls everywhere; but as soon as we got into the higher alpine environment with far less shelter from the weather, I was always reaching for my Ghost Shadow. Early-morning adventures, tea-house hangs, and downtime at Base Camp wouldn't have been the same without that safeguard.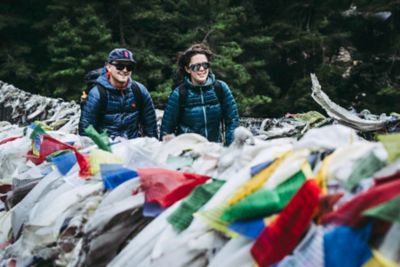 We can't fully enjoy these amazing places if we are constantly cold, wet, or uncomfortable. But the most important factor for me in being able to appreciate the Khumbu was knowing my impact. Every time I wore this jacket, I had the peace of mind that I chose the most environmentally responsible option available to me. That's the beauty of the Ghost Shadow: it does the job it was intended for and then some.

I'm proud to be a part of this next chapter for Mountain Hardwear, where sustainability is seen as a responsibility and not an obligation. We not only owe it to these beautiful places to take care of them, but also to the environment as a whole.