something to hold onto
ARTIFACTS FROM MOUNTAIN HARDWEAR'S 2019 EVEREST EXPEDITION
Written by Marley Jeranko, MHW Copywriter and member of the 2019 Everest Base Camp trekking team.
For better or worse, smartphones, digital photography, and social media have changed the way we remember our lives. Think about the last time you've visited somewhere new: Were you seeing that place through your own eyes or from behind a phone screen or camera lens? We've certainly been guilty of the latter.
What we've come to realize is that when we come home, all that's left for us is a memory card or hundreds (let's be real, thousands) of photos and videos flooding our phone's camera roll… So, leading up to our journey to Nepal, (
learn more here
) we made a conscious decision that this trip would be different. We wouldn't get lost in the scramble of trying to catch every moment. (We left that up to our friends at Louder Than 11 [LT11], the media production company that documented the experience.) Because if that's how we went about this trip, we wouldn't have accomplished what we came to do in Nepal: make a lasting impact on Mountain Hardwear.
While we hoped that most of what we'd be bringing back would only be shareable relationally—things like personal transformation, connections with each other, and learnings from the mountains that inspire our brand—we felt that tangible mementos would give the Mountain Hardwear office a stronger presence that everyone could feel, helping remind us of those intangibles long after our teams have returned home.
So, for those of you on the outside of our four walls, welcome to our Everest expedition exhibit…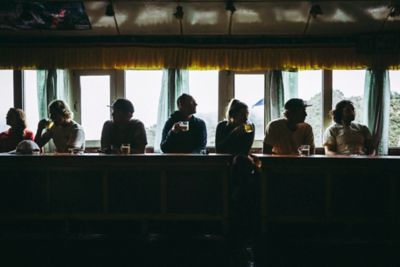 From the moment we landed in Kathmandu, we had tea cups in our hands. It became an important ritual because as we moved through the valley, we learned that the changing landscape, lodges, and elevation meant adaptation was simply the name of the game; tea was the one constant we could count on day after day. Every morning, every midday break, every minute of downtime: there was tea—honey lemon, ginger, and of course, 'Dudh chai'—a Sherpa milk tea that packs enough calories (read: sugar) to keep the team energized all day long.

On our last day in Namche, we hiked around to Khumjung, where we met with Rinji, a Sherpa who works with Madison Mountaineering and was on K2 with Garrett Madison when they attempted a summit this past season. Him and his family hosted us in their home for tea. It was such a unique experience to be welcomed into the home of an essential member of Garrett's team and to see how a Sherpa lives when they're off the mountain.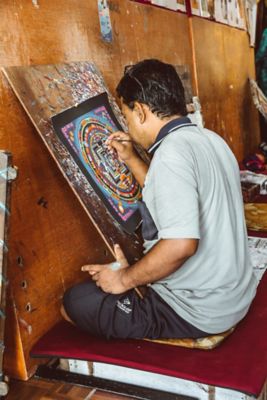 At the Swayambhunath Stupa, we learned about 'thangkas,' who make them, and the beliefs behind them. Neema Lama (pictured here) is a master painter who's been painting them for over two decades. Unlike students, masters use real gold and paint made of minerals found in the Himalayas. Each thangka takes over a month to complete. We were inspired by the level of deliberation it takes to paint with such detail and the patience required to create something of such intricacy.
On our last morning at the Panorama Lodge in Namche, the trekkers were given a Buddhist blessing for a safe journey to Everest Base Camp and the climbers to the top of Mt. Everest. After drinking rice wine from a ceremonial cup, we were given a 'kata' scarf to carry with us. The power of this demonstration was one of the most emotional moments of the trip because for the first time, we got to be a part of the spiritual practice that permeates Nepalese culture, of which we'd only been observers of up until then. It was even more special to have been given this blessing from our friend, Mingma, and his family, who own the lodge and made us feel at home more than anywhere else we'd stayed in Nepal. As we continued the trek, some of us tied these remembrances to our packs to keep their blessing close to us as we continued upward.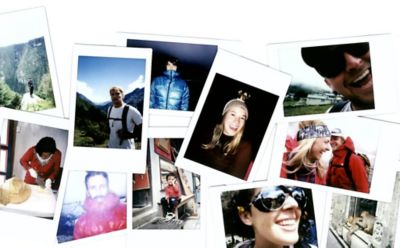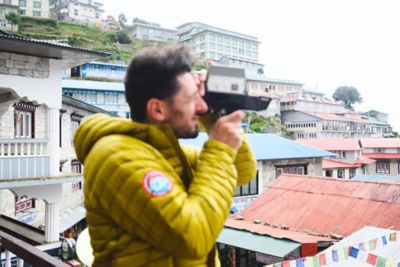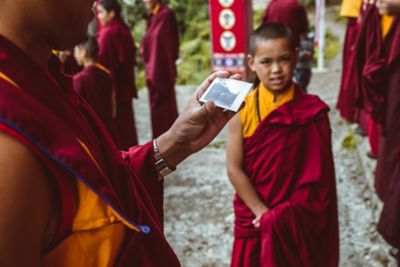 A handful of our trekking team carried polaroid cameras, while LT11 caught in-between moments on 35mm and 120mm film cameras, some using expired film from the 90s, the decade Mountain Hardwear was born in. Jon Glassberg, owner of LT11, used a Bolex 8mm camera on the trek and around basecamp, capturing some fun, stylized video of our trip.

Unlike digital photos, we had to be selective with which moments we chose to document—we might only take three polaroids a day versus a hundred that could be easily transferred and stored compactly on a hard drive. In doing so, we got to spend more time living the experience and less time over-focused in detailing it.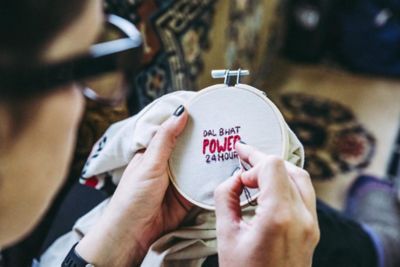 Rachel Metcalf, our Product Development Manager and a key contributor to technical outerwear designed for high-alpine ascents like Mt. Everest, acted as our personal tailor throughout the trip. Along the trek, she's brought a repair kit with her and her best pair of scissors to adjust prototypes like the new Scrambler Pack, sew our expedition patches onto the Ghost Whisperer Jackets, patch up potential tears, and embroider apparel for a lasting relic. As an avid 'dal bhat' enthusiast, she made her own design on the sleeve of her Mountain Hardwear expedition T.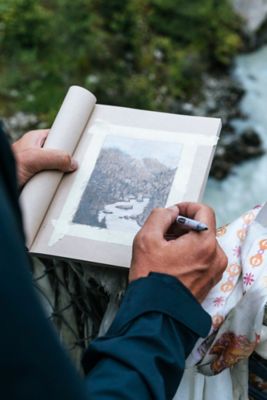 "It's hard not to be inspired when you're out here looking at the landscape. When I'm designing stuff all day, I draw the same thing over and over again—jackets, solutions to problems… I've been trying to do two drawings a day wherever I feel like there's a highlight (with the hope that it's) going to kickstart ideas elsewhere." -Will Hagna, Senior Designer of Outerwear
Prior to leaving for Nepal, everyone at Mountain Hardwear HQ wrote postcards to our president, Joe Vernachio, to tell him why we were excited for his journey, what it meant to us, or simply that we were rooting for him and sending well wishes. Sablle Scheppmann, our National Sales Manager and "chief stoke officer," compiled these postcards into a custom photobook and delivered it at basecamp the night before our trekking team departed.

We also handed off an expedition flag that was signed by the entire company. It may not have had the chance to make it to the top of Mt. Everest, but regardless, these artifacts are invaluable to our story. They show what is and has always been the most important thing to us: that we're in this together. It was never just about the groups that got to go on the trip—the help and support of so many people went into making an expedition like this possible, and these items are a testament to that.
A single grandiose experience halfway around the world or even the accomplishments that might happen there aren't what strengthen the foundation of Mountain Hardwear—this Everest expedition is just the tip of the iceberg. It's the people that carry these learnings and the people behind getting us there to collect them that give our work meaning. So, we will continue to hold onto the things we gained in Nepal, but especially, we will continue to hold on to each other.