sidecountry and slackcountry:
it's all backcountry
HAVE YOU EVER BEEN ON THE CHAIRLIFT at a resort and seen ant-like figures making their way up a nearby peak that you know is not on the resort map, wondering how they got there? Many world-class resorts like Jackson Hole, Alta, Whistler Blackcomb, and Revelstoke all have something in common. These resorts offer vast and challenging backcountry terrain that can be accessed via lift. Skiing in backcountry terrain that has been accessed from a resort is a highly attractive idea. You typically have much less work to do to get to your objective, saving time and energy compared to touring from a parking lot. But it must be understood that this type of skiing and riding is equally as dangerous as traditional backcountry skiing where you start from a trailhead. You're responsible for yourself and your partners, and you have to mitigate all the danger yourself. Not to mention any rescue must be performed by you and those you are with. If things go south, you cannot count on the nearby ski patrol to provide help. As a matter of fact, whenever ski patrol becomes involved in a backcountry incident, it is likely to be a body recovery scenario.
A NOTE ON THE WORDS "SIDECOUNTRY AND SLACKCOUNTRY"
Over the last couple of decades, resorts have loosened their backcountry policies by providing specific access points that allow skiers and snowboarders to cross through their boundaries into unmitigated terrain. You may have noticed areas at your local resort with beacon checkpoints and signs saying something along the lines of "You can die." And perhaps you've heard people throw around the terms "sidecountry" and "slackcountry" to describe terrain that can be accessed through gates at the resort. Although these terms are commonly used, there are some misconceptions about what they actually mean. Many times, people assume that because they accessed terrain through resort gates, it must be safer than skiing in the backcountry without the use of mechanized chairlifts. Wrong. The bottom line is that "sidecountry" and "slackcountry" are still backcountry. They possess the same dangers and risks and require the same gear and knowledge. Pro skier Luke Smithwick thinks the terms "sidecountry" and "slackcountry" should be thrown out altogether. Moving forward, it should all be considered backcountry.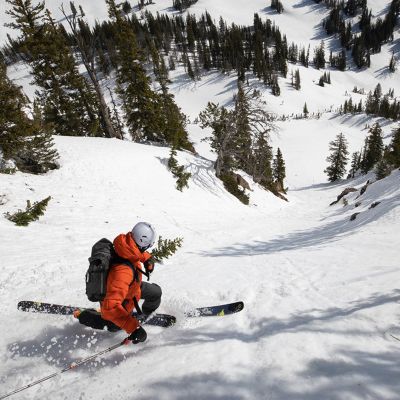 WILD VS. CONTROLLED SNOWPACK
The main difference between backcountry skiing and resort skiing is in the snowpack. Resorts have what is called a "controlled snowpack." Resort operations have organized and dedicated ski patrol teams whose mission is to keep people safe through avalanche hazard reduction. This mitigates avalanche danger through ski cutting and explosives. They also have a snow safety director who deems an area safe to ski. Although in-bounds avalanches do happen, they are few and far between compared to backcountry avalanches.
Avalanche hazard reduction is not done in the backcountry or anywhere outside resort boundaries. Each ski resort has boundaries, a roped-off perimeter that separates "in-bound" skiing from "out-of-bounds" skiing. Ski resort maps will typically mark areas that are considered "boundary lines." The moment you head through a backcountry access gate at a resort (or duck a rope), you are instantly entering into a wild snowpack, meaning a snowpack that has absolutely zero mitigation work done to it and, as a result, can be much more volatile.
The snowpack is defined as "a mass of snow on the ground that is compressed and hardened by its own weight." To skiers and snowboarders, the snowpack is more than just "a mass of snow." It's an intricate system comprised of different layers that, because of variabilities like moisture, temperature, slope angle, aspect, and wind (to name a few), can increase or decrease the likelihood of an avalanche at any given time.
In Europe, they use the terms "off-piste" and "on-piste." On-piste skiing is anything that is groomed. Off-piste, as you probably put together, is any skiing or riding that takes place off a groomed run. And, unlike resorts in America, many European resorts don't have actual rope lines to mark off the groomers. So, as with skiing in lift-accessed backcountry areas in America, one should treat off-piste skiing and riding the same as they would by skiing in the backcountry.
Now that you know sidecountry and slackcountry are actually the same as the backcountry, this terrain should be treated accordingly. As with any backcountry tour, you need to know how to properly prepare a safe outing and return. (link)
The first and most important thing you need to do is receive the proper training (link). Take an avalanche course. Learn how to perform rescue scenarios and how to use your gear properly. Your goal should be to make the most informed decision possible. Time matters when accidents happen in the backcountry.
Bring a backcountry backpack with a shovel and probe. Wear a beacon. And make sure all the gear works. Get yourself a pair of skis with backcountry bindings and skins. And learn how to layer properly (link).
Understand the hazards that exist for the backcountry that day. Check your local avalanche bulletin. Know what you're skiing, how you'll get there, and have an exit strategy. (link)
Choose the Right Partners
Ski with partners who have the proper knowledge of partner rescue, avalanches, etc., and gear for backcountry travel, skiing, and rescue. Ensure that you and your partners have open and honest communication. Trust each other.
If things just don't feel right, trust your gut and your partners'. Your intuition has been hard-coded into you in order to keep yourself alive.
In the process of staying safe and making wise decisions, you will free yourself up to enjoy the moment and the time spent doing what you love.
best resorts with backcountry access
Alpental, Washington
Alta, Utah
Jackson Hole, Wyoming
Mt. Baker, Washington
Revelstoke, Canada
Stevens Pass, Washington
Telluride, Colorado
Whistler Blackcomb, Canada