how to maintain and revive old ski gear
SKIING IS ONE OF THOSE PURSUITS IN LIFE that once you pick it up, you are hooked. You'll always be looking forward to that next opportunity to gear up and get out. From charging hard down steep alpine faces to laying smooth arcs on a mellow groomer, you can go as hard or slow as you'd like. It's a sport that anyone can indulge in for a lifetime. But it's not cheap. Over the most recent decade, the costs of skiing, lift tickets, skis and snowboards, outerwear, and travel, have skyrocketed, making it more difficult for new skiers to get into the sport and existing ones to stay in the sport. One way to keep costs down is by properly maintaining your gear. This maximizes its lifespan and prevents you from digging deep in your pocket for ski expenses every season. The following article will offer proven ways and important tips for maintaining your priciest gear, including skis and snowboard, backcountry skins, and outerwear. Diligently preventing and fixing issues with your gear is one of the most effective ways to save money and ski more.
Unless you're a pro skier who receives a new quiver of skis from a sponsor every season, you likely only have one or two pairs of skis. While you can do everything possible to avoid hitting rocks and other ski-destroying obstacles, accidents do happen. The first (and easiest) thing you can do to maximize the life of your skis is to routinely check for chips, gouges, scratches, and other damage to your skis. If you can establish a habit of inspecting your skis either before or after every day you ride them, you can keep track of the condition of your skis and address any problems as soon as possible. Prevention is key for keeping skis intact.
When it comes to ordinary use issues, like basic scratches from an early-season powder day or anything that removes the wax, it's all about taking a proactive approach. Regularly tuning your skis will keep them charging hard for years. The easiest way to tune your skis is to take them to your local ski shop. The tuning process begins with an initial inspection of the ski, looking for damage and problem areas along the length of your skis. The technician will then work on any part of the ski that needs special treatment, which includes fixing core shots (more about those below). Next, the technician will sharpen your edges so that you can hold an edge on ice and confidently engage your turns on the downhill.
Once they've fixed any base issues and have sharpened your edges, a ski technician will then base grind your skis. Base grinding is when you run the bottom of the ski through a stone grinder, which helps to further flatten and smoothen the ski's P-tex (polyethylene base material used on skis and snowboards) base. Doing this helps to bring back some of the "slide" in your ski so it doesn't feel "sticky." The tech will then finish with a coating of ski wax, which serves to create less friction between the ski and the snow, allowing you to effortlessly slide downhill. It is always nice to start your season fresh by tuning your skis before your first day out. And if you want to get consistently high performance out of your skis, consider getting your skis tuned every two to four weeks.
Pro Tip:
Get to know your local ski shop. They love making friends and understand that most people are skiing on a budget. A 6-pack of beer can go a long way.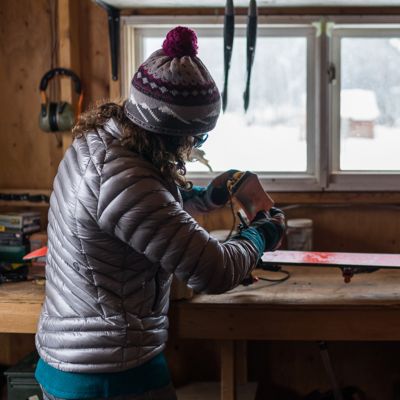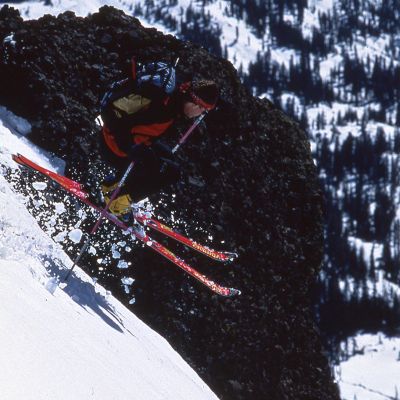 The most common ski-related issue is when you unexpectedly run over a rock, giving the bottom of your ski what's called a "core shot." Core shots are different than surface-level dings or scratches, which are almost impossible to avoid and are generally harmless to the base of your skis. These scratches are really shallow and have not punctured through to the base of your ski. However, when the core of the ski is exposed to the outer world, you should be concerned. So what is your ski's core? It is the central structure of the ski, providing the flex and support for the entire ski. If you damaged it, there will be a visible gash where you can see through the P-tex base into the core layer of the ski. And if snow or water seeps through to the core, you risk your skis becoming spoiled. This will create a weak spot in the ski, which can begin to deteriorate the core and, as a result, the strength of the ski. Our saving grace is the fact that there are ways in which we can cover up the hole and prevent core damage.
The first and easiest way to fix a core shot, or any issue with your skis, is to bring your ski to a local ski shop. Ski shops have a dedicated ski tech team that deals with this all the time—it's literally their job. They will fill the hole with P-tex, a strong adhesive that is used to create bulletproof vests. The ski technician will expose the rubbery P-tex to a flame to melt it, and then drip the liquid into the core shot, filling the hole and protecting the core from the elements. Once they've smoothed out any excess P-tex, they will then wax the ski. If you're looking to save even more breakfast burrito money, you can purchase P-tex and apply it yourself. Check out this article to learn how to do so, step-by-step: Expert Advice: Ski and Snowboard Base Repair
P-tex isn't a forever fix, though. It can last anywhere from the rest of the season to your next time skiing. The closer your core shot is to the edge of the ski, the more likely the P-tex can be ripped out. Make sure to routinely inspect the repaired areas (as well as the entirety of the ski) and re-fix the base of your ski as soon as any new or recurring damages occur.
Continuing the chase for longevity, we need to turn our focus toward a crucial piece of backcountry skiing gear: the skins. The glue that keeps skins on skis starts out fresh and super sticky, almost too sticky. A strong adhesive requires a lot of grunt work to get them off in the beginning, but the more you use them, the more the glue begins to lose its punch. The simplest way to save your skins is to re-stick them to skin savers after every use. Skin savers are a non-adhesive synthetic mesh material which sticks to the bottom of your skin, but they are easy to remove. They help to preserve the glue and the skin's stickiness. Most new skins come with their own skin savers, or you can buy them online. Use the skin savers any time you're storing and transporting your skins, whether in your house, car, backpack, or jacket during a backcountry tour.
However, skin savers can't prevent the inevitable. Over time, skin glue will naturally lose its adhesiveness. When it finally begins to go, you will notice that your skins are far too easy to rip off at the top of a ski line. They may even begin to fall off the ski on the uphill. When this happens, it's time to revitalize your skin glue. You can find purchase skin glue at your local backcountry ski shop or online here: Climbing Skin Care as well as watch tutorials on how to apply it.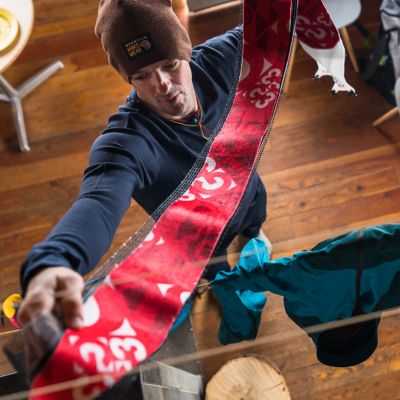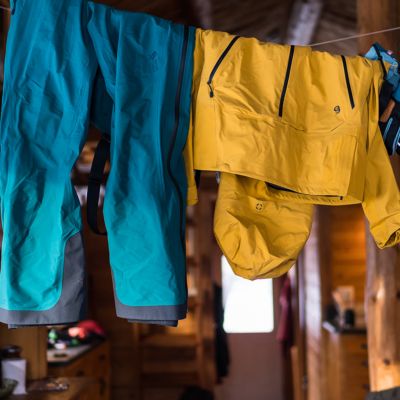 Another pricey part of your ski gear collection is your outerwear, or waterproof jackets and pants. For the rips and holes that can happen while skiing through trees or wearing the same jacket for the ninth season in a row, duct tape is known as the ski bum's miracle material. Its strong adhesion keeps it on the jacket, and an impermeable exterior keeps water out of the jacket. Even with a high-quality waterproof material like Gore-Tex, there is no way to avoid the gradual breakdown from regular use. It will eventually start to lose its waterproofness. Don't fret, though. Just because you feel a little damp after a day out skiing in a snowstorm, that doesn't mean that your jacket, bibs, or pants are doomed. A DWR, or durable water repellant, finish is a water-repelling liquid that is applied to Gore-Tex garments. This liquid prevents your garments from soaking out. When your Gore-Tex jacket does begin to feel a bit soggy, you can easily refresh your DWR treatment. All you need is a washer and a dryer. Purchase the DWR, apply it to your garments, toss them in the washer for 15 minutes, and then the dryer–it's that easy. Learn more about the process here ›