the best backcountry skiing destinations for beginners
THE MOMENT YOU THROW YOUR BACKPACK OVER YOUR SHOULDERS, slap your skins to the bottom of your skis, check your beacon, and head off into the backcountry for your first tour, your life changes forever. A cauldron of possibility opens up, like nuggets of gold just waiting to be discovered. It's really easy to find impossible-looking lines that you'd like to ski. And maybe one day you will be able to. But, to get to that point, you need years of learning and experience. It's important that beginner backcountry skiers and riders play the long game in backcountry skiing. Appreciate the steep learning curve and incrementally work your way up to bigger and more consequential lines. Backcountry skiing should be viewed as a life sport. To ensure that we are skiing for as long as we can, we must ease into it. If you know what to look for in a backcountry zone, you can choose safe, quality lines to ski. Get the knowledge. Take a class. Ask questions. But more importantly, enjoy the special experience that backcountry skiing affords you.
Luckily for beginning backcountry skiers, there are world-class areas that are friendly to the less experienced, offering a myriad of possibilities and a little bit more exposure each time. Between weather, terrain, and snowpack, every peak and every mountain range is different, but you can keep some important factors in mind when looking for a backcountry destinations for the early stages of your backcountry life. Read the following for some advice on how to slowly ramp up your objectives while staying safe and having fun.
LET EXPERIENCE BE YOUR GUIDE
Simply put, you will want to seek out backcountry zones and lines that don't pile more technical knowledge on top of the already-complex issues you must consider in the backcountry: basics of backcountry travel, avalanche awareness, how to read the terrain and layer properly, how to use your gear, how to perform a beacon rescue, and other general safety considerations. Skiing lines that might require a bootpack or steep kick turns to get to the summit are one thing. When you begin to throw in glacier travel, crevasse rescue, rope skills, ice axes, and other more expert skills, a whole other world emerges. And these disciplines, in and of themselves, require more time (read: years) to develop, on top of what it takes to learn about normal ski touring. Take it easy when you're first entering the backcountry. Get your feet wet. Head into areas that play to your skillset, meaning open meadows with a slope angle no more than 30º, or mellow wooded areas. Lap these as much as necessary to feel comfortable with every aspect of backcountry skiing. Let these experiences dictate when it's time to venture somewhere else and push your personal backcountry skiing boundaries.
When you're just starting out, seek out areas that have a dedicated avalanche center. This will add another level of knowledge to give your decision-making a leg-up. If you want to ski in an area that doesn't have an avalanche center, make sure that the skiing is inconsequential, meaning low slope angles, easy approaches, and no complex terrain navigation. Avalanche bulletins and forecasts should never be your singular guiding light in the backcountry, but they do help to provide in-depth and relevant information alongside field observations and snowpack history. All of this should be taken into consideration to make more confident and informed decisions during a tour. Avalanche centers take information provided by the general public (avalanche sightings, field tests, etc.), as well as information gathered by highly trained avalanche forecasters, and combines it all into a daily forecast usually put out early every morning. This forecast grades the existing avalanche possibilities, provides weather forecasts, and outlooks for that day and following days. Again, it's impossible to make this information perfect, but it can help to alleviate some of the stress and guessing when heading into the backcountry.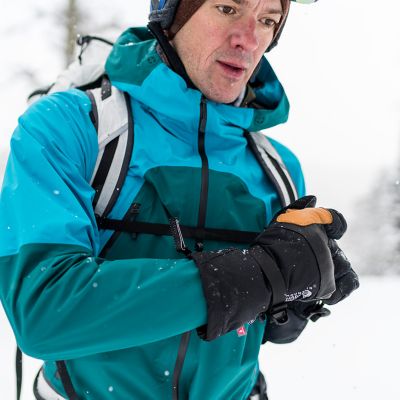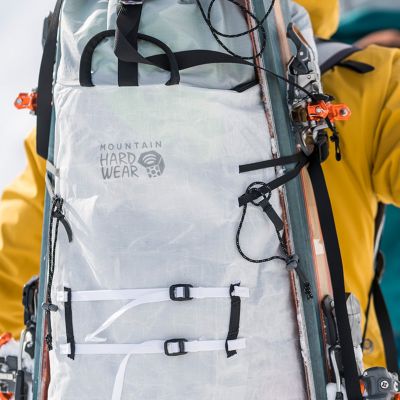 LET YOUR BODY BE YOUR GUIDE
Another thing to think about when looking for a place to lay down your first backcountry turns is access. Yeah, part of the backcountry allure is the human-powered aspect of it. When your body and your mind are flowing simultaneously, it can be meditative. But like skiing within the limitations of your mental knowledge, you want to ski within your own physical capabilities. Find areas and ski lines that won't require hours upon hours of skinning and heroic amounts of vertical gain (unless you're already in great touring shape). Ski lines that you think have optimal avalanche conditions and snow quality might become more dangerous if it takes you half a day to reach them. Places like Jackson Hole and Salt Lake City are special because of their access. Sure, there are mega lines that require supreme conditioning and long approaches to be skied, but you can also drive 30 minutes, pop your skis on, tour for 45 minutes, and ski a 1,000-foot line before work. Plus, these places sometimes have cell service in the backcountry in case you encounter problems in the backcountry. With more experience on the uphill, learning how to efficiently travel, kick turn, and getting in shape to tour, you'll probably want to venture farther in the backcountry and trek into harder-to-access territory. We're all about exploration and pushing physical and mental boundaries, but remember that the bigger and farther you go, the more risk you take.
Make it easier on yourself and target ski lines that have a straightforward approach and manageable ski terrain. Avoid terrain traps, or areas that would funnel snow onto you during an avalanche. Avoid high-exposure areas, where you may need to wear crampons or bring an ice axe. Find ski lines that have a safe and easy exit, where you don't have to navigate complex terrain like crevasses and aren't going to be exposed to more avalanche danger. For more information, learn more about avalanche awareness and take an avalanche course.

BIG COTTONWOOD CANYON
Located in the heart of the Wasatch range, 20 minutes outside of Salt Lake City, this canyon has the light, fluffy snow quality that has made this area famous. The area also has mellower terrain with perfectly spaced aspens and moderately steep but open bowl. Its neighbor, Little Cottonwood Canyon, has more steep, gnarly lines.
LOVELAND PASS
Located right next to the popular resort Arapahoe Basin is one of the closest backcountry skiing areas to Denver. In an hour, you can go from the urban jungle to the Rocky Mountains. A lot of people in the area try backcountry skiing for the first time at Loveland Pass, and Luke Smithwick, a big mountain skier, is one of them. "Loveland is where I experienced some of my first backcountry switchbacks up a mountain pass. A lot of people will start their day off at Arapahoe Basin until it gets skied out, and then go ski around Loveland Pass until they drive back home to Denver. The skiing around there has a lot of favorable slope angles and safe terrain, which leads back down to the road. As a matter of fact, a skier in his 60s used to own a full-size bus and would shuttle backcountry skiers and snowboarders up and down the pass as an homage to his love for skiing."
TUCKERMAN RAVINE
This cirque is located on Mount Washington, the tallest peak in the northeastern United States at 6,289 feet. This notorious area has established itself as a popular backcountry skiing area among East Coasters looking to get into backcountry skiing while pushing their limits on the downhill. New England generally lacks bigger backcountry areas, but Tuckerman's Ravine, which lies three miles from the trailhead, has about 19 ski lines with varying steepness that range from 40° to 55°. It's a place that can test even the most seasoned steep skier, especially given its variable snow conditions and weather.
CARSON PASS AND MT. ROSE
One of the best parts about the Lake Tahoe area is that there is practically 360 degrees of touring around the lake. And it's only 200 miles northeast of San Francisco. The area, known for its many ski resorts—Northstar, Squaw Valley, Sierra at Tahoe, Kirkwood, Heavenly, and Mt. Rose—is a mecca for anybody who wants to access the backcountry via touring or snowmobiling. Carson Pass and the Mt. Rose area are a few spots that provide flowy, mellow tours all the way up to technical chutes and cliff lines.
GALENA PASS
Thirty minutes from Sun Valley, Idaho, and the area's namesake resort is a minefield of backcountry gems at Galena Pass. It is the highest road in the northwest, sitting at an impressive 8,720 feet. From the summit you can ski lines of varying difficulty, from mellow forested glades to high alpine faces. An early-bird party often sets the skin track, and from there, you can explore the Sawtooth Mountains. Or ski back to the road and walk or hitchhike back to your car.
HATCHER / TURNAGAIN PASS
Both Hatcher and Turnagain passes are an hour drive from Anchorage. With easily accessible tours from the road, these two passes are a haven for new backcountry skiers. Because of the area's geography, weather systems can be inconsistent, meaning one area is windy and cloudy while the other is calm and bluebird. Enjoy lots of low-angle terrain and super-fun skiing.