route-finding 101: understanding topos, terrain & your intuition
WITH 500 FEET OF AIR BELOW YOUR FEET you scan the near-vertical granite face around you. There's a thin crack to the right that looks like it might take some gear, a small roof 20 feet straight above you, and what appears to be a small ledge almost directly to your left. Your thoughts hop from the topo you studied the night before that showed the route surmounting a small roof to the numerous thin cracks on the Mountain Project description to the handful of ledge belay stances your friend mentioned. There are four more pitches and a walk-off descent just to get back to the packs, then another few miles to the car. The pump creeps into your calves and anxiety into your head as you try and sort out your next move. Which way should you go?
Route-finding is one of the things that makes multi-pitch trad climbing adventurous and exciting. When you're heading into unknown on lesser traveled terrain, there's very little fixed gear and no trail of bolts to guide you. Successful navigation relies on doing your research, understanding topos, and relying on instinct, which usually comes from years of experience. And navigation isn't restricted to vertical rock. You must also nail the approach and the descent, the only mandatory part of the day. When it comes to learning these skills, nothing beats just getting out there and doing it, but there are ways to plan, be prepared, and read topos and route descriptions to maximize your chances of making it back to the car before dawn. Between long-route masters and first ascensionists Miranda Oakley, Tim Emmett, and Paul Rachele, we've distilled down decades of experience into the best advice for route-finding on multi-pitch climbs.
Devour all the information you can find about the route beforehand: guidebooks, Mountain Project, trip reports, and asking around to friends who have done the route. This means from the moment you leave your car to the minute you get back—approach, climb, and descent. A few apps our experts recommend are Gaia GPS, Alltrails, Google Earth, Google Maps, Caltopo, and Avenza Maps. For crowdsourced information like Mountain Project, take it with a grain of salt. Emmett says, "Unless it comes from a reliable source like a guide or guiding company, author, or someone you know, don't rely solely on it. Do your own research from credible places first, and then use crowd-sourced chat as bonus material."
Oakley says she has been scared away from many climbs because she read the comments on Mountain Project. "Remember that no one leaves comments if the climb went well. Many of the comments are from people getting in way over their heads so they write that the climb was scary and/or hard," she says. "It's likely that you are a much better climber than the guys commenting, so don't let their comments scare you off a climb if you know you are ready for it."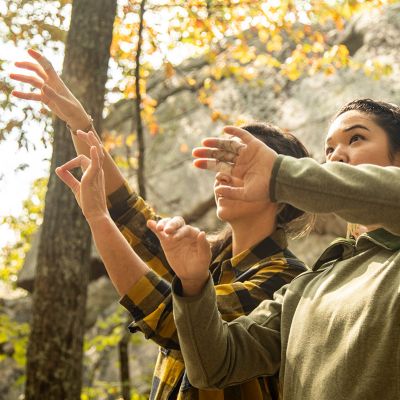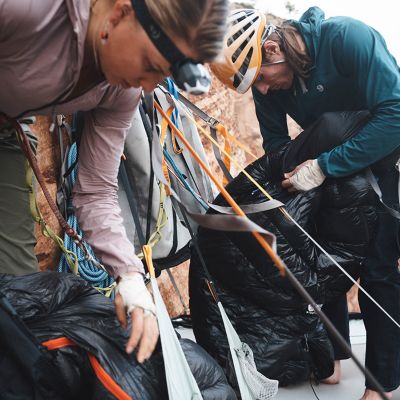 HOW DO YOU READ A CLIMBING TOPO?
A climbing topo is different than a regular topographic map in that it includes much more detailed information about the climbing-specific aspects of the chosen route: the number of pitches, the grade of each pitch, the general direction of each pitch, any particular cruxes or hard sections, fixed gear, notable features (roofs, slabs, ledges, trees, flakes), anchors or belay stances, and rappels. TK GOOD LINK›
The team should always have at least one copy of the topo, which the leader carries with her while climbing. Sometimes having a copy in your phone is enough (put it on airplane mode to save battery, you can take a picture of the guidebook or screenshot an online version so it's available when you don't have service), but it's always a good idea to have a hard copy too, in case your phone dies. Ideally both climbers have a copy of the topo, either on paper or in their phone.
HOW DO YOU FIGURE OUT HOW MUCH TIME A MULTI-PITCH ROUTE WILL TAKE?
For approaches, Rachele says to quantify the terrain. "Count miles and elevation gained/lost on the approach. Calculate the number of pitches or vertical feet the climb gains, and divide that by the average amount of time it takes you and your partner to navigate similar terrain," he says. "Make sure to add time if the climb is at altitude, the crux is hard, or the route-finding is tricky. And don't forget to add time for breaks, harnessing up and anything else you might do. Do this for every climb. Compare your projected times with actual times and adjust future calculations accordingly." Also include time for stopping to eat, using the bathroom, and adjusting your layers. A good formula starting point for calculating approach times for on-trail and easy off-trail travel is:
1 hour per thousand feet of elevation gain + 20 minutes per mile
For harder free climbing, Oakley allows for one hour per pitch, which includes leading, following, and transitioning. For easier climbing, plan for less time per pitch if you and your partner are experienced and climb well together. Emmett suggests doing smaller objectives in the week leading up to the bigger objective if possible. "That will give you a good idea of how fast you usually approach and climb." For figuring out descent times, make sure to factor in rappels, any loose sections where you have to downclimb, and off-trail hiking.

ROUTE-FINDING ON THE APPROACH
Two words: Start early. Even for veteran trad climbers, finding the base of a route can be the most difficult part of the day. If it's your first time doing the approach, always factor in more time than the guidebook suggests. On the way in, try to get eyes on the whole route and descent, noting any distinguishable features to your partner. Oakley says to be aware of your surroundings, focusing on what's in front of you instead of your phone or guidebooks. "Don't let the excitement of the climb prevent you from having common sense," she says.
Once you get to where you think the base of the climb is, look for signs of other climbers like stamped-down ground, chalk, fixed gear. Emmett suggests dropping your pack there and walking to the side of the face or back away from it to get a better vantage point. Try to find any of the features that might be mentioned on the topo or other route descriptions.
ROUTE-FINDING ON THE ROCK
When you're on-route, features of the rock are reliable, chalk and fixed gear less so. "If it looks harder, different, or easier than expected, double-check the topo before committing to terrain you are unsure of," Rachele says. While our entire outdoor lives usually revolve around reducing human impact, the signs that someone has been there before you can be helpful in finding your way—or it can take you completely off course. There's a saying for blindly following cairns and other manmade markers: It just means some other idiot has been there before you. However, if you are taking into consideration information in a legitimate guidebook description as well as the human impact you see, that's a good way to know you're probably on the right track. Human impact to look for: cairns, approach shoe tracks, broken tree branches and bushes, flattened grass, rock faces free of lichen and moss, chalk, worn rock features, polished holds, shoe rubber on rock, cleaned-out cracks, and fixed gear, like pitons.
Oakley suggests familiarizing yourself with subtle signs of human impact. "Don't wait until you're trying to stay on-route to start this practice," she says. "Start recognizing what well-traveled rock looks like next to terrain that doesn't see traffic." If you find yourself on loose or bad rock or in totally unprotected terrain (that wasn't mentioned in your route research), there's a good chance you're off-route. It happened to Oakley when she was attempting the East Buttress of Middle Cathedral in Yosemite. She followed old webbing she thought must have been on-route, only to find herself in unprotectable terrain. "It turned out the webbing was super old and likely used as a rappel anchor by someone else who was off-route," she says. "I ended up downclimbing back to the route."
ROUTE-FINDING ON THE DESCENT
"When you are on an adventure climb, you'll have an adventure," Rachele says. That often comes in the form of descending in the dark. Rachele says that once it's dark, it becomes important to go even slower. "Walk around to get multiple angles on the terrain before committing to a route you can't see all the way down. It's easier to lose elevation than gain it back," he says. "You're already benighted, so there's no need to make quick decisions based on limited data. If you find yourself in a hole, stop digging."
Oakley agrees, saying not to rush on descents unless there's a really good reason. "Also, keep eating and drinking water so that you don't bonk and do something dumb," she suggests.
how to prepare for a multi-pitch trad climb
Always carry a working head lamp and extra batteries. Always.
Pack the night before so you don't waste time in the morning.
Research as many sources as you can before heading out: guidebooks, Mountain
Project, online route descriptions, photos, etc.
Ask around to friends and other climbers who have done the route before to share anything they learned.
Take photos of the topo, approach, and descent descriptions with your phone and carry your phone in airplane mode with you on the route.
Start earlier than you think you need to.
Try to scope the whole route on the approach if possible. Consider carrying small binoculars.
Be realistic about the time required for getting ready, approaching, climbing, and descending.
Use the information you have gathered to find the route, but pay attention to what's right in front of you. Rock features are more reliable than chalk and fixed gear.
Don't rush on the descent.