rock climbing pants: your secret weapon
WHEN YOU'RE PREPPING FOR A DAY OF CLIMBING, the top half of your body gets all the attention. Will a wind shirt be enough or should you take a full-on hard shell? Are the temps more "medium puffy" or "light puffy?" Should you grab a warmer midlayer just in case? Then when it comes to your lower half, you throw on whatever trousers a climbing gear manufacturer has deemed "climbing pants," and walk out the door. This piece of clothing gets minimal attention from product designers as well, resulting in ill-fitting, uncomfortable, flimsy, and sometimes downright-ugly climbing pants. It might not seem like a big deal, but the thing is: Once you find a great pair of climbing pants, you'll realize what you've been missing this whole time. The right climbing pants, with a comfortable fit, appropriate details, nice style, and enough stretch, can take your session from pretty good to effin' great. To help you find your own secret weapon, we tapped five experts who have worn their fair share of awesome—and horrible—climbing pants.
First and foremost, consider what type of climbing you will be using the pants for. They should be hyper-specific to the discipline. Indoor bouldering pants won't work on El Cap, and your favorite crag trousers are no bueno for alpine missions. "Pants can only really do two things well: They may be comfortable and look good, but then they won't repel water," says Paul Rachele, a mountain guide for Jackson Hole Mountain Guides. "Or if they're windproof and move well, they won't look good. Most pants I own are good for two applications—rock or alpine, alpine or ice—but seldom three." Below are a few specifics for finding the best pants to wear for each type of climbing.
Indoor and Bouldering: Both Jon Glassberg and Ethan Pringle exclusively wear shorts in the gym, and when it's warm, they wear shorts climbing outside as well. Glassberg says, "If I have to wear pants, I will, but only after shorts cannot be worn." Rachele goes for brightly colored cotton bottoms that are flexible for gymnastic movement, while Miranda Oakley, a guide in Yosemite, prefers stretchy tights or yoga pants.
Crag: Since a day of single-pitch rock climbing is less committing than an all-day route, your pant choice can be as casual or technical as you want. You don't need a lot of extra bells and whistles (read: brush holders and zippered pockets) since you're returning to the ground, your pack, and all your stuff after each pitch. Rachele likes synthetic material, while Pringle prefers jeans or other durable cotton. "I'd rather have something comfortable and stylish that I can climb in, then go to the brewery afterward," Pringle says. "I want something I can just live in 24/7."
One thing to consider with pants that will go under a harness is making sure the waist sits high enough that the harness waistbelt will not cut awkwardly into your stomach. Nikki Smith and Pringle, each with self-described long legs, also recommend a longer inseam so a harness won't pull the pants way above the ankle.
Alpine/Big Wall: These should be the most teched-out pants you own, warmer and more weather-resistant compared to rock pants, with the right combination and location of pockets and zippers. "For alpine missions or climbing El Capitan, I am not at all concerned with how I look," Oakley says. "I go for durable, synthetic material because I can't wear cotton for big missions in the mountains. If it's cold, layer synthetic tights or long underwear underneath." Smith agrees that anything synthetic and quick-drying is the way to go for alpine objectives.
Rachele says, "There is a significant amount of butt-skooching in modern alpinism, so reinforced fabric on the rear is important." One trend he's seen in Europe is hiking to the base of a climb in underwear, then pulling alpine pants on before the climb, but the American guide style is more modest. "Most guides I know prefer board shorts to underwear for the approach, since you get pockets for essentials like lip balm and your smartphone," he says. "At the climb they pull on pants over the top of the board shorts."
One of the reasons that climbing pants are so difficult to get right is that climbers, especially women, come in a wide variety of shapes and sizes. Add in the fact that climbing clothing must be relatively close-fitting to the body but not too tight, and it's nearly impossible to make one design that will fit all body types. Someone with long legs and a short torso will not like the same pants as someone with wider hips and short legs. Ethan Pringle said it best: "It's hard to make one pair of pants that everyone will love." While online shopping and virtual size charts are queen these days, if you truly want to find the right pair of climbing pants, head to your local gear shop. Try on every pair of pants in stock to get an idea of which brands fit you for your body type and your style. "Every pair of pants" means just that: all sizes, brands, models, and genders. Smith recommends ignoring the "men's" or "women's" labels to really find what fits. Most likely, you'll find a certain brand and size that work best for you. That should be your starting point when looking for the right climbing pants, aiming for a pair that you like to wear but doesn't hinder your performance. Keep in mind that the "perfect pant" might just be a pipe dream. "Figuring out how to make a pant work for you is way more important than finding the best pant," Rachele says.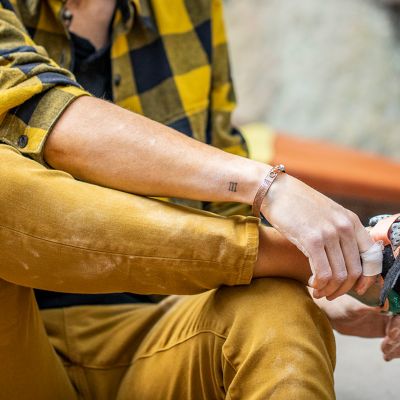 Whether you opt for organic or synthetic fabrics, "it must be stretchy!" Miranda Oakley says. "Being flexible is my secret climbing weapon. I can't have pants that hold me back. When pants are not stretchy enough or too big or the crotch sags low, it can keep me from stepping where I want on a climb." These days, fabric technology is not just limited to cotton or a polyester blend; it seems like every material has at least a little bit of elastane or other stretch material woven in. A lot of stretch is excellent, but more stretch usually means less durability, and vice versa. Finding the right balance of both for your personal preference and chosen style of climbing is key.
Personal style differs just as much as body type, but our five experts agree that functionality comes first and style comes second. "It's nice to be able to wear the same pants climbing and then out to the bar, but they can't sacrifice performance for looks because then I will likely not wear them at all," Oakley says. Smith has a different approach. "I don't want to look like a climber after I leave the crag," she says. Finding a pair of pants that perfectly blends style and performance is a fool's errand. However, there are plenty of pants that will perform well and meet a minimum style requirement. Once a pair of pants passes the performance test, ask yourself one question when it comes to style: Do you like wearing them? If the answer is yes, then—ding ding ding—we have a winner! If the answer is no, then keep looking.
"Try on as many pairs as you can, and find something that you like to wear that doesn't hinder your performance at all. Avoid the extras that a lot of pants have, like zipper pockets and brush holders, any additional things that don't add to the performance of the pants." —Jon Glassberg
"High-step in the fitting room. You may feel silly, but better to find out before you buy them if your pants can make the same moves you do." —Miranda Oakley
"Try them all: men's, women's, it doesn't matter, just find what fits." —Nikki Smith
"Choose something that you feel good in, meaning pants that you think you look good in, but that are also comfortable and durable. If you think you'll be slithering up a fair number of off-widths and climbing lots of trad pitches, I'd recommend a durable pair of jeans. If you're mostly sport climbing and bouldering, get something lighter weight for the summer and something more cotton-based for the winter. Style and comfort should be your main concerns." —Ethan Pringle
"Figure out the piece's primary and secondary use. If it's alpine, look for water and wind-resistant. If it's for gym climbing, looks and comfort reign. Remember you can always add insulation or waterproofness by layering under or over, but it's hard to make your pants cooler or more flexible. Pants that are too warm are the worst." —Paul Rachele, Jackson Hole Mountain Guide
what to look for in climbing pants:
Stretch!
Hyper-specific design for the discipline
The perfect fit, whether it's men's or women's
Appropriate material for the conditions
Durability
Style and aesthetic
Comfort