haywire: behind the scenes
MHW athlete Cheyne Lempe traveled to Baffin Island with long-time friend and climbing partner David Allfrey. For Cheyne, the trip marked the progression of his climbing; from big walls in Yosemite that had cut his teeth and his fingers to the monstrous towers of a new frontier. As Cheyne would learn, Baffin is just as raw and beautiful as it is unforgiving. The film is a gripping story of risk, success, and failure. It's the story of an expedition that goes Haywire. You can watch the full feature here.
Below is Cheyne's perspective on what it took to bring the film to life…
This was a very complex story for me to tell. Even though the film is already pretty long, this was just a small glimpse of the overall experience surrounding the expedition. When I got back home to Yosemite after the expedition, I didn't even look at the footage for months. I wasn't emotionally ready to re-live everything that happened.
Once I began rendering the time lapses and organizing all of the footage, I was hooked. Even though I was still struggling with feeling like the trip was an awful failure because of the accident, I recognized that there was a strong story worth telling. Editing the film ended up being extremely difficult for me, but at the same time, it was the way that I have been able to emotionally heal and dissect everything that actually happened out there. Over past two months, I have edited the video on airplanes, picnic tables in Yosemite, and now I've completely finished it here on the island of Kalymnos in Greece.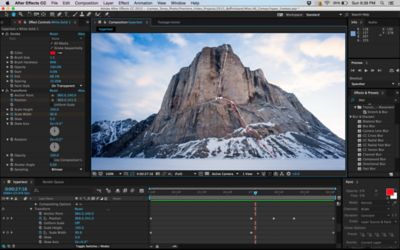 This project has taught me more about the entire film making process than ever. The more I learn about all this stuff, the more I realize I don't know, and the more inspired I get to figure it out. I'm very happy with how the film turned out… but it could have been so much better. From a creative standpoint, there were some elements that I was so unbelievably close to capturing on Baffin Island, but I just couldn't make it happen. For example, they day before we left, I was so excited to get a drone to bring with us. Even though my credit cards were maxed out and we had no production budget at all, I bought one anyway because It would be such an incredible tool to give some perspective in a place that oddly has almost no sense of scale. I didn't do my research, and we didn't bring the correct adapter to charge the battery with our solar panels. We hauled the thing 1,200 feet up the wall, and I was devastated to find out that we wouldn't get to use it.
The other aspect of the story that I'm still upset that I didn't capture better was the moment the accident happened. It was the most horrified I had ever been in my entire life, and as I was initially assessing Dave's injuries, and I looked down at my camera and just thought "what's the point? We are in serious trouble, the camera doesn't matter." A few minutes later thankfully I turned the camera on. I was able to piece a few things together in the edit, but wished I had hit the record button right away, which would have made that part of the film so much stronger. Years of documenting my adventures and travels, I've learned that the times when you least want to take out the camera are the most important times to do it, and are usually a crucial part of the story… but this was a whole different level.
I've realized that one of the main reasons I go to be in these big and powerful places is capture the beauty of it all and hopefully tell a captivating story. There are so many things that are out of your control out there, and it's truly amazing to be able to experience and document these wild places even when you just want to go home. I honestly don't know what's going to happen next, or if/when I'm going to go on another one of these types of expeditions. I'm more inspired than ever to be out creating art in this beautiful world, and the raw power of a place like Baffin Island makes me want to find a way to go back.