what to bring backcountry skiing
WHEN YOU'RE PLANNING TO head out into the backcountry, self-sufficiency is more important than ever. Though it's important to have a team of trusted and experienced skiers or riders to lean on, ultimately, it's up to you to come prepared for the day ahead.
The goal for backcountry preparedness is equal parts safety and balance. You want to be prepared for any possible outcome—whether it's an unexpected storm rolling in, tacked on mileage that requires extra fuel, or the possibility of an avalanche—but you want to be streamlined enough that you're not lugging around too much weight and wasting energy. With help from The Mountain Guides, this article will give you a better idea of the gear you'll want to bring for a single-day backcountry ski tour. Depending on your body, environment, skill level, and personal preferences, some items may vary—however, if you're new to backcountry skiing or are just looking to gain a better understanding of how the experts keep themselves safe and comfortable on more extreme terrain, these guidelines will provide a solid starting point for you to dial in your own system.
Keep in mind, the gear that you bring for these kinds of trips is going to be a little different than the gear that you'd use at the resort because we don't have that big shiny lift to take us to the top of the mountain—we have to use our legs, which generates a lot of heat. Having lightweight layers to dump that heat as well as heavy layers to trap it and keep us warm while stopped or going downhill is crucial for human-powered travel over snow.
1. Long sleeve synthetic or wool base layer
All layers need to be wool or synthetic, not cotton. This is especially important for this first layer because you want the layer that's against your skin to wick moisture away during activity so that sweat can escape and evaporate and keep you feeling warm and dry. As a general rule of thumb: the more you sweat, the thinner your base layer should be.

2. Soft shell or fleece jacket
For the next layer, we recommend a fleece layer or something that's breathing wool. Depending on your preference, you may want a hooded option to keep the sun off your head and neck, especially if your base layer doesn't have one.

3. Shell jacket with hood
On top of that, we have our shell layer. This could be a Gore-Tex jacket or your ski hill jacket. It's best to have this uninsulated, as its primary purpose is to block wind. It's nice to have waterproofing on this layer, although it's not necessary. A hood is mandatory for this layer.

4. Insulated parka (hood recommended)
This is what you'd wear on breaks or when it's really cold skiing downhill. If you don't have one of these, two smaller insulated jackets can work, just make sure they fit over your base layers and your shell, as well as over each other, without compacting the insulation if they're made with down.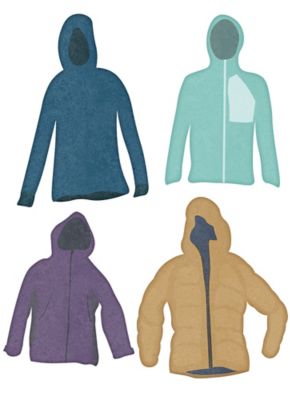 The ultimate choice for any ski mountaineer in search of toughness with expert-level functionality.
Sale price:

$219.98
Regular price:

$550.00
Our warmest down parka with high-lofting, packable down and increased durability
Our warmest down parka with high-lofting, packable down and increased durability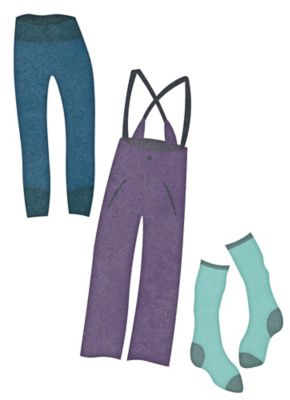 Sale price:

$179.98
Regular price:

$450.00
Our most durable, protective shell pants for climbers and skiers with waterproof breathable technolo...
Read More
Sale price:

$412.50
Regular price:

$550.00
1. Synthetic or wool base layer
Like your upper body base layer, polyester-wool is recommended to pull sweat off your skin during activity and keep you feeling dry, even as you sweat. A lightweight layer is preferred, but depending on the temperature and how much you sweat, anything up to expedition-weight is fine.

2. Shell pant (full side zips and built-in gaiters recommended)
On top of your base layer, you should have a soft or hard shell. It's nice to have a ski pant with an integrated gaiter to keep the snow out, though, it's not a requirement. Side zips for ventilation are recommended, especially when we're going uphill and building up more heat.

3. Socks: synthetic or wool (liners recommended)
We all know that once your feet get cold, everything gets cold. Which is why it's especially important to have a good pair of socks when heading out into the backcountry. If, for any reason, snow enters your boots, it may be a long time before you can resolve the problem. Make sure your socks are warm and sized for your boots for blister protection.


1. 3 pairs of gloves: 1 light, 1 medium, 1 heavy
Yes, you read right: three pairs of gloves. Your lightweight pair should be worn while you're going uphill and could be a thin fleece or simple liner glove. The purpose of this glove is just to keep the sun off your hands and to protect them against the wind. As you go up in elevation, and it starts to get colder and more windy, you'll want a slightly warmer, but still lightweight, glove. This should be something dexterous that you can move comfortably in while using poles or applying and removing skins. Then, when you get into more extreme climates or are getting ready to descend, you have a heavyweight glove with a gauntlet to go over the cuff of your jacket to lock in heat and block snow from entering. This could also be a mitten to optimize warmth.

2. Hats: medium-weight, helmet-compatible beanie and brimmed headwear
We recommend two layers for headwear, though, you can get creative depending on your preferences and helmet. The first one is a cap with a visor or brimmed balaclava to keep the sun off your face, and the second is a warmer hat, like a beanie, to wear when the wind picks up. (Pro tip: choose a warmer hat that can fit over the sun hat to keep your ears warm and block the sun at the same time.)

3. Neck gaiter or balaclava
This will keep you warm and protect your neck and face from sun exposure. Remember, sun glare from snow is more dangerous at higher elevations. Which brings us to…

4. Eyewear: Sunglasses + case and ski goggles
You want to have a pair of sunglasses (with a case to protect them when they're inside your pack) and a pair of goggles, as well. We recommend sunglasses as your primary protection and suggest a low-light lens for your goggles when it's snowing and windy.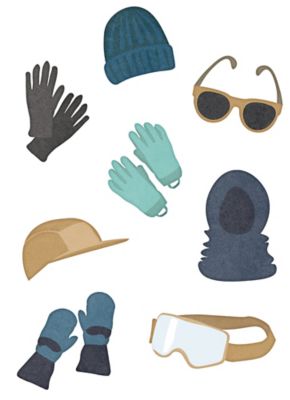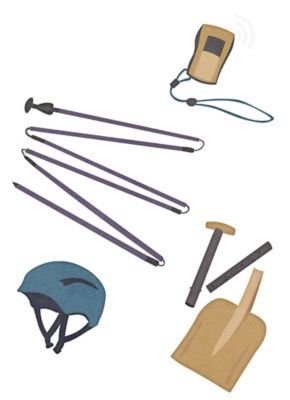 1. Transceiver
Backcountry skiing requires specific safety equipment that other zones don't, so this is the most important part of your checklist that should not be compromised. The first of this category is a newer style digital avalanche transceiver with a battery life that's over 60 percent and arranging-function check performed in the current ski season.

2. Probe
This needs to be at least 250 centimeters in length, and it's okay to have it in the bag.

3. Shovel
This should be a telescoping shovel that also disassembles for easy packing.

4. Helmet

Ski & Splitboard Equipment
1. Boots: Alpine touring, telemark, or snowboarding boots
Everything in this category needs to be backcountry-oriented. So, for your ski or snowboard boots, make sure that they're comfortable: something that you can wear all day without having to take them off and something that has a walk-mode, which means the boot bends forward as you're skinning uphill.

2. Skis or splitboard (with compatible binding for boots)
You want to have something that's at least 90 millimeters under foot. A backcountry touring ski with a rocker is ideal. You'll also need to have backcountry touring bindings that you can tour uphill, as well as ski downhill. Another good option for over-snow travel is a splitboard.

3. Climbing skins (fit to skis)
These skins need to cover the entire length of the ski, as well as cover from the inside edge of both the edges of the skis. This means you'll want to have them cut so that you can see the edges of your skis.

4. Poles
These need to be adjustable so that they can be shorter for going uphill and longer for going downhill. It's really important that they have powder baskets on the end so that your poles stick into the snow. Collapsible poles are convenient, especially for splitboarders, because they're a little smaller for carrying on the pack while you're riding down the slope.

5. Backpack: 30- to 40-liter ski pack
We recommend a 30- to 40-liter ski pack with a balloon or airbag system, which can help you rise through smaller and heavier particles in the event of a snow slide.

6. Ice Ax

7. Crampons (ski boot compatible)

8. Ski Crampons

9. Harness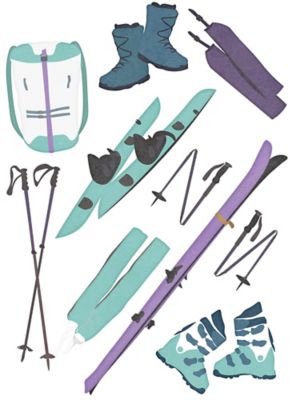 A true back-country workhorse designed for a wide range of day trips
Sale price:

$138.75
Regular price:

$185.00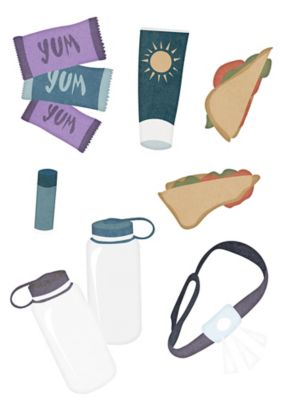 1. Food & water: thermos or insulated water bottles are best

2. Sunscreen/lip balm

3. Headlamp

4. Extra batteries
Once you have your checklist completed and refined, it's always a good idea to test out your carrying capabilities on easier terrain and hone it in for optimal comfort before heading out into the backcountry. Depending on your plans and experience, proper preparedness for terrain outside the boundary line can add significant weight on your back that you want to make sure you're well-trained to carry.