resort etiquette: your guide to maintaining a safe & cooperative recreation space
Written by Lynn Kennen of The Mountain Guides
MANY PEOPLE HEAD OUT for the first runs of the year thinking, "Do I remember how to do this?" Many people head out for the first runs of the year thinking, "Do I remember how to do this?" Surprisingly enough, you always will. Skiing is like riding a bike: once you learn, you'll never forget that feeling of the wind in your hair and your skis sliding on snow. It just comes natural over time to pressure, tip, edge, and steer your skis which creates the corners of your mouth to lift up and your eyes to open a little wider with joy and happiness. But although you'll never forget how to ski, let alone the unparalleled feeling of skiing, sometimes we do forget resort etiquette and how to cooperatively navigate and behave in our shared recreation spaces.

It's easy to overlook because there are so many things to keep straight, especially on our first day back, that we lose sight of what we are doing out on the slope. Ultimately, it's just skiing, and yes, it's supposed to be fun, but here are a few tips on how to manage your behavior so that everyone can have a safe and fun experience.
The skier's responsibility code is a great place to start. If we all follow these simple rules then everyone will be happier at the resort…
Prior to using any lift, you must have the knowledge and ability to load, ride, and unload safely.
Always stay in control. This means being able to react quickly, stop, and avoid other people or objects.
People ahead of you have the right of way. It is your responsibility to avoid them and keep a respectful distance.
You must not stop in trail intersections or where you're not visible from above.
Whenever starting downhill or merging into a trail, look uphill and yield to others.
Always use devices to help prevent runaway equipment.
Observe all posted signs and warnings. Keep off closed trails and out of closed areas.
These seem pretty easy to understand, but for some reason, when we get out on the hill, the speed influences our decisions, and we think to ourselves, "move over bacon here comes Sizzelean!" If we can put patience and common courtesy first, things will run smoothly on the hill.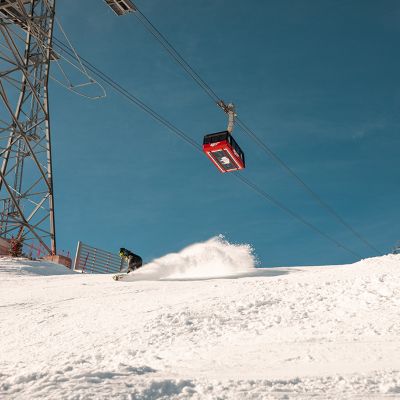 When you see a slow sign, even if you're ripping and having that moment of pure bliss, it is best to take it down a notch. You never know when that random kid with headphones or grandpa with hearing aids is coming into the pinch point straight ahead. Everyone has a different idea of "the best run of their lives," so take a deep breath, slow down, and use patience as your guide. Remember, the downhill skier has the right of way, and safety is always priority. There's always more runs.
When you need to pass someone ahead who might not be paying attention, a gentle pole clink or kind words like, "Hi friend, passing on your right," might be in order. Skinny runs sometimes called "cat tracks" are the worst, as you seasoned skiers know. These runs have very little room to pass, and often those little jumps on the sides of the trail are undeniable for our youth. Give them a wide berth, so we can all enjoy the mountain without a collision.
Make a Plan With Your Group
It's so easy to lose your friends on a huge ski resort, so it's great to have a plan for this scenario. Before you head out, establish a meeting place at the end of each run or contingency plan if you or one of your friends gets lost.

Cell phones often don't have reception or lose their charge at a cold ski resort, so keeping your phone warm in a drink koozie or having a small hand-held radio is helpful, but just in case, have a meeting point that is accessible.

Pole signals are another old-school, and often underused tool that can be super helpful in a pinch. If your buddy is way uphill and you can't hear each other, using visual clues like pole signals are a great technique. Double poles up means 'go,' or 'I'm ok.' Poles or arms in an X means, 'I need help.'

Having the resort's emergency contact numbers in your phone is always a good idea as well.
Social Distancing, Masks & Restrictions
Your favorite ski resort might look a little different than seasons past due to social distancing rules. Getting outside is necessary for most of us skiers and luckily we can head to the resort as long as everyone stays healthy and observes resort protocols.

You will see required mask mandates at most ski areas, so make sure you have a thick face covering to not only keep warm but protect yourself and others.

Be ready for many of the amenities at ski resorts to be closed this season. You might want to think about wearing extra layers or heated socks and bring a backpack full of snacks, extra layers, gloves, and a thermos full of a hot beverage. Aprés ski might have to wait 'til aprés the pandemic, so bring a couple beers to have in the parking lot or wait 'til you get home.

Skiing this season in our "new normal" might look a little different and take a bit more patience, but if everyone does their part and helps to keep resort employees healthy, we will be able to ski for the entire season.