power snacks for backcountry riding & skiing
Written by Izzy Lazarus of The Mountain Guides
FOR SEVERAL YEARS OF MY LIFE, I was spending upwards of 200 days a year in the mountains. It was awesome, but I would often feel sluggish and bloated. What I ate was largely dictated by the contents of the "food room" at Outward Bound, and I didn't give much thought to how my food affected my output. As I reflect, I can see that I was not getting what I needed to perform well, let alone enjoy my food...

In the last few years, I've tried just about every bar and trail mix in my local grocery store and spent many hours in my kitchen making some "hits," along with a few others that went straight to the trash. I am at a point in my eating—I mean, riding career, where I've figured out what food properly fuels me for mountain missions without sacrificing flavor, texture, and nutrition.
Cooking, and even going to the grocery store, can be an overwhelming process for some. I've developed a few rules to guide me in shopping and cooking.
Plan to eat 100-200 calories per hour. That's what's in most Larabar and Cliff bars or Epic Bars (for you carnivores). If you can hold yourself to eating 100 calories per hour, you're less likely to bonk halfway up your chosen objective.


Do not pack things that can freeze or get soggy. Bonus points if it can get smushed and still be appetizing. If I think a bar might freeze, I will keep it in a thigh or chest pocket to keep it warm. If I'm packing a sandwich, cucumbers and tomatoes stay home. They are prone to freezing and getting your sandwich soggy. Simple sandwiches like cheese and salami, PB&J, or breakfast burritos with egg, cheese, and potato are better suited for the mountain.


Real food is real fuel. Packing snacks made with whole ingredients and naturally occurring sugars won't spike your sugar levels in the way that synthetic sugars will. I like to pack a mixture of foods that are quick burning and slow burning. An easy example is dried fruit and nuts. The dried fruit will give you a boost in energy for a little bit, but the nuts will sustain for longer, 'til your next break up the hill. If I'm buying a pre-made item, I try to make sure that I can pronounce all the ingredients, and there aren't too many.


Hydration is key, make it enticing. Hydration prevents cramping and reduces fatigue. I aim to drink a liter of liquid on a day tour. That may not seem like a lot, but it can feel impossible if you don't set yourself up for success. When it's five degrees (Fahrenheit) and the wind is blowing, the last thing you want is take a sip of water from your icy water bottle. I pack a thermos of hot water and honey most days. But, if I am feeling like something else in my thermos, miso soup or bone broth make delicious savory sips along your daily skin track.
When I go to the mountains, I know that I need real food to get real fuel. Sometimes I go with pre-made, store-bought items like Shot Bloks, trail mix, and peanut butter packets. Another crowd-favorite amongst my partners is some pre-sliced salami and cheese. I look to these foods because they are easy to grab at a gas station or grocery store before you go touring, but they are not pumped full of ingredients that I cannot pronounce. They get the job done, but if I have the time, I like to take things a bit slower...

If I can make the time to prep food for the week, I enjoy my time in the mountains a lot more. Breaks along the skin track can become mouth-watering moments of bliss as well as refueling opportunities.

Some of my favorite recipes are such: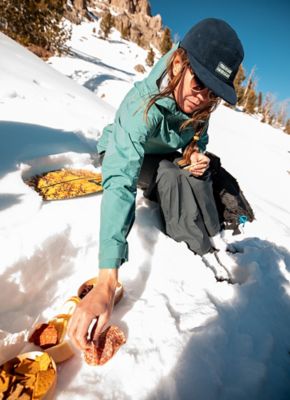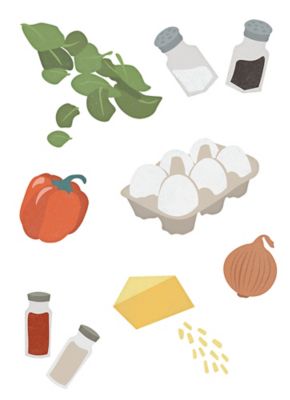 1 small yellow onion, chopped
1 red bell pepper, chopped
2 c. chopped baby spinach
6 large eggs
3 tbsp. milk
1/4 tsp. paprika
1/2 tsp. garlic powder
Kosher salt
Freshly ground black pepper
Grated cheese of choice (optional)
On a hot skillet, cook the onions and bell pepper for about 5 minutes (or until soft).
In a large bowl, mix together all the ingredients.
Evenly divide the mixture into a greased muffin tin
Bake for roughly 30-35 minutes at 350-degrees Fahrenheit. The muffins should be cooked all the way through and golden brown on top.
Dough:
1 1/2 c. warm water
1 tbsp. honey
2 tbsp. olive oil
4 tsp. instant yeast
1 1/2 tsp. salt
3 1/2 to 4 c. flour


Filling:
A jar of tomato sauce (or 2-3 cups of homemade sauce)
1 c. cheese
Toppings, such as broccoli or pepperoni (optional)

Mix ingredients for the dough until it can be handled and formed into a rough ball. Let it rest for 10-15 minutes somewhere warm.
Separate the dough into two pieces and roll each one into a large rectangle.
Spread sauce, cheese, and additional fillings.
Tightly roll the dough up into a log shape.
Using dental floss (trust me), cut the dough into 1" wide pieces. Slip the floss under the roll, then cross the two strands to slice the dough.
Place the rolls onto a baking sheet, lined with parchment paper, and cook in the oven for 15-20 minutes at 425-degrees Fahrenheit.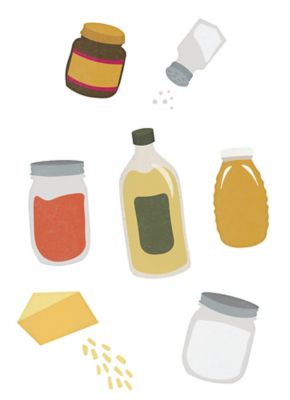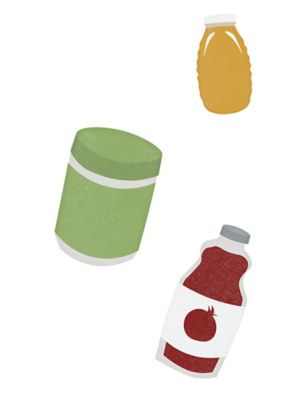 1 c. pure pomegranate juice
2 tbsp. honey or maple syrup
4 tbsp. Vital Proteins Grass-fed Gelatin
In a small saucepan, combine the juice and the honey or maple syrup and heat over medium heat until steaming hot (just before boiling), then lower the heat to the lowest setting.
Whisk in the gelatin one tablespoon at a time, making sure each tablespoon is fully dissolved in the liquid before adding the next.
Once the gelatin is fully dissolved, remove from the heat.
Pour the mixture into a glass bowl or small baking pan. Ideally, the mixture can fill the container about half an inch or more.
Put in the refrigerator to firm up completely. Depending on how thick your gummies are, this can take up to 45 minutes.
Cut the gummies into squares and store in a ziploc bag or a reusable container.