gore-tex infinium™ windstopper®
THE ONLY THING THAT SHOULD
LEAVE YOU WINDED IS THE ALTITUDE.
A nasty headwind or light shower can make you want to skip your morning jog, reach for the car keys over your commuter bike, or miss an evening meet-up with friends. But with outerwear made from GORE-TEX INFINIUM™ WINDSTOPPER®, you get a totally windproof, water-resistant, highly breathable defense system, protecting you where other jackets won't. Allow us to reiterate: not kind of windproof—not mostly wind-resistant—not works-here-but-not-there type of protection. We're talking don't-even-need-to-worry-about-it windproof. So, when an icy wind picks up and you're miles from home, you can keep on doing your thing, unphased. Even when you think it can't get any worse and moisture gets thrown into the mix, Gore made sure you can brush it off with ease. Water not only beads up and rolls off your shoulders when it's raining, sweat vapor easily escapes through its lightweight membrane when you're working hard. All that's left is a light, airy feeling to help you get to your destination scot-free.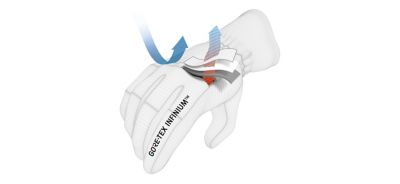 BLOCKS THE WIND. STAYS BREATHABLE.
Created using an ultra-thin protective layer laminated to a lightweight textile, GORE-TEX INFINIUM™ WINDSTOPPER® products are totally windproof. Although textiles such as microfibers, closely woven fabrics and many fleece materials are often termed windproof, even light winds can penetrate most of these fabrics, making you feel chilled and uncomfortable. By Gore's standards, a fabric can only be considered truly windproof if its air permeability is 1.0 cfm (< 5 l/m2/s) or less. It's a standard that our products easily meet. The membrane technology in GORE-TEX INFINIUM™ WINDSTOPPER® products has billions of pores that are 900 times larger than water vapor molecules, so even though wind can't get in, moisture from sweat vapor can easily get out.
In addition to the GORE
®
membrane technology, a durable water repellent (DWR) treatment is applied to most of these products. This penetrates a jacket's outer fibers, lowering the surface tension so that water beads up and rolls off. That means less water accumulation, resulting in less wind chill, and less extra weight. Choose GORE-TEX INFINIUM™ WINDSTOPPER
®
insulated garments for an extra layer of protection from the cold, so you can stay active even in the colder months.
products that feature this technology