making the jump: transitioning from skiing the resort to backcountry skiing
YOUR ALARM JOLTS YOU OUT OF A WARM SLUMBER. It is pre-dawn and intensely cold outside. You rub your eyes and wonder why you do this to yourself every time a storm is in the forecast. Half-asleep, you roll out of bed and prepare for the powder day ahead. You pack your car hastily and race out of your driveway to beat the traffic to your local resort. Thanks to your dedication to tracking the storm, getting up early, and hustling to the parking lot, you get to hoot and holler your way down a freshly covered run, making all the people on the chairlift reconsider their own powder-day protocols. You hop back on the lift for your second run, out of breath and grinning from the fresh tracks you just laid from top to bottom. On the way up, you notice that your tracks are not the only ones. Actually, there are already no fresh tracks to be had anywhere in sight. Scanning the surrounding peaks, you notice all the untouched terrain begging to be skied. It's a sign. You've thought about trying backcountry skiing before, but this is the final straw. It's time to make the jump from resort to backcountry skiing. In the following article, we'll lay out the basics of backcountry skiing, why you might want to try it (hint: it's awesome), and how to take those first steps in the right direction.
The backcountry has an incredible draw to skiers and snowboarders. It's an intimate experience that forces you to be more in touch with yourself, your partners, and your surroundings. It's about the untouched powder, the fitness, the exploration, and the freedom. Each visceral experience is unique to the individual, providing a meditative pace from each step of sliding your skis upward. This calming, breath-focused process provides you more time to think and just be. It feels good knowing that in order to get to the top of your line, you didn't have to wait in one. Backcountry skiing is primal, simple, and raw—it's you, the mountain, and the elements. As with any expanded exploration in the outdoors, this rawness comes with heightened responsibility.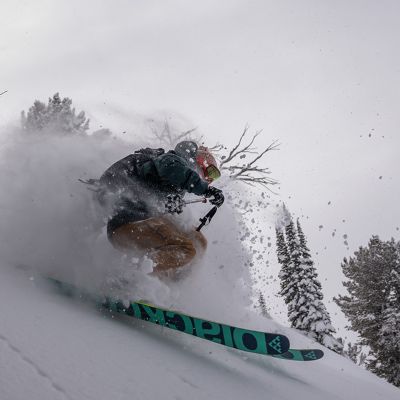 What is the "backcountry"? Professional skier and guide Luke Smithwick says the differentiating factor between the resort and backcountry is the snowpack. The backcountry has what is called a wild snowpack, meaning it receives no dedicated avalanche work or mitigation. It is outside of resort boundaries and is greatly affected by changes in wind, temperature, sunlight, water content, slope angle, and terrain. Areas that have wild snowpacks includes the traditional sense of the word backcountry, meaning ski touring from a trailhead to access your objective, "off piste" that is ungroomed terrain found in Europe, and "sidecountry" or "slackcountry" terrain that is backcountry terrain accessed via lift and through resort gates. For all of these areas, there are countless hazards, and, even on a seemingly safe day, there is always risk. Backcountry skiing and riding is inherently autonomous. You are fully responsible for yourself and your partners' safety. Self-rescue skills are not optional, they are a requirement.
Before fully diving into all that there is to learn and buy for backcountry skiing and splitboarding, you need to make sure that you will even enjoy it. The backcountry has no mid-mountain lodges to warm up in. There are no ski patrollers deeming what's safe to ski and what isn't. And there is a lot more physical work required to ski in the backcountry compared to resort skiing and riding.
The best way to dip your toes is to hire a guide. You will need a backcountry setup (skis/splitboard, touring bindings and boots, and skins), and often you can rent that from the guiding service, or maybe borrow from a friend. You will also need a backpack, beacon, shovel, and probe, which can also be rented or borrowed. This is a great introduction into the backcountry while ensuring peace of mind. Your guide has the proper knowledge to keep you safe.
Once you've decided that backcountry skiing and riding is indeed something you'd like to get into (trust us, you want to), it is time to educate yourself. Knowing that your life quite literally depends on you and your partners' knowledge in the backcountry, there are some things that are vitally important for you to learn. There is a bit of a chicken-and-the-egg type debate here, where education is important but so is experience. So which should come first? With experience comes a stronger intuition and applicable knowledge, but without basic knowledge like how to properly use your gear or warning signs to look for, you are blind to a lot of stimuli that can help you to make safe decisions.
It is highly recommended that everybody who wants to backcountry ski should take an avalanche course in order to truly understand the complexities of backcountry and best practices. An avalanche course will teach you the following crucial information for safe backcountry travel.
Know your gear. Putting on and taking off your skins and using your boots and bindings for uphill are the basics of backcountry skiing, so you should be well-versed with your gear before taking an avalanche course. You can practice this right outside your house, so when you take the avy course, you can focus on learning your beacon, shovel, and probe.
Companion Rescue. An avalanche class will teach you how to quickly locate a buried beacon (and, ultimately, a buried partner) as well as the most efficient way to dig out a buried victim.
Route-finding. Learn how to both plan a safe route and follow a map (physical or digital). Know how to adapt to the ever-changing conditions that you experience out in the backcountry.
Avalanche Knowledge. An avalanche course will teach you the basics of avalanches and all the various factors that cause them: slope angle, aspect, temperature variabilities in the snowpack, potential triggers, and terrain. You'll learn about red flags as well as how to perform basic snow tests, how to read them, and how to make informed decisions in the backcountry.
Decision-Making. Group dynamics, ego, and the human psyche also come into play when making decisions in the backcountry. You'll learn how to communicate effectively in a group, discuss options, and ultimately make good, safe choices out there.
STEP 3: A FEW MORE STEPS FOR SUCCESS
Once you have the foundational pieces of the backcountry puzzle, you are ready to venture out. To build off some of this information, we asked Mountain Hardwear athletes Vivian Bruchez and Luke Smithwick if they had any other tips for those looking to cross over into backcountry.
Both Bruchez and Smithwick stressed the importance of choosing good ski partners. Obviously, your partners should be able to comfortably ski the terrain that you want to (and vice versa), but the partner-selection process goes deeper than that. Bruchez's holistic and almost spiritual approach to backcountry skiing has a lot to do with keeping good energy amongst the group. He says to choose partners who are enthusiastic and psyched on skiing. Many times, it can be difficult to find backcountry partners when you first get into it. Check your area for local Facebook pages, clubs, and classes to get yourself out there. Talk to your local backcountry ski shop. You want to make sure that if you get cold (you will) or the weather changes (it will), you can maintain a positive atmosphere amongst the group. Make sure that your partners possess the same vision as you. This ensures that everyone is on the same page. You shouldn't be pushing your partners past their limits and they shouldn't be pushing you past yours.
This goes without saying, but the people you head into the backcountry with should have the proper knowledge listed above, same as you. For beginning backcountry skiers, you should also make sure to head out with people who have even more knowledge than you. Their experience is invaluable in helping you understand their decision-making, what they see in the snow and weather, etc. Ask lots of questions—"What did you feel when you just tested the snow with your pole?" and "What does that tell you about the snowpack?"—and absorb as much information as possible.
It's easy to get caught up in the social media sphere of skiing and snowboarding today. It seems like everyone is riding the steepest chutes and dropping the biggest cliffs. If the conditions don't line up or you've got a funny feeling—trust your instinct. Don't go. We can all agree that we would like to backcountry ski and snowboard as long as we possibly can. There is always tomorrow. Be willing to turn around and make sure that
Make sure that you are in a good headspace in the backcountry. Bruchez is a huge believer in this. He thinks that if you are stressed out at work or are bummed because you and your significant other fought the night before, you should consider skiing a safer line that day. Because of the complexities of backcountry skiing and riding, we need to be ultra-aware of our surroundings and the changing conditions. The mountains are always providing signs, or omens. The more information that we are ingesting in the backcountry, the more we are able to make good decisions. In a clouded headspace, we might miss a sign that could prove vital in keeping us safe. Be in tune with your mind and body.
While all different body types and sizes can definitely backcountry ski, having a base level of fitness is important for not only your enjoyment, but also your safety. Good stamina and strong muscles are vital for getting out there and back efficiently, limiting your exposure to the elements. The last thing want is for your body to fail you out in the backcountry.
Preparation and Execution
A day in the backcountry requires more than just showing up. You must do your weather and conditions research and trip planning beforehand, then be ready to change it. The American Institute for Avalanche Research and Education, or AIARE, is one of the leading avalanche resource organizations in the world. They provide classes, workshops, and lots of information regarding backcountry travel and avalanches. AIARE has created a risk management guide which has been tested and refined to set backcountry travelers up for the greatest chance of success, aka returning home safely to ski another day. Check it out
here ›
Your gear choices should reflect the type of skiing you hope to do and the size of tours you will take. Bruchez has a saying, "Go light so you can get fat," meaning your gear should be lightweight. Ski Mountaineer jokes aside, the gear you choose should be unique to you and your needs in the backcountry. Don't know how to choose your gear? Ask fellow backcountry friends, forums, or head to your nearest ski shop.
backcountry gear checklist
We've compiled a list of necessities for the backcountry. Aside from the absolute essentials—backpack, beacon, shovel, and probe—it is encouraged that you consider every other item on this list:
Fully functioning brain
Beacon, Shovel, Probe
Layers
Water
Food
Map
Helmet
Sunscreen
Goggles/Sunscreen
Climbing Skins
Ski Partner(s) with knowledge and skills for backcountry travel
Two ski straps
Skis or Splitboard
Touring Boots
Ski Poles
Emergency Plan
Trip Plan
First Aid Kit