building better
ski shells:
behind the scenes
with gore-tex
IN ORDER TO THRIVE ON SKIS, it's all about the delicate balance between what the mountain provides and the way in which we as skiers and snowboarders interpret it. The mountain is like a blank canvas—how you ski it is an expression of who you are. When one person sees the possibility of laying perfectly round turns all the way down an open bowl, another might sniff out a couple of cliff drops and GS turn their way down. One of the best feelings in skiing is when your legs are firing like pistons. Confidence in your body allows you to carve, slash, and ride your way down the mountain. But your ability to ski the way you want relies on the physical shape that you're in. This article will provide you with a more holistic approach toward getting in ski shape (as opposed to suggesting you go buy a gym membership), and we've tapped a couple world-class ski athletes, Luke Smithwick and Vivian Bruchez, to offer their own advice on how to get yourself into ski shape, increase your fitness, and prep your mind. Follow this advice and you'll have a long, strong, and fulfilling season.
Because of Mountain Hardwear's own love for developing innovative and technical products for the outdoors, a relationship with Gore-Tex was a no-brainer. The two kicked off a partnership in 1996 with the MHW Windstopper Fleece. Since then we've developed some game-changing gear together, like the XCR (later the Pro-Shell) in 2000, the Windstopper Next-To-Skin Technology in 2001, and the Exposure/2 Collection in 2018. The culmination of Mountain Hardwear and Gore-Tex's fruitful relationship has led up to this point, where we are minimizing the environmental impacts of creating durable, high-performance gear and focusing on sustainability. Read on to learn more about the products and the partnership.
Founded in 1958, Gore was created as a manufacturing company dedicated to the development and introduction of new materials and technologies to the masses. One of their most well-known fabrics is Gore-Tex, which is a membrane that is equal parts waterproof (for wet storm days) and breathable (to help prevent overheating). Traditionally, in terms of breathability, waterproof outerwear is more like a trash bag than fishnet. Old-school shells trap heat from your body rather than allowing it to escape. Gore-Tex technology was the first of its kind to be waterproof and breathable, and as a result was incorporated in dozens of outerwear products by most major outdoor gear companies.
No matter what logo is on your ski jacket or pants, you have more than likely come across a Gore-Tex patch before. Maybe you've noticed while spinning laps at the resort during a wet storm that the snowflakes on your jacket actually bead up and drip off your outerwear rather than soak through. Gore-Tex gear has allowed outdoor athletes to push farther and higher while feeling, warmer, drier, and lighter. The Gore-Tex logo has become synonymous with the complete trust that when it's nuking, you'll stay dry. Through this fabric, Gore has established itself as the most reputable and forward-thinking outerwear fabric-maker in the world. Together with Mountain Hardwear, the next collaboration is all about sustainability, in addition to high performance for the outdoor athlete.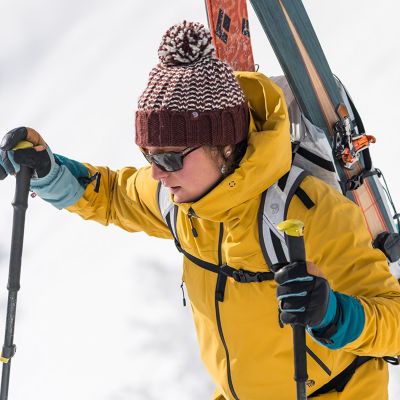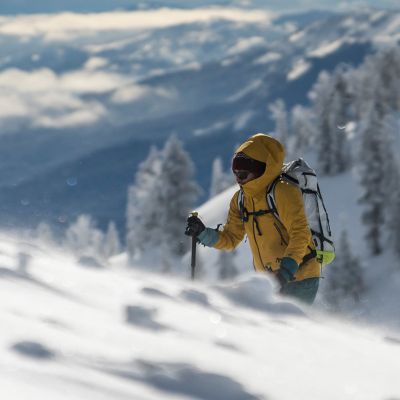 WHY GORE-TEX IN THE BACKCOUNTRY?
Because of the long list of variables out in that cold, unforgiving world, Gore-Tex fabrics really shine while used in the backcountry. The materials are equal parts waterproof, windproof, durable, lightweight, and rugged. Their products work to release only enough heat from your body through a jacket's three-layer construction. The robust inner most layer sits closest to your body, "protects the membrane from abrasion on the inside, and slides easily over layers meaning you can move freely," according to the Gore-Tex site. The second or middle layer of a jacket is the Gore-Tex membrane and the meat of the system. Water beads up on this material, rather than soaks through. This is the layer that allows your "sweat to escape in the form of moisture vapor" to provide a perfect balance between hot and cold. Lastly, the third and rugged outer layer of the jacket serves to make it "highly abrasion- and snag-resistant," increasing the lifespan of the jacket or pants.
Gore-Tex has made a commitment to creating lightweight, durable, warm, waterproof, windproof, and breathable gear. But maybe the best part is that this apparel is created to stand the test of time. With proper care, you won't need to spend your hard-earned money on a new jacket before the start of every season.
THE GORE-TEX TESTING PROCESS
Claiming your products to be light, breathable, durable, windproof, and waterproof all at the same time is quite bold. It's seems like a contradiction. For example, how can a product be breathable yet waterproof and windproof? In order to back these claims, to earn the Gore-Tex label, a product is run through the wringer via a rigorous five-step testing process.
1 The first test that they perform is called the "Martindale Test." This uses a machine that has sandpaper or wool attached to the end. This piece then constantly rubs at the fabric in a circular motion to replicate the scraping, catching, and rubbing that you can find while bushwacking during a backcountry tour. "Depending on how tough the fabric needs to be, this vigorous rubbing continues, non-stop, for hours. Or even days." This is probably the most stringent test for the durability and toughness of outerwear. Passing this test ensures that your gear will withstand years of powder days and everyday wear.
2 The second test that Gore-Tex performs is all about mobility. They lower the temperature to extreme levels, then hook the fabric up to a machine that pulls the fabric back and forth in a stretching motion for hours. The idea is that the fabrics should keep stretching and stretching until it actually rips. This ensures moving freely and easily on both top and bottom.
3 Gore-Tex's third test involves what they call the "Rain Room." This square chamber uses "specially engineered rain nozzles strategically positioned in the chamber. We test a garment's waterproof design in conditions that range from light drizzle to wind-driven rain." Passing these tests means that you can confidently ski and ride in wet conditions and maintain your dryness.
4 The fourth test utilizes a weather machine called "The Storm Cube." This room blasts air at the push of a button, generating gale force winds up to 50 mph and testing a jacket's windproofness. You have The Storm Cube to thank next time your Gore-Tex jacket is your saving grace when you're standing on top of a windy summit ready to drop into your dream line.
5
The final test might be one of the most simple tests they run. It's "The Comfort Test." Because what good does a jacket's protection against the element do if it's annoyingly rigid, heavy, or stuffy. To test this, someone puts the jacket on and runs on a treadmill. During the test, they will "compare laboratory measurements with personal feelings of comfort from our testers." The optimal balance of warmth and breathability happens during "the state in which we're neither too warm nor too cold, when there's a balance between the heat we produce and the heat we lose."
IT'S NOT JUST TECHNICAL, IT'S SUSTAINABLE.
Claiming your products to be light, breathable, durable, windproof, and waterproof all at the same time is quite bold. It's seems like a contradiction. For example, how can a product be breathable yet waterproof and windproof? In order to back these claims, to earn the Gore-Tex label, a product is run through the wringer via a rigorous five-step testing process.
We all share this Earth, and at Mountain Hardwear and Gore-Tex, we feel that we can play an important role in helping future generations. For us, this means being socially and environmentally considerate, being aware of the decisions we make, and investing in the future. It means cutting down our water usage and simplifying the wasteful dying process. It means finding uses for historically unusable, recycled materials. We are committed to exploring innovative ways of doing business that will support a sustainable future. Our current focus is on putting industry-leading systems in place and reporting mechanisms to enable efficient measurement of our social and environmental performance. In addition to all that, we want to increase transparency of all our practices.
Our newest collection, the Exposure/2, utilizes recycled material that has the lowest possible environmental footprint at the moment. The manufacturing process of this new material gives old materials that were previously unusable a new life. This approach is called upcycling, which directly reuses discarded material in a way that creates a product of higher value. (This is different than recycling, which disposes of old material in a way that converts the waste into usable material.) This process uses much less water than more outdated ways of materials manufacturing. We've also changed our dying process to a cleaner one, limiting our use of water and harmful chemicals in the process. These materials also maintain their color fastness over time, meaning that your gear will be looking as good in five years as it does the first day that you show it off at your local resort.
"The incorporation of recycled and solution-dyed textiles has the potential to significantly lower the environmental impact of the textile materials used to make Gore-Tex garments," says Bernhard Kiehl, the sustainability leader at Gore. Our hope is that, with our most recent foray into the development of sustainable products, Gore-Tex and Mountain Hardwear will continue to push the envelope on what can be done. We plan on providing the world's most technical and high-quality products for the outdoors, all while serving the planet and minimizing our effect on the environment. Although the relationship between Mountain Hardwear and Gore-Tex spans more than 20 years, it really is just beginning.