layering for
backcountry
ski excursions
ONE OF THE MOST IMPORTANT ASPECTS of backcountry skiing–besides staying safe–is having fun. Navigating avalanche terrain and making smart decisions should be the highest priority. But with safety in the backcountry comes freedom. Freedom to take in our surroundings. To stop and revel in the sunrise light illuminating the surrounding wilderness. To dig deep into every turn, getting the most out of each pow slash. While snow quality, weather, and the company we're with dictate our enjoyment level during a day out in the backcountry, what is even more important is our ability to maintain a comfortable body temperature. And that all comes down to the clothing system we choose. By knowing your body, preparing properly, wearing the right gear, and practicing proactive vigilance—meaning preemptively putting on and taking off layers—we can focus on more important things like, you know, ripping neck-deep pow, spotting a circling raven, or icing your buddy just before they drop into their line. The goal for any winter layering system should be to stay warm and dry, all while you sweat inside your clothes and the elements rage outside your clothes. We tapped big mountain skiers Vivian Bruchez and Luke Smithwick on how to manage this, with a look into their personal picks for the best layering systems out there.
To start, we need to understand that there is not a single layering model to accept as the one true system. Just as each of us are unique little snowflakes, so are our bodies and temperature regulatory systems. Some of us get the screaming barfies at the drop of the first fall leaf, while some of us become a sweaty mess if our heartbeat climbs anywhere above resting. Most of us, however, reside somewhere in the middle.
It's fair to assume that anybody who likes to travel in the backcountry by ski or splitboard has been on a hike before. Let your hiking experiences be your guiding light. Only you know how your body reacts on a hike. Do you run hot or cold? How does your body respond to exercise? Are you ultra-fit and need high intensity to increase your heart rate? Or does your body temperature skyrocket the moment you start skinning? Knowing how your body reacts while hiking can help to inform your decision-making while in the backcountry. It's important to remember that, although hiking should help you understand yourself and prepare your layering systems in the backcountry, there are clear differences between hiking and backcountry riding. For example, standing around in the snow can make you very cold very fast, whereas stopping along a hike is much friendlier. Take your past experiences with working hard outside into account when choosing which layers to bring, whether you need fabrics that are warmer, thicker, thinner, or more breathable.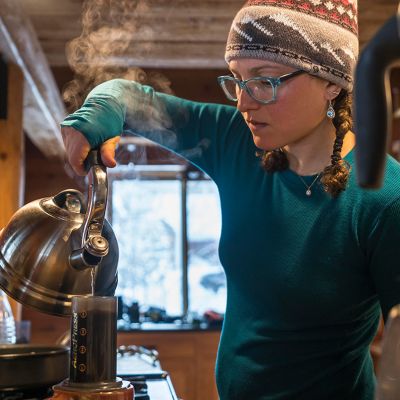 Benjamin Franklin once said, "By failing to prepare, you are preparing to fail." The same goes for regulating our body temperature in the backcountry. If you're touring, we hope that you have a healthy respect for the unpredictability of the mountain–in this case, the weather. Check the forecast the night before. Is it supposed to be bone-chillingly cold? Will the weather shift throughout the day and get hot? Knowing what you might face will help inform what you pack. Ski mountaineer Vivian Bruchez has simplified the process through hundreds of outings around the world and especially in the holy grail of big mountain skiing known as Chamonix, France. Over years of doing this day in and day out, Bruchez has dialed in his layering system no matter the day or what the forecast calls for. His rationale is that the Rhone Alps are very unpredictable, and a comfortable day can turn really uncomfortable, really quickly. Because of this, he packs the same layers every single day (unless it's a hot spring day). He packs a total four top layers and two bottom layers:
Baselayer (top and bottom), form-fitting and dries quickly
Packable Down Puffy
Windstopper Layer
Gore-Tex Outer Layer (top and bottom)
luke smithwick's favorite layers
Diamond Peak Thermal Hoody
Diamond Peak Short Sleeve
Diamond Peak Tight
Ghost Whisperer 2 Down Hoody
Kor Preshell Hoody
Phantom Down Parka
Nias Jacket
Compressor Pant
Exposure/2 Gore-Tex Paclite Jacket
Exposure/2 Gore-Tex Paclite Pant
Exposure/2 Gore-Tex Pro Jacket
Exposure/2 Gore-Tex Pro Pants
Route Setter Alpine Work Glove
Absolute Zero Gore-Tex Down Mitt
Something that Mountain Hardwear athlete and big mountain skier, Luke Smithwick, stresses is knowing who your group is and what the motivations for the day are. Is everyone in peak physical shape and trying to go light and fast on a mega alpine mission? Or will you be going out for a leisurely stroll in the backcountry with intermittent stops and summit beers? This matters. The more that you are standing around or stopping a lot, the faster your cooling clock ticks. In this case, Smithwick suggests packing an extra layer and bringing more food and water. Sometimes he will have warm water or soup in a Thermos. Contrarily, the more you are steadily moving, the higher the likelihood that you'll be sweating and at a greater risk for overheating. These days will usually require less layering on the way up to avoid overheating, sweating, and eventually becoming cold.
The goal of your layering system should always be to stay both warm and dry. The adage of the mountains that "cotton kills" should be taken seriously. On the uphill, your heart rate and body temperature increases, and your skin sweats as a natural way to cool off. Cotton is absorbent, so rather than wicking the sweat away, your cotton layers will become saturated with sweat and no longer provide insulation. Quite the opposite, actually. The temperature of your sweat-soaked layer will start reflect the wintery ambient temperature. Avoid overheating at all costs. In most instances, we have the most control over how hot we get because we can always just shed a layer. This goes back to staying dry. If you overheat, you sweat. If you sweat, you dampen your baselayer, and if it's not designed to wick sweat off your body, this will result in a chilly outing in the backcountry.
Lastly, if you're expecting a sunny day, take the power of that big glowing ball in the sky into consideration. At higher altitudes, the sun and its harmful rays are more powerful. Combined with the fact that snow is reflective, if you don't limit your skin's exposure to the sun, you may end up with a gnarly sunburn. Bring sunglasses, sunscreen, a buff, a hood, and anything that can provide your face with much-needed protection.

Baselayers, or "long underwear" as the older generation likes to call it, typically sits closest to your skin. This layer is typically one that, from the moment you put it on in the morning, never leaves your body. A good baselayer can set the stage for the rest of your day and should usually be considered a layer used to maintain warmth. If it's going to be a cold day, or you'll be standing around a lot, choose a thicker, warmer model. This layer should wick sweat from your skin and then dry it, so that's an important factor. Another thing to consider is the material itself. You might prefer a natural fabric like merino wool, or something more synthetic. Find what works for you and stick with it.
There are a lot of different types of midlayers for various uses and weather conditions, and this might be the piece that you take off and put on a few different times. Ask yourself a few questions when choosing a midlayer: Do you need wind protection or warmth? Does the weight matter? Do you need more insulation or more breathability? This is the most complex part of your layering system because it needs to do so much, and it might actually involve more than one piece of clothing. Pay close attention to your personal needs, the length of your tours, type of riding you'll do, and the climate and weather you'll face.
This should be considered your last line of defense. Outer layers should be
water-repellent
and provide protection against the wind. When you get caught up in a windstorm or are about to ski downhill, your outer layer, both jacket and pants, is absolutely crucial. If it's a drier day, you might be able to get away with a water-repellent fabric, but if it's wet or snowing heavy, you'll need full waterproofing. Other considerations are durability, zipper pockets, cuffs, and other functions of the jacket. Do you need a jacket that has easily accessible pockets to stash your skins? Do you need a cinch at the hem or powder skirt to keep snow out? What do you ultimately want to get out of your outerwear and how can you use it to further simplify your backcountry experience?
THE PUT-A-LAYER-ON, TAKE-A-LAYER-OFF DANCE
Now that you know how to pick your layers for a day in the backcountry—avoiding cotton, understanding what the tour will entail, and bringing enough (and the right) layers—your experience in the backcountry is dependent on your ability to anticipate when it's time to add or shed layer. Preparation and self-awareness are one side of the layering coin. The other is execution, or your awareness of when it's appropriate for you to add and shed layers, not when your buddy Gary wants to delayer. You know how your body responds to the cold, weather, and the uphill. You've got the appropriate gear. Now it's time to put it all to work.
Throughout a normal backcountry tour, it is common to stop along the way to address your layers. If you're starting to sweat, it might be time to shed and strip down to the layer underneath. Are you approaching a ridge that you can see is blowing gale force winds? Stop below the impending ridge, add your Gore-Tex jacket and charge forward. At the beginning of a tour, for example, Bruchez and his French friends practice a term called legger frison, which means "slight shiver." In other words, Bruchez will start a tour with a slight chill. By doing this, he's preparing for 15 minute later when he's skinning up and his heart rate will be increased. He will be burning energy and raising his body temperature. When he begins to gain altitude on the bootpack up a steep Chamonix couloir, the temperature might drop in the shadow of a nearby peak. In this case, he will throw on a puffy down jacket to generate and maintain his body heat. Then the wind picks up when he gets close to the summit. He throws on his Gore-Tex jacket to not only protect against the wind, but also to prepare for the ski down. Once you make it to the ridge or summit, it will probably be the coldest part of your day, so digging through your backpack to access your layers can be rough. At this point, Bruchez is utilizing every layer in his quiver for maximum warmth and protection.
It is this sort of vigilance we need to practice in the backcountry in order to keep dry and warm. We will all be uncomfortable in the backcountry at some point in our skiing and splitboarding lives, but with more experience comes more success and dialing in the details.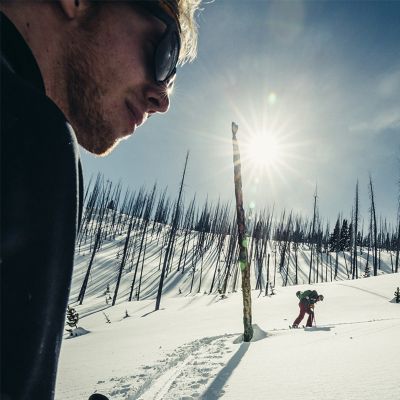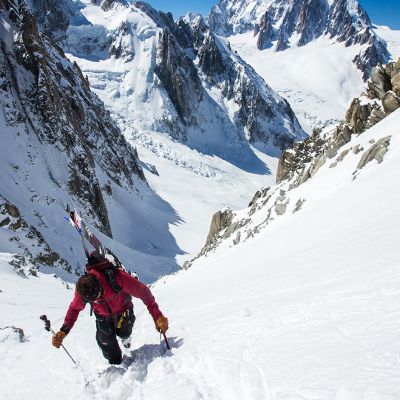 LUKE SMITHWICK'S TRICKS OF THE LAYERING TRADE
Simply put, Smithwick skis big lines at high altitudes. Having both lived and skied in Colorado, Alaska, India, and Nepal, Smithwick has experienced the entire gamut of altitude, climates, weather, and conditions. He has taken part in 70-plus Himalayan skiing and/or climbing expeditions. He usually finds himself in serious alpine terrain that can easily produce subzero temps, unrelenting wind, and fast-moving storms. The layers that he wears reflect this. Along his journey, Smithwick has picked up some insight that he uses to optimize his own layering system
It is easier to cool down than it is to warm up.
Bring an extra pair of dry gloves. These can be a replicate pair of the gloves that you use on the downhill, or a lighter weight pair, etc. This is up to you. But when your hands get cold, they are most likely wet, so sliding them into a dry pair of gloves is the best remedy to bring your hands back from the other side.
To keep your feet warm and dry, buy socks that are made from merino wool. Like the wool sweaters that grandma might have knitted for you, merino wool is extremely warm. The material also wicks away moisture, taking longer for the sock to feel wet. If you're allergic to wool, there are synthetic options. Just make sure that they are made for skiing or snowboarding.
If you do lose your hands, swing your arms from the side of your body to above your head. Repeat this motion 10 to 20 times. This will get your shoulders burning and force more blood flow down into your hands.
Bring water and snacks as a way to maintain and increase body temperature.
Avoid cotton at all costs.
vivian bruchez's favorite layers
Diamond Peak Long Sleeve Shirt
Diamond Peak Thermal Crew
Diamond Peak Tight
Type 2 Fun 3/4 Zip
Type 2 Fun Full Zip Jacket
Ghost Whisperer 2 Down Hoody
High Exposure Gore-Tex C-Knit Jacket