how to respect and support local culture on an expedition
YOU'VE BEEN SITTING IN ECONOMY CLASS FOR 30 HOURS, not counting the nine-hour layover in the airport. You're 12 hours out of your time zone and jetlag has turned your brain to sludge. Out the window, Kathmandu is a teetering sprawl of blocky buildings painted shades of canary, blue, and carmine, their tones dulled by a blanket of smog. The Lonely Planet described a "pupil-dilating experience" and "a riot of sights, sounds, colors, and smells," but you're still not prepared when you step off the plane. The odor that hits you is a humid swirl of diesel, garbage, incense, urine, spices, and a thousand other things that range from mundane to exotic. The days that follow are a bleary-eyed plunge into the throngs of humanity. The hustle through vibrant bazaars, the abrupt tranquility of the Boudha Stupa, the marvels in a single taste of curry—these are the things you'll remember long after the thrill of the summit fades. The adage of expedition climbing has little to do with success or memorable pitches: "Go for the climbing; return for the people." It's what brings us all back.
We are citizens of the planet, not just our country. We are not only climbers, but also ambassadors. Our conduct is a reflection of our nation, our friends, and our families. Climbing and visiting foreign countries are privileges afforded by time and money, and through those resources we can in some way contribute to the societies and lands we visit. Respecting and supporting local cultures are essential. The following information will help you become a good climbing steward and ambassador for your country.
FIVE STEPS TO BEING A GOOD CLIMBING AMBASSADOR
As an experienced Everest climber and guide since 1999, Garrett Madison has travelled to all seven continents. He says, "It all starts with awareness and being open. We have to research where we are going, then talk to people familiar with that place or read about it. I think it's very important to remember that when we're traveling, we are guests visiting a place. We should be respectful of the local's way of life, customs, language, and religion. Hiring locals to help us is a great way to have access to this knowledge, so that we can respect it."
2. Learn Some of the Language.
Even a few words goes a long way to mutual understanding and showing respect for the people. A phrase book helps, as does Google Translate. A handy resource is a Moon, Rough Guides, or Lonely Planet guidebook, or non-series trekking guide. They all have a section of helpful words and phrases.
3. Get Involved with Social, Humanitarian, and Conservation Projects.
Though we might not have the time or resources to get deeply involved, stewardship is important. Luke Smithwick, a world-traveling skier, says, "I'd like to be an ambassador for the Himalayas. Doing what you love and helping out along the way will become a mentality. I get involved with access education and helping the next generation get trained." Smithwick started the Kashmir Avalanche Association to educate pastoral communities on how to avoid avalanches and stay safe when big storms drop. He also started the Himalaya Education and Outreach Fund to equip and educate rural communities. Climbers might not have much time in-country, but one can always volunteer some time or donate gear or money to a local aid organization. These small steps will open doors to future involvement.
4. Hire Locals and Spend Money In-Country.
Madison leans heavily on local specialists and trains his own Sherpa team, and in doing so creates opportunities. His trained Sherpa team sees regular turnover, which he sees as a good way to disperse talent and skills into the local community. For most of us, such involvement is out of reach, but along the way you'll become aware of reputable organizations to which you may be able to contribute.
5. Follow Leave no Trace Principles Wherever you Go.
The Seven Principles of
Leave No Trace
provides an easily understood framework of minimum impact practices for anyone visiting the outdoors, whether at home or abroad. Although Leave No Trace has its roots in backcountry settings, the principles have been adapted so that they can be applied anywhere, from remote wilderness areas to local parks and even in your own backyard. When you help local communities preserve their natural resources and beauty, you not only foster a love of nature, but also protect their future tourist economy—one that will last for generations.
The 7 Principles of Leave no Trace:
Plan Ahead & Prepare
Travel & Camp on Durable Surfaces
Dispose of Waste Properly
Leave What You Find
Minimize Campfire Impacts
Respect Wildlife
Be Considerate of Other Visitors
10 PLEDGES FOR SUSTAINABLE TRAVEL
I pledge to demand to see the environmental and social policies of the companies with which I book my travels.
I pledge to read up on and understand the local culture in the destination I am traveling to, and promise to respect my hosts, their way of life, and their way of dress by packing appropriately.
I pledge to limit myself to a 3-minute shower per day in areas where water is scarce.
I pledge to minimize my use of plastic and to dispose of it appropriately: never on the street and never in the ocean.
I pledge to buy local, including food, experiences, and guides.
I pledge to never take part in activities that will cause harm to animals.
I pledge to never visit sites of religious and cultural importance to local people if they do not wish it. If I am allowed to visit these places, I am committed to showing my respect and behaving appropriately.
I pledge to offset the CO2 impact of my holiday.
I pledge to educate myself, my family, and my friends based on my experiences and my knowledge of responsible travel, and to talk to other experienced travelers in an effort to learn more about the world and sustainable best practices.
I pledge to give feedback to travel providers, to establish demand for sustainable practices and responsible travel, and ask for more sustainable travel options in my recommendations. If a travel provider is not providing me with sustainable options, I will demand to know why and endeavor to make a change.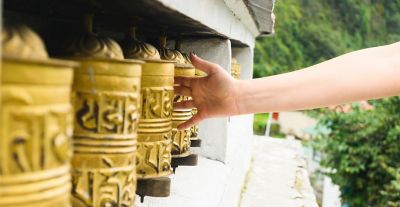 8 TIPS FOR RESPECTING LOCAL CULTURES WHEN YOU TRAVEL
1. Take a Step Back and Observe.
Pause and observe what the locals do before you walk into a public space or even pick up a tomato at a vegetable stand. You'll avoid going into places you shouldn't and discover what good manners are in that culture.
This is especially important in cultures where clothing is a reflection of respect. Try to blend in rather than draw attention to yourself and risk offending.
3. Respect What Is Highly Valued.
Electricity and water are often precious commodities. Conserve both as you travel. Likewise, show respect for traditions.
4. Live the Rhythm of The Destination.
If siestas are the norm, don't disturb people by looking for a store that's open mid-day.
5. Give Back to the Community.
You can do this by giving to a local charity, supporting artists and craftspeople, or lending a hand when the opportunity presents itself.
6. Learn a Bit About the History.
Understanding the origins of a culture will help you better understand their worldview and specific customs. Take the opportunity to learn more from those who grew up in the culture.
7. Recognize your own Prejudices and Leave your Biases at the Door.
Don't judge the culture through the lens of your own.
Realize that, just like at home, what one person does or says is not necessarily representative of an entire culture. Be patient. Find the good and you'll likely stay on the right side of safety as well.