how to predict mountain weather for expedition climbing
FORECASTING MOUNTAIN WEATHER is just as much an art as it is science. Complex terrain, massive elevation changes, and a wide variation between day and night temperatures complicate accurate prediction. The big storms synonymous with high-elevation landscapes are based on a few basic principles. The higher you go, the colder the temps and the thinner the air. That sparse air retains less warmth, and overall mountains are wetter than flatlands. Then throw in the fact that many ranges are the first large feature that incoming moisture from the ocean meets, and you've got a recipe for volatile and unexpected weather patterns.
Illness is the number one cause of failure on an expedition, but weather is a close second, and it's not always in the form of a massive snow dump or rainstorm. Rain or running melt water can derail major rock missions, while hot weather combined with south-facing snow or serac-filled icefields can create a deadly scenario. Then there's the weather effect on your multiple legs of travel. Flights get delayed, and roads get washed out. Beyond objective hazards and time delays, the conditions might make your climb impossible. It's best to be mentally prepared for these disappointing situations, going in with low expectations. You can't change the weather, but you can change your attitude. Weather predictions will never be 100% accurate, but here are few tools and pointers from experts Garrett Madison and Luke Smithwick to prepare you for the most capricious element of your expedition.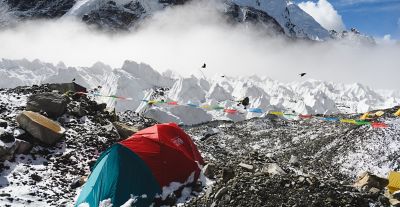 1. Surface Area: Maximize Area of Contact Between the Gear and the Rock.
"The only way to really understand mountain weather is to spend a lot of time out in mountain weather, which is guaranteed to change often," Madison says. The more time you spend in a specific area, the better grasp you'll have on the weather patterns. If on a local trip, you'll benefit from repeated visits to develop a sense of how it moves through the area. On a major expedition, you won't have the time, but close observation, by the hour, day, and week, will help.
Wispy Cirrus clouds usually signal bad weather in the near future.
Puffy high-cumulus clouds indicate possible precipitation, but it's often short-lived.
The full moon is often the most stable period in the mountains.
Strong winds or unusual warm temperatures in clear weather are signs of an incoming storm front.
Clouds that move against the wind indicate deteriorating weather.
There are plenty of online resources for weather forecast, but of course the more remote you go, the fewer the resources. Check the forecasts for the nearest towns for in-depth predictions, and general overview patterns for the area that includes your objective. On an expedition, you might not have internet to check for real-time forecasts, so researching patterns from past seasons will help.
Snow-forecast.com provides forecasts for ski resorts around the world, offering a solid indicator of general weather in the big ranges.
Mountain Weather Forecasts provides weather conditions for more than 11,300 major summits worldwide. This is one of the best resources available.
Mountain Weather covers North America's Tetons, Mountain West, and Alaska.
Commercial mountain weather consultants are the most accurate—and expensive—option. Consider this road on a large expedition with a big budget if there's a lot at stake. Weather stations around the world, along with sensors and satellites, gather data on temperature, wind, humidity, atmospheric pressure, and cloud cover. This data is collected and interpreted and can be accessed in the field by satellite phone or modem.
Plan to arrive in basecamp in the right season. Think ahead and plan generously for the flight, approach, acclimatization, and rest days. Project your itinerary for the best possible scenario (perfect weather, no illness or delays) and add at least a week.
THE MAJOR RANGES BY SEASON
The Indian Himalayas bears the brunt of the summer monsoon. It is best visited in spring or fall.
In the Nepal Himalayas, pre-monsoon (April-May) or post-monsoon (September-October) is a safe bet. Yet this range is so vast that there are many variables to consider. Off-season months are becoming more popular as climbers explore for climbing options outside the highest peaks.
Pakistan's Karakoram Range is drier, with the season running from June to September with July and August being the most popular months. For all of the Himalaya, a lower altitude climb (or higher climbs for extreme masochists) benefits from stable weather in winter. This is a solid, albeit cold, option.
Peaks in the Southern Hemisphere—the Andes and Patagonia—host their seasons in reverse of North America. Their summer is our winter, and vice versa.
The Peruvian Andes has dry weather in the summer, and winter months seeing rain. Patagonia is best in North America's winter months.
The Alaska Range sees most expeditions occur in May and June.
The Canadian Rockies is a year-round destination depending on the objective. In general, climb waterfall ice in winter, high-mountain technical alpine routes in spring and fall, and big alpine rock routes in summer.
The Tetons and Sierra Nevada are generally summer destinations, with some activity in the spring and fall shoulder seasons.
Reading the Weather on Everest
Everest itself is the subject of numerous meteorological studies, and in 2019, two weather stations were installed on its flanks for research purposes. On a human scale, Everest weather is still unpredictable. As with all ranges, experience is the greatest teacher. Madison's understanding of patterns is integrated with a flexible strategy. "Last spring on Everest there was a 'high wind' event forecasted. Most teams were pulling their climbers off the mountain. Instead, I led our team up to Camp 2, and when the wind rolled in, we were there to fortify our camp," he says. "We didn't lose any tents, whereas some other teams that had abandoned camp lost a lot of tents."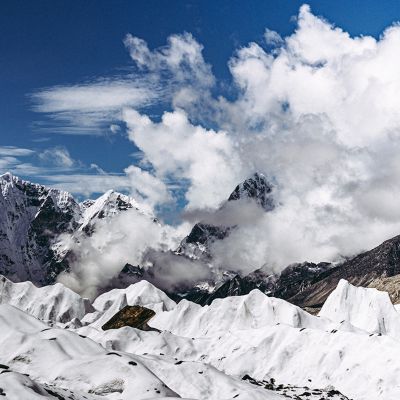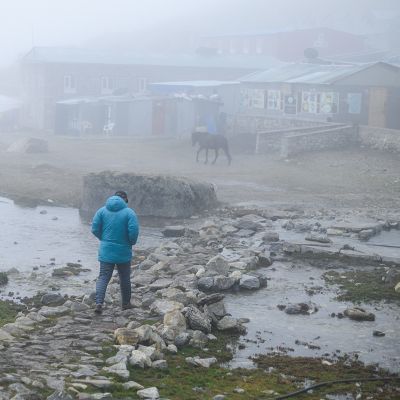 Reading the Weather in Less Frequented Ranges
If climbing in an obscure area, Luke Smithwick suggests adding at least a week to your itinerary to give time to observe the weather and have extra time if a storm rolls through basecamp. He says, "Having time is key because you're really working with what you see in the sky. I observe in shifts, so I'm always watching all these subtle variations. I'm very much into forecasting and deciding things myself without support from the outside because in the places I go, the outside doesn't really know."
He suggests to read up on general weather patterns on the web, in guidebooks, and, if possible, seek advice. "In many of the places I visit, the weather varies so much from location to location because there's always a subtle, local effect. If you're going to 8,000 meters, forecasters are pretty good at predicting windows of good weather. But below that it's really hard to forecast on a day-to-day basis beyond a 36-hour period. So I look at historic patterns and even call up a local farmer or guide."
Given the vagaries and downright uncertainty of mountain weather, be prepared for everything, even if the weather forecast looks nice. Madison has a few tricks for being prepared for unpleasant conditions.
Have the best gear on hand. "Get the best gear possible. Your life is worth it."
Pack so the gear is accessible. "Learn how to pack priority items like goggles and hard shell pants where you can get them out fast."
Learn to put it on and take it off. "You'll need to be practiced in deploying your severe weather clothing quickly to stay warm and dry."
Practice your systems at home. "Test the same gear you'll be using in the mountains. It's extra work but well worth the effort."
Incorporate Weather into Your Strategy
Have a plan and contingencies. A schedule is a useful initial guideline, but stay flexible—and hungry. "We will stick to our itinerary and adjust accordingly on Everest. Often I like to wait at least a few days after the lines are in before making our summit attempt," Madison says. "I prefer to let the more aggressive climbers make early attempts, and then we generally attempt the summit when the weather stabilizes and crowds thin out in mid to late May. Sometimes we will choose a summit day that is not ideal in terms of weather forecast, so that we will have the mountain to ourselves."
Have a plan and itinerary.
Be prepared to adjust the plan."
Nurse your psych and don't spend time fretting over things you can't change.
Be patient.
Be ready to go if the weather is good.
Madison says that bad weather can actually be useful. During a high-wind event on Everest, his clients struggled for two days. "It was 'Type 2' fun, but it prepared them for the high winds typical of the summit ridge. When we went for the summit, they were well-prepared to deal with the harsh conditions. They knew how to use their clothing and gear properly so they functioned well in that challenging environment above 8,000 meters known as the 'Death Zone'." Learn to appreciate the down time in a tent that a storm might bring. If the timing is right, sitting in a tent is a good opportunity to eat, sleep, and recharge.