gear for a climbing expedition: selection and storage
YOU'RE STOKED. You've been training, booked your tickets and now comes the fun part—picking your gear. Everything but your credit card will enjoy this process. Your gear selection will be as varied as the mountains you're about to climb, but in general, you can break your list out into three sections: climbing hardware, clothing, general gear. Start out by making a few lists—and checking them twice. Then check them a third time. Like any big trip, there are some things you can forget and still be fine, while leaving other stuff behind might spell disaster for the whole expedition. Below is a straightforward breakdown of the complicated process of packing by Madison Mountaineering, a boutique guiding agency in Seattle that operates major expeditions to the Himalaya and beyond. You'll find downloadable packing lists separated by continent and objective, gear selection tips, and storage suggestions for pre- and post-trip. Read on to become an expert expedition packer.
THE BIG 3 PACKING CATEGORIES
CLIMBING HARDWARE—This is gear you use for the actual ascent, meaning items like carabiners, crampons, ropes, etc
CLOTHING—This is what you will wear at any given time after you walk out the door. There will be some overlap in clothing, but these can be further subdivided into:
Travel/trekking • Basecamp • Climbing
GENERAL GEAR—This includes anything that supports travel, the trek, or the climb and is not a garment you wear. This includes tents, sleeping bags, duffels, packs, goggles, trekking poles, camera, electronics, and so on.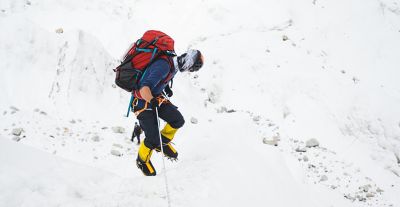 Chances are you have most of the equipment you'll need for the technical climbing, whether it's a first ascent or an established route. Cams, stoppers, harness, helmet, chalkbag, single rope, carabiners, belay device, etc.
If you're tackling a big peak, you might need to add:
Mountaineering Crampons offer semi-rigid construction with horizontal frames and fixed horizontal frontpoints. The bindings will be strap-on, hybrid, or step-in style.
How to choose Crampons
.
These should be long (sized from a hanging hand to the ankle) with a straight shaft to use as a walking pole on slopes, self-arresting, and climbing low-angle snow. It will have an aluminum shaft and a steel head with adze and curved pick.
These need to be stiff to accept a crampon and warm enough for your objective. Most climbers will go for an insulated boot with multilayered construction or plastic shell design. A shell boot lacks the snug intimate fit required for difficult climbing. Whatever you do, do not skimp on your boots. They are your foundation in the mountains.
Choosing single, half, or twin ropes depends on the terrain you'll be climbing. When you consider wear, workload, and weight, double/half (7.9mm to 9mm diameter) or twins (7mm to 8mm) are a great choice. They weigh less, handle meandering terrain, and give you more options for the descent. With a pair you can do full-length rappels, and still have one full cord if you get one stuck on the descent.
You have two choices. Pickets are pound-in aluminum rails two feet (or longer) for crevasse rescue, belays, or protection. Flukes are cabled snow anchors shaped like a shovel. In general, pickets are pounded into firm snow and flukes are buried in the softer stuff.
If it's a technical alpine route, a few pins can help you ease your way through verglas-covered cracks on the crux headwall.
If there will be vertical water ice climbing, go for fixed horizontal or modular vertical frontpoints, and semi-rigid, hybrid, or step-in style bindings. In general, technical crampons are heavier than mountaineering 'pons, but when you need 'em, you need 'em.
Choose purpose-designed ice tools with a modular head, recurve pick, and bent shaft. These will generally be 50cm in length. Consider using a lanyard-style leases for tool retention.
Technical alpine routes blur the line between mountaineering and ice climbing. For steep (over 60 degree) ice, you'll want ice screws. These threaded steel or aluminum tubes twist into hard ice for belays and protection.
On expeditions, the line between clothing and "climbing protection" gets blurred as the terrain gets technical and the conditions become savage. Make a list. Start naked (in your mind at least) and go from your feet up. Divide what you wear into three categories:
Travel/trekking • Basecamp • Climbing
Some clothing will carry over into other categories. For example, you might wear softshell pants in Kathmandu, for the trek and load carrying. If doing a lower elevation climb you might be able to layer thermal underwear underneath and stay nice and toasty. On an 8,000-meter peak, you might wear an expedition-weight down parka in basecamp and layer up into a one-piece down suit above 6,500 meters.
We've all travelled, but on an expedition you can skip the dress shoes and other such attire. One helpful tip is to stash a set of clothes at your hotel (presuming you stay at the same place on your way out). There are few things more demoralizing that taking your first real shower in weeks and climbing back into the same rank outfit. This will also save you the chore of sending out laundry before your return trip.
Wool or synthetic socks
Trekking shoes/town shoes
Sandals/flip flops for basecamp and town
T-shirts - Men's or Women's Diamond Peak™ Short Sleeve T-Shirt
Long sleeve t-shirt - Men's or Women's Ghee™ Long Sleeve Crew
Button up shirt - Men's Canyon™ Long Sleeve Shirt or Women's Willow Spring™ Long Sleeve Shirt
Two pair jeans/pants or similar - Women's Hardwear Twill™ Ankle Jean or Men's Selvedge Denim Climb™ Pant
Light insulated jacket (synthetic or down) Men's or Women's Ghost Whisperer/2™ Down Hoody
Sunglasses
Daypack as carry-on and for errands - Crag Wagon™ 35 Backpack
(2) Large travel duffels - Juggernaut™ 115
The approach into basecamp generally takes one to seven days. Depending on the mountain range, you might experience a wide range of conditions—from scorching desert, tropical jungle and freezing glacier—all in a single trek. If you've done your research you'll know what to expect. Dress accordingly.
Insulated or microfleece pants - Men's Ghost Whisperer™ Down Pant
Shell jacket - Exposure/2™ Gore-Tex Paclite® Jacket
Shell pants - Exposure/2™ GORE-TEX PACLITE® Pant
Softshell pants - Hardwear AP™ Pant
Sun hat/ baseball cap, bandana - Trucker Hat
Fleece hat - Dome Perignon™
Fleece/softshell gloves - Power Stretch® Glove
Thermal top Men's Diamond Peak™ 1/2 Zip or Men's Diamond Peak™ Thermal Hoody
Thermal bottom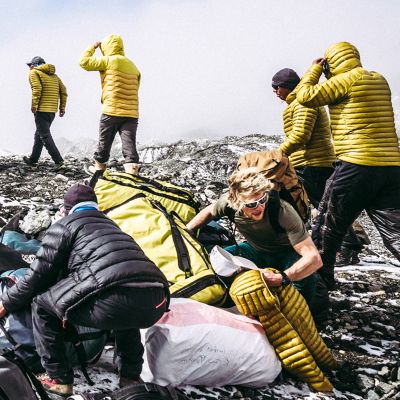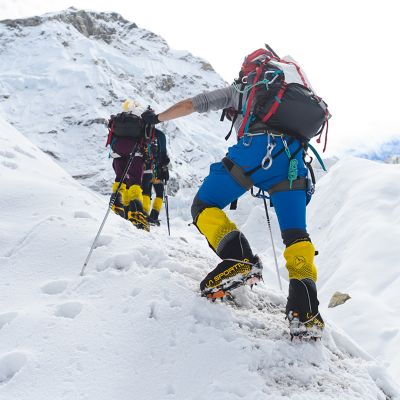 Expedition down jacket/Pants or Down suit Men's Absolute Zero™ Parka and/or Absolute Zero™ Suit
Shell Bibs - Exposure/2™ Gore-Tex® Pro Bib
Gauntlet gloves Superforma™ Gore-Tex® Glove
Mitts - Absolute Zero™ Gore-Tex® Mitt
(2) Pair heavy wool socks
Hat - Dome Perginon™ Pro
Balaklava - Alpine™ Balaclava
Thermal top - Diamond Peak™ Thermal Hoody
Thermal Bottoms - Diamond Peak™ Thermal Tight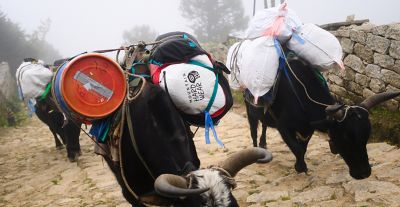 For all other equipment, chose gear with versatility in mind. An example: Pick trekking poles that double for snow travel if you plan on using skis. If you plan on moving tents up the mountain, pick ones that accommodates comfy basecamp life but also stands up to heavy snow and wind. This list could get quite long, but make sure it is thorough. So if your camera is on the list, make sure batteries, charger, case, and memory cards are also on the list.
Equipment for the Mountain
Small pack for personal gear - Scrambler™ 35 Backpack
Down or synthetic sleeping bag (0-20 degrees) Phantom Alpine™
Camp towel
Sleeping pad
Camp shower
Trekking poles
Down or synthetic sleeping bag (-40-20 degrees) Phantom™ Gore-Tex® -40F/-40C
Climbing pack - South Col or Direttissima Backpack
Personal basecamp tent - Trango™ 2 Tent with Trango™ 2 Footprint
Group basecamp tent - Stronghold™ or Space Station™ Dome Tent
Climbing tent
High-altitude Sunglasses/Goggles
You'll need to manage a large volume of gear in your home and in transit. Depending on available space, several options are effective, like duffel bags, backpacks, and large plastic bins. For your home, choose based on the space you have available. For transit, think about each leg of travel and moving all your gear between planes, trains, and automobiles (or yaks and Sherpas), and choose accordingly. Here are some pointers to make your gear last as long as your climbing career.
Dry tents, packs, and hardware before putting them away, and then store them in a cool, dry place.
Use steel storage racks, shelves, and slat wall for hardware.
Use plastic bins with lids and label them with category of gear.
Use large duffels for bulky items like clothes, sleeping bags, and down suits.