ice climbing gear selection for women, trans men, and non-binary folks
ICE CLIMBING CAN BE AN EXTREMELY COLD SPORT, and many of us have a harder time tolerating the cold. This is for a myriad of reasons, some of which are caused by hormones. In simple terms, testosterone allows for more warmth than estrogen. How you prep, dress, and recover for the cold might be very different than your testosterone-filled counterpart. Other factors to consider are using the bathroom outside, which increases exposure to the cold, and differences in hand size, body shape, and overall size can make a massive difference in the gear you should use. Longtime alpine climber Nikki Smith breaks down what women, transgender men, and non-binary people might want to think about for facing the frozen elements of ice and alpine climbing.
Most ice axes are designed for the average male hand. The handgrip width and distance between the pommel (bottom of the handle) to the upper handle (if there is one) can often be too big if you have smaller hands. This can cause you to have a wider grip, which can cause you to pump out quicker, as well as decrease accuracy in your swings. Some models of axes allow for adjustments in the handle while others do not. If possible, try out multiple models before choosing your own to buy. See what handle works the best for you. Other differences to consider can be the length and weight of the axe, where the balance point is for the swing, and the amount of head weight. Ice climbing festivals are a great resource to be able to try out the gear before buying, as they offer free or cheap gear to demo from many brands. If you go to one, encourage each person in your friend group to take a different axe for the day, then swap axes to see what you like or dislike with each.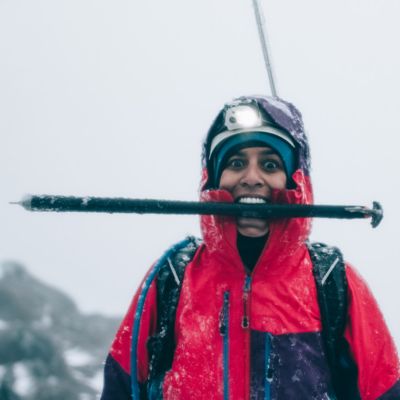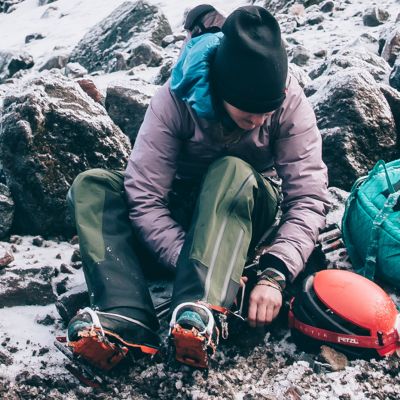 Your feet are a critical part of staying warm. If your feet are cold, chances are the rest of your body will be too. Even more worrisome, if your feet are cold, you can get frostbite. Most boot companies offer a women's ice climbing model, but it's usually restricted to one option and focused on a lower volume foot. If you have wide feet or feet that are larger or smaller, the women's model might not work for you. The "unisex" options often are the models that are the lightest and have the most current technology, but they don't always go down small enough. This can unfortunately limit the options that are available to you. Before buying, try as many different options as possible. Try them all, women's-specific and unisex options. Check out multiple shops in your area if you can, and use online retailers that offer free shipping and returns so you can try numerous options without risk. Once again, ice climbing festivals can be a great resource to try things on.
When it comes to boots, the best boot is the one that fits, but weight and warmth are significant factors too. With limited options, you might need to look at aftermarket insoles to help with the fit. If the best-fitting option isn't warm enough for you, here are a few things you can do.
Use heated insoles: either rechargeable or the disposable kind.
Use heated socks. These have gotten more sophisticated over the years, with models that can be temperature regulated with your smartphone.
Buy high-quality socks; merino wool is always a great option.
Just like boots, women's-specific gloves tend to be for lower volume hands and shorter fingers. Try
unisex gloves
as well as women's specific and see what fits your hand the best. If there is too much additional length at the end of your fingertips, look for another option. A well-fitting glove can help keep you warmer by not having space filled with cold air, and it can make a big difference in accuracy when swinging your axe or trying to place or clip gear. Sometimes your gloves alone won't be enough to keep your hands warm. Here are a few tips to keep your mitts nice and toasty.
For warm approaches, use a breathable glove (one without a waterproof liner) like the Unisex WindLab™ Gore-Tex Infinium Stretch Glove. If your hands sweat too much while hiking, they will get clammy and more susceptible to the cold. A breathable glove can help release some of the heat built up while continually moving.
For cold approaches, try a pair of mittens like the Unisex Compressor™ Gore-Tex® Mitt Mitt or Unisex Absolute Zero™ Gore-Tex® Down Mitt. Mittens can keep your hands warm while hiking, and they can be great options for belaying if conditions are icy and you need to warm your hands up after freezing on that last pitch.
Use disposable hand warmers inside your gloves. Keep them in your palm while not holding tools, or on the back of your hand while climbing. Some like to use wristbands with the hand warmers on their wrists. The idea is to help heat the blood before it goes into your hands.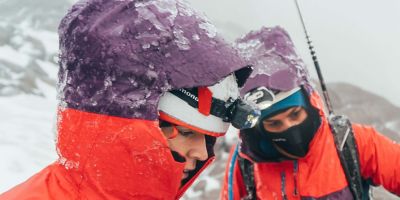 While the cut of a jacket or base layer isn't super critical overall, it can still make a difference. Depending on your body shape, the cut of clothing can add or subtract bulk. This is important when you are adding layer after layer on your body to keep warm. Each layer builds on the previous, and unnecessary fabric can restrict movement or create spots that can cause chafing. Correct fit can also prevent dead air spaces, which keeps you warmer. Depending on your chest size or hip size, you may or may not need to use a women's-specific cut. Again, try layers on before committing if you can.
For base layers, try options with a built-in hoodie. This addition under your helmet is low bulk and can add a lot of warmth alone or in conjunction with an additional beanie like the Unisex Power Stretch® Beanie.
One item where design can be supercritical is alpine bibs, such as the the Women's High Exposure™ Gore-Tex C-Knit™ Bib. Once you have your clothing layered on top of your bibs, if they are not designed with zippers to allow you to quickly and easily use the bathroom, you will have to take all your top layers off to drop the suspenders. This can be a significant problem if a storm is raging and you need to limit your exposure to the elements.
While we are on the subject of using the bathroom in the alpine, here are a few tips from veteran alpinists.
Check out devices like the Freshette or Shewee. These can be especially helpful when tent-bound, as you can more easily pee into a Nalgene bottle without leaving the warmth and shelter of your tent.
After using the bathroom, some will drip dry. This can work well for day trips but could lead to infections throughout a multi-day trip. Some might wear a thin pad for the day to help keep your base layers clean.
Use a Kula Cloth or pee rag to wipe. This is something you can keep outside your pack and wash when you get home.
Regardless of your personal hygiene routine, make sure you practice unhooking the drop-seat leg loops on your harness. There's a good chance you will need to use the bathroom while on route when you can't untie or take off your harness.
Your sports bra can have a lot of impact on how comfortable or uncomfortable your day out might be. As with all base layers, the ability to move moisture away from your skin is essential. Look for synthetic or merino options to help with moisture control. If you tend to have a lot of boob sweat, think about carrying another bra in your pack to change into when you reach the climb after a long approach. Stripping down to nothing to change out can be super uncomfortable briefly, but fresh, dry baselayers can keep you warm and comfy for the rest of the day. With bras, the design can be just as vital as the ability to move moisture. The straps of your sports bra will be under your pack straps and can have a lot of pressure on them. Look for flat, no bulk straps. Spaghetti straps are adorable and look good in the gym or sport climbing but can be uncomfortably painful over a long day in the mountains. Flat straps sit more comfortably on your shoulders and under your pack straps. For those of us who have had a breast augmentation, keep in mind that your implants will conduct cold. This means you might have to do more to keep your upper body warm. Adding pads into your bra even though you don't need them can add additional warmth, and look for bras with additional insulation. Extra or thicker layers on your torso might be necessary as well to help keep you warm.
Is a
women's specific pack
necessary? Some of the features typically designed into women's specific packs can be helpful for different body types, regardless of gender. Ergonomic shoulder straps can help if you have a larger chest or straight shoulder straps rub too much. Otherwise you might get sore spots that will be painful with each step, but different strap shapes will fit different body shapes. Women's-specific packs generally have shorter torso lengths. This could be great for you, or it might be too short. Having the right length can keep the lid or top of the pack from getting in the way of your helmet when looking up, and it can make a huge difference in how the pack carries overall. The waist belts of women's-specific packs are shaped to sit better on wider hips, but if you have narrow hips, this might not always be a benefit to you. If at all possible, test out the pack in a store. Load it up and move around. See how it moves with you. Pay attention to where the shoulder straps and waist belt hit your body. Tip your head back like you would to look up while climbing. Try on as many as you can to find what fits.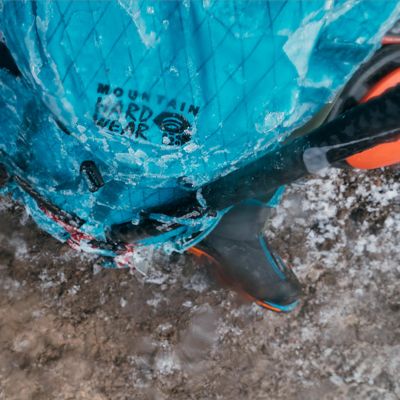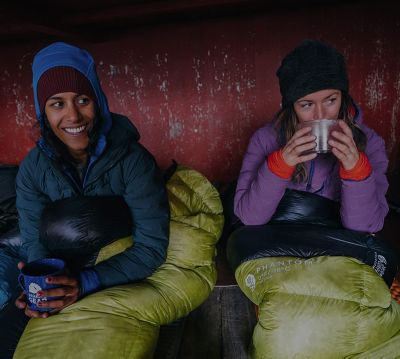 There are now more options than ever for excellent down and synthetic sleeping bags. Women's-specific sleeping bags like the
Women's Lamina™ 15F/-9C Sleeping Bag
have narrower shoulders and wider hips than unisex, and they usually have more fill in the foot and upper torso. As climbers, we tend to have broader shoulders than our hiking friends, so once again, try out the bags before making your decision. Most bags offer short and long versions. If you sleep cold, look at going down in temperature rating to provide additional warmth. Down bags like the
Phantom Alpine™ 15F/-9C Sleeping Bag
pack so small that you can go 15° F lower in temperature rating without a tremendous amount of bulk added.
Some of Nikki's Favorites