the real deal with fast and light gear
WHETHER YOU ARE GOING FOR A "DONE IN A DAY" BLITZ or just want to pack in more climbing in the limited time you have, going "fast and light" can help you maximize your time in the outdoors. But what does "fast and light" even mean? What gear is "fast and light," and is it worth the extra money? Where should you splurge and where should you save? Is it all about weight, or are their other factors to consider? Overall, the lighter you are, the faster and more efficient you will be. But lightweight isn't the only think you should consider. Overall, for "fast and light," you will make sacrifices. As Mountain Hardwear athlete Tim Emmett says, "Be prepared, and take less than you think you need!" Below we will examine what to look for in your equipment, whether it's worth the money or just a marketing term, and a few other crucial points to think about.
For many of the options below, overall durability is the biggest sacrifice for the weight savings. This isn't to say that lightweight gear won't last or isn't worth the money, but your expectations should change. Fast and light gear is made for "fast and light" missions. It isn't intended for day-in, day-out usage. For every day missions, consider something that's more workhorse, meaning slightly heavier but more durable to withstand regular and repeated abuse.
For many of the options below, overall durability is the biggest sacrifice for the weight savings. This isn't to say that lightweight gear won't last or isn't worth the money, but your expectations should change. Fast and light gear is made for "fast and light" missions. It isn't intended for day-in, day-out usage. For every day missions, consider something that's more workhorse, meaning slightly heavier but more durable to withstand regular and repeated abuse.
In order to move efficiently, whether it's on the trail, in camp, or on the wall, bulk will make you less efficient. If you have gear hanging off your pack or taking up too much space inside, you might opt for a bigger pack. With a bigger pack, you might add even more gear since you have the space, and then you will be even less efficient. Steep talus approaches above no-fall zones are common so for alpine missions, you need to be nimble. If your pack makes you unbalanced, it will slow you down. If your gear isn't contained inside your pack or your pack is too bulky, you will snag while climbing chimneys or going through constrictions. Minimizing the bulk of your gear can be as important as the overall weight. Luckily, they often go together.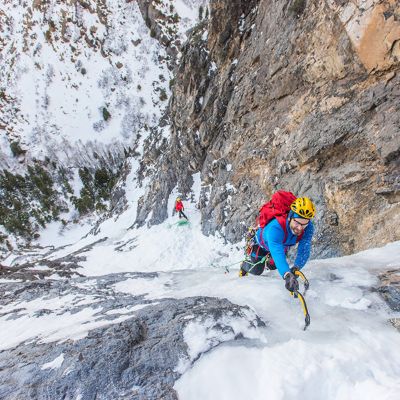 Lightweight gear often becomes lightweight by sacrificing features. Zippers, pockets, and straps are removed. Extra reinforcements for durability are sacrificed, and they might just be a smaller size, making it more difficult to use. Consider how these factors might affect you. Will tiny zippers or small carabiners be more difficult to use when you are in a snowstorm and wearing larger gloves? Can you still quickly access on-route food or water easily in that smaller pocket, or will the lack of pockets force you to have to stop and dig through your pack for what should be quick snack?
Lightweight gear comes at a premium, and the costs will reflect this. Be selective in your choices. Spend the money where it will make the most difference overall. Coordinate with your partners. You don't need to have every lightweight option on your own. Know what each other has and what you might still need.
Cams are getting super-light these days. The "standard" models from many companies are much lighter than their offerings from just five years ago. The ultralight versions cut off even more weight, but on average, you might .5 to 1 pound overall on an alpine rack if you have the lightest version of every cam. As cams can be one of the most expensive parts of your gear kit, question whether that weight savings is worth the money, or could you spend less and save the weight elsewhere? If you need a double set, can you use hexes or Tricams for your second set to save weight and cash? If the cracks are iced up, your cams might not hold, and passive pro could be your best option anyway.
As for placing that gear, there is an adage for fast and light: "Place gear where you need it, not where you want it." Placing extra gear takes time and energy. If you can cut down on some of that safely, you'll save time in the long run. The trick is to know when to place and when to go. Know your strengths and analyze the route ahead.
Almost every gear manufacture makes lightweight carabiners and slings now. Switching from your standard sport draws to alpine quickdraws and slings can save around a pound and offer much more versatility. Some achieve the weight savings with thinner carabiners, while others focus on just shrinking the carabiners. Consider how the size will affect handling. Can you clip the smaller carabiners with gloves on? Do they still rack easily? Could you switch out the bulky quickdraw webbing with a lightweight version to save some cash and still achieve the weight savings? Review your setup and see what makes the most sense for your needs.
Many brands now have ultralight ice screws made of aluminum with a steel tip to allow for quick placement. A set of these aluminum screws can save a full pound over the "traditional" steel screws. The aluminum options range from $20 to 25 more per screw vs. a steel set, and they can cost up to $1,000 for a set of 10. Aluminum screws need to be babied, as the threads can easily be dinged by cams and carabiners in your pack. They also can have issues with binding up while trying to place them in ice, so evaluate whether they are worth the weight savings. Maybe switch out a few at a time to aluminum as you can afford it.
Skinny, skinny, skinny. Today's ropes are thinner than ever and can be a huge weight savings, potentially one of the most cost-effective ways to cut weight from your kit. Single ropes now go down as low as 8.5mm. Going from a 10.5mm x 70m rope to a 8.5mm x 70m can save more than three pounds. Dropping from 9.7mm x 70m to 8.5mm x 70m can save more than two pounds.
Half and twin ropes go down to 7.3mm and 7.0mm, respectively. If you are climbing a route where you will need two ropes to get down, half or twin ropes can cut the weight down even more. If you don't want to buy two new ropes, here are a few other options:
Use one single rope and one half or twin as your tag line. This option allows both of your ropes to be safe for your partners to follow on (if you are a party of three), and it is easier to pull as you rappel.
Many rope companies offer a 6mm tagline to help pull your lead line down after a rappel, but these can tangle easily and be difficult to pull, so choose your system wisely.
Often with alpine climbing you won't be doing full 60- and 70-meter pitches. Consider chopping your single cord to a versatile length that also saves weight, like 40 or 50 meters, and carry a tag line for double-rope rappel descents.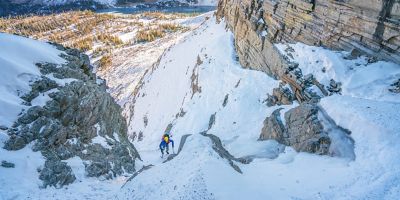 For "fast and light" trips, a good backpack can make all the difference. It will be with you the entire trip, so it needs to be comfortable on your back, carry all your gear, and move well on the trail and on a climb. While a lightweight pack can be helpful, the overall design is just as important as the weight. Thankfully, there are now many options that provide lightweight, durable, and well-designed features, including the
Alpine Light™ 50 Backpack
. Keep in mind that regardless of the pack or size, being mindful of what you place in it, is still key. Tim Emmett says, "Take a small pack, not a big one, then you limit what you take. If your climbing partner is fitter than you, then get them to carry the big one."
Tents are another item where you can save not only significant weight, but also bulk with the right choices. For winter and alpine ascents, you need a durable and rugged tent that can stand up to harsh conditions. Today's single-wall tents offer low bulk and lightweight options. Tents like the AC™ 2 Tent can save close to 6 lbs. over its rugged and dependable relative, the Trango™ 2 Tent.
Consider the possible differences with a lightweight tent. Do you plan on doing overnights or just "in a day" ascents? If you are doing a lot of overnight trips, a lightweight tent could make a huge difference. If you are doing a lot of in-a-day ascents, maybe you can use a bivy bag or go without a shelter for that specific trip.
Sleeping bags add bulks, but they can make a huge difference in your overall comfort throughout the night. And if you sleep better, you climb better. You want something that will keep you warm, but if you are going "fast and light" you need to consider the right balance of warmth, weight, and bulk. Tim Emmett recommends the following: "Sleep in a sleeping bag that's warm enough to stop you from getting hypothermia but cold enough so that you don't want to stay in it!"
Maybe you can use a higher temp-rated bag and add in more clothing to make up the difference. Bags like the
Phantom Alpine™ 30F/-1C Sleeping Bag
or
Phantom Alpine™ 15F/-9C Sleeping Bag
offer great alpine options.
While there are a lot of choices for superlight clothing, outerwear isn't going to add up to huge weight savings. The areas where you will benefit the most will be on your insulation layers in terms of bulk. If your current belay jacket or insulation layer takes up half your pack, it's time to rethink. Options like the Phantom™ Down Parka are not only super warm, but compress really small. Midlayers like the Ghost Whisperer/2™ Down Hoody and Ghost Whisperer™ Down Pant can provide a lot of warmth without taking up much of your valuable space. These options can also allow you to use a smaller (higher temperature rated) sleeping bag if you wear them inside your bag.
"I usually carry a Ghost Whisperer Jacket and now the pants too. They are so light and small that I never have an excuse to leave home without them. I must have worn a GW jacket for well over 1,000 days and absolutely love it for additional warmth when I need it. I've used the combination of the jacket and pants as an emergency bivy on several occasions. Although I wouldn't recommend this, they have gotten me through the night," Emmett says.
A 1984 study by the U.S. Army Research Institute showed that the amount of weight on your feet can use 4.7 to 6.4 times more energy than having that weight on your back. What that means is, if you cut an extra pound on your feet, that's the same as cutting 4 to 6 lbs. on your back. This means that lighter boots could make up the difference in weight of not carrying lightweight cams, carabiners, and screws. If you are choosing what to spend your money on in terms of lightweight gear, your boot selection could make a huge difference in overall energy if you are still using an older, heavier boot. New boots might be a more cost-effective way to spend your money. If the approach is long, consider putting your boots in your pack and hiking in with trail runners or approach shoes. This can save even more time and energy overall.